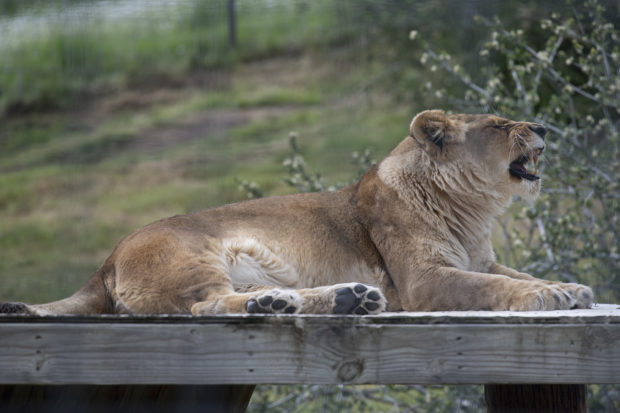 By Peter Maiden
Photos by Peter Maiden
Less than 40 miles from Fresno on the way to Sequoia National Park, at an elevation of 3,000 feet, there is a turnoff from Highway 180 to a place called Cat Haven. The facility there is a private zoo holding more than three dozen exotic cats. Usually this time of year there are school buses full of students visiting, along with a flow of tourists. Now Cat Haven is closed because of the coronavirus.
Suddenly, an organization that was always in the black, putting aside money this time of year for the winter, faces a major deficit. It costs $20,000 a month just for the upkeep of the animals. Funding comes from admission charges, sales in the gift shop, some grant money and donations.
"Because we are not open to the public, we have no revenue source now," said owner Dale Anderson. "We have to ask for donations, which we do on a regular basis anyway. But that's not going to make it work for us in the long term. We have to get back open again and have people coming up and seeing the cats."
The figure of $20,000 a month includes food for the cats, and medication, and the support staff that looks after them. They are all meat-eating, and they are served beef and chicken (no pork), as well as rabbits and mice and guinea pigs. A number of the older cats are on medications. Said Anderson, "Cats in the wild wouldn't live to be 10 years old, and my cats are living into the high teens and 20s. They just have aches and pains."
There is a veterinarian on call, Dr. Whitney Jansen, and a team of other vets who do things from time to time, including specialists.
Since before Cat Haven opened, Anderson's mission has been to promote conservation education. He believes that the public's exposure to big cats will lead people to work globally against extinction. Of Cat Haven's resident cats, two-thirds are of an endangered species. They "need advocates for their wild cousins," Anderson explained.
"I wanted a diverse collection of cats," Anderson said. "The first two cats I got in are called Amur leopards, and they're the most critically endangered cat in the world. A friend of mine had two that he was willing to donate to me and then the female had cubs when she came to my place.
"We ended up with five Amur leopards, which kind of put us on the map as somebody different, because we didn't have just rescued lions and tigers. We had the most difficult cat to get ahold of."
Two bobcat babies came to Cat Haven after their mother was killed. They were found in a washing machine on an abandoned property. At Cat Haven, they were named Maytag and Whirlpool.
Anderson says he got cats in almost all the ways one can: They were donated, traded, loaned and purchased. However, he said, "We're not a rescue facility. I don't get people's cats that they don't want anymore." He noted that these days there are more laws regarding the keeping of exotic cats, so there are not as many needing a rescue.
There was a story in the news recently that some tigers in the Bronx Zoo had come down with the coronavirus. They were coughing, and when the zoo anesthetized and tested one, they found the virus. Anderson said he is skeptical about that finding. Transmission from a human to a cat would be, he said, "very, very, very, very strange."
Docent Sita Alexander offered a tour of the zoo. The cats were healthy, lively and even seemed glad to see us. She said that none of the cats have been coughing.
Anderson has been trying to get one of the government's interest-free small business loans, but he said the demand for loans at his bank, Wells Fargo, was so great that they would not even process his application.
How does Anderson see the future in this pandemic? "My biggest fear," he said, "is not knowing when it's going to end."
Donations can be made at www.projectsurvival.net.
*****
Peter Maiden is the photo editor for the Community Alliance newspaper. He studied media at UC Berkeley. Contact him at maidenfoto1@gmail.com.
Advertising