By Richard Stone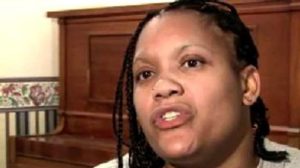 Sabrina Butler has the dubious honor of being the only American female "exonoree"—a death row inmate who has later been found not guilty of the crime she was incarcerated for and released. Butler will be in Fresno on Sept. 14 to tell her story and to bring a message learned from her wrenching experiences. I spoke with her by phone from her native Mississippi where, she says, she has chosen to stay to demonstrate that "I have nothing to hide and nothing to run from."
Butler's story does not begin with the fateful night in 1990 when her infant son died and she was arrested for his murder. It begins for her as an unwanted child in a family unequipped to raise her, in a small town where Black folk weren't much wanted in general. By the age of 14 she was pregnant and, as she puts it, "signed over" to a violent man to be his wife. By the age of 17, she was in a second abusive relationship, now with two children. She looks back at that part of her life as a virtual sleepwalk, and an important part of her mission now is to let young girls know their worth and agency, to not think of themselves as passive victims of circumstance as she did.
One night her baby couldn't breathe, and able only to do what her unskilled, panicky reaction allowed, she tried to revive him. She called for help, but it was too late, and in examining the child, the emergency room medics found bruises and called in the police.
"From the first," she says, "they just presumed I was an angry, uncaring mother. They never listened to me, being young and Black. The D.A. had just been elected and was out to prove he was tough and efficient. My state-appointed lawyer was mostly drunk and never really talked to me. He knew what he was being paid for—he did no research and wouldn't put me on the stand. Really, there was no defense. The trial was handled so badly that afterward one of the jury gave back his paycheck in shame.
"At first, I couldn't believe what was happening; it was like a nightmare that maybe I'd wake up from. Then somehow I was rescued. Two civil rights lawyers took on my appeal, Robert McDuff and Clyde Smith. To this day, I don't know how they got involved."
Gradually, they pieced together evidence to overthrow the verdict, including testimony from neighbors and medical experts to support Butler's assertion that she'd been trying to help the child, not harm him. Also, with the encouragement of other inmates who roused her from depression and helplessness, she became active in her own defense and began doing research at the prison's law library. She discovered, for one thing, that her attorney had a long history of failed defenses and reprimands. Her new defense team also found that the D.A. took the jury on a picnic even before the verdict was in and discovered 23 procedural violations.
More than two years after being jailed, in 1992, Butler's trial was overturned—but incredibly she was not released for another three years. And at that time (1995), Mississippi had no laws enabling compensation for false arrest or means to expunge false convictions; she still had a felony record. It has taken until 2012 for compensation and expungement to occur.
Butler comes to Fresno in large part to speak against the death penalty. She is living proof, as she understates it, that "the system can get it wrong." She says, "Living under a death sentence can just sap your will; it's like your life is already over…And I don't know why they're so eager to kill us. Even if you're guilty, it doesn't undo what's been done, and it's not our place to take lives, that's the Lord's work."
Although Butler has emerged from her experiences as an empowered advocate for justice, and with the help of newfound religious conviction has overcome much of her bitterness, there is still unfinished business. "That D.A. who convicted me has never even apologized; all he says is that I fell through the cracks. And he's still the D.A. there!"
She says, too, that the feeling of being so close to death never leaves, nor the fear that something dreadful can happen out of nowhere. "I still wake up most nights and have to get up to make sure everything's all right, that nothing else is going to happen on my watch."
Remarkably, Butler is now in a stable marriage of 17 years, with children ages 9 and 14. And her husband is an officer she met at the Rankin County Correctional Facility where she served time. The diary she kept to maintain her sanity has been published as Exonoree: The Sabrina Butler Story.
Butler is a true survivor, who has gained strength from the ordeal she endured. We have a special opportunity to meet her and learn from on Sept. 14.
*****
Richard Stone is on the boards of the Fresno Center for Nonviolence and the Community Alliance and is a member of Citizens for Civility and Accountability in Media (CCAM). Contact him at richard2662559@yahoo.com.
Death Row Exoneree Visits Fresno
By Maria Telesco

Death row exoneree Sabrina Butler will visit Fresno on Sept. 14 to speak about her wrongful conviction and death sentence, time on death row and her struggle to be exonerated from a "crime" that never happened. She had been convicted of child abuse and murder for killing her infant son, when in fact the baby died of natural causes. After nearly six years in prison, she won her battle to save her life and return to freedom. Since then, she has dedicated her life to educating the public about our revengeful IN-justice system that condemns many innocent men and women to prison terms or even death for crimes they did not commit.

Butler will speak at the Cardinal Newman Hall on the campus of St. Paul Newman Center Catholic Church, 1572 E. Barstow Ave., across from Bulldog Stadium. The program will be from 6 p.m. to 9 p.m. Doors open at 5:30 p.m.

There will also be a discussion regarding Prop 34, a ballot measure that will end the death penalty in California, substituting instead life without the possibility of parole (LWOP).

The opening prayer and greeting will be given by Rev. Armando X. Ochoa, bishop of the Roman Catholic Diocese of Fresno. Refreshments will be served. A free-will offering will be requested. Admission is free.

The event is sponsored by the Fresno Chapter of California People of Faith Working Against the Death Penalty (CPF) and the Peace and Social Justice Committee of the St. Paul Newman Center.

For more information, call 559-264-2934.

*****

Maria Telesco is a retired registered nurse who has volunteered in various aspects of prison ministry for more than 25 years. Contact her at maria.telesco@sbcglobal.net.