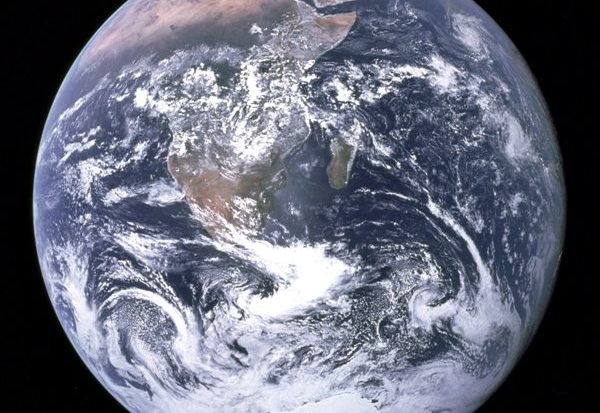 In her official proclamation, Mayor Ashley Swearingen cited the following reasons for declaring April 22, 2011, Earth Day in the City of Fresno:
•         Earth Day, begun as an annual event on April 22, 1970, focused public attention on pollution and environmental concerns and made the hitherto esoteric term "ecology" a household word; and
•         many national organizations are celebrating it with outreach programs showcasing the positive contributions that environmental science makes to improve the health of our planet and its citizens; and
•         many Earth Day community-sponsored events promoting environmental awareness and education are held to communicate with a wide audience in the San Joaquin Valley; and
•         improving the Valley's air and water quality is an urgent necessity.
Earth Day, the world's largest secular holiday and the only event celebrated by more than a half billion people of all backgrounds, faiths and nationalities, is sponsored by many national and international organizations with outreach programs showcasing the positive contributions that environmental science makes to improve the health of our planet and its citizens. In 2007, even the Chinese central ministry officially encouraged its governmental branches to celebrate Earth Day.
In 1969, the wide extent of the anti–Vietnam War demonstrations convinced the late U.S. Senator Gaylord Nelson (D–Wis.) and U.S. Representative Pete McCloskey (R–Calif.) to organize a huge grassroots protest over what was happening to our environment, leading them to found the first Earth Day on April 22, 1970. Nelson announced his idea for a nationwide teach-in day on the environment in a speech to a fledgling conservation group in Seattle on September 20, 1969, and then again six days later in Atlantic City to a meeting of the United Auto Workers. He hoped that a grassroots outcry about environmental issues might prove to Washington, D.C., just how distressed Americans were in every constituency. Denis Hayes was the principal organizer of the first Earth Day nationwide.
On September 29, 1969, in a long, front-page New York Times article, Gladwin Hill wrote: "Rising concern about the 'environmental crisis' is sweeping the nation's campuses with an intensity that may be on its way to eclipsing student discontent over the war in Vietnam…a national day of observance of environmental problems, analogous to the mass demonstrations on Vietnam, is being planned for next spring, when a nationwide environmental 'teach-in'…coordinated from the office of Senator Gaylord Nelson is planned."
In the winter of 1969, a group of students met at Columbia University to hear Hayes talk about his plans for Earth Day. This New York group agreed to head up the New York City part of the national movement. The big break came when Mayor John Lindsay agreed to shut down 5th Avenue for the event.
The first Earth Day marked the beginning of the modern environmental movement. Approximately 20 million Americans participated. Hayes and his staff organized massive coast-to-coast rallies. Thousands of colleges and universities organized protests against the deterioration of the environment. Groups that had been fighting against oil spills, polluting factories and power plants, raw sewage, toxic dumps, pesticides, freeways, the loss of wilderness and the extinction of wildlife suddenly realized they shared common values. In response to the activity spurred by the first Earth Day, President Richard M. Nixon helped amend the Clean Air Act of 1970, which has drastically improved our air quality, reducing nitrogen dioxide, sulfur dioxide, carbon monoxide and lead by 46%, 71%, 79% and 92%, respectively.
Mobilizing 200 million people in 141 countries and lifting the status of environmental issues onto the world stage, Earth Day 1990 gave a huge boost to recycling efforts worldwide and helped pave the way for the 1992 UN Earth Summit in Rio de Janeiro. As the millennium approached, Hayes agreed to spearhead another campaign, this time focusing on global warming and pushing for clean energy.
Earth Day 2000 combined the big-picture feistiness of the first Earth Day with the international grassroots activism of Earth Day 1990. Earth Day 2000 had the Internet to help link activists around the world; 5,000 environmental groups around the world were on board, reaching out to hundreds of millions of people in a record 184 countries. Events included a talking drum chain that traveled from village to village in Gabon, Africa, and hundreds of thousands of people gathering on the National Mall in Washington, D.C.
Earth Day 2007 was one of the largest Earth Days to date, with an estimated billion people participating in activities in thousands of places such as Kiev, Ukraine; Caracas, Venezuela; Tuvalu; Manila, Philippines; Togo; Madrid, Spain; London; and New York City.
The Earth Day Network (EDN) was founded by Hayes and the organizers of the first Earth Day in 1970 and by other national organizers to promote environmental activism and year-round progressive action, domestically and internationally. EDN members include NGOs, quasi-governmental agencies, local governments, activists and others. They focus on environmental education; local, national and global policies; public environmental campaigns; and organizing national and local Earth Day events to promote activism and environmental protection.
The international network reaches more than 19,000 organizations in 192 countries, whereas the domestic program engages 10,000 groups and more than 100,000 educators coordinating millions of community development and environmental protection activities throughout the year.
In observance of the 40th anniversary of Earth Day (2010), EDN, which has helped create Earth Day organizations worldwide, has created multiple global initiatives, including a Global Day of Conversation with mayors worldwide, focusing on bringing green investment and building a green economy; Athletes for the Earth Campaign, which brought Olympic, professional and everyday athletes' voices to help promote a solution to climate change; a Billion Acts of Green Campaign (act.earthday.org), which aggregated the millions of environmental service commitments that individuals and organizations around the world make each year; and Artist for the Earth, a campaign that involves hundreds of arts institutions and artists worldwide to create environmental awareness. At least 1.5 billion people are participating in these global events and programs.
Among the numerous organizations sponsoring Earth Day activities, the American Chemical Society (ACS), the world's largest scientific organization, will observe Earth Day with a program showcasing the positive contributions that chemistry makes to our environment and reminding us that all our actions and choices affect the health of our planet. Chemistry contributes to a sustainable earth by recognizing and quantifying environmental pollution and by developing environmentally friendly products and processes such as recyclable plastics, cleaner-burning fuels, phosphate-free detergents and environmental monitoring.
The ACS joined the Earth Day celebration on April 22, 2003, and since then it has sponsored annual Chemists Celebrate Earth Day (CEED) events (portal.acs.org/portal/acs/corg/content).
A special field—green chemistry—develops environmentally benign chemical products and processes in the context of renewable resources. See my article, "Green Chemistry—What It Is and What It Isn't," in the January 2011 issue of the Community Alliance (fresnoalliance.com/wordpress/?p=2358).
For this year's theme, "Energy—It's Everything!," the ACS provides resources, products and hands-on activities for educators to spice up classroom and laboratory presentations (chemistry.org/earthday), making available previously published articles and games and sponsoring an illustrated haiku contest for K-12 students and a video contest for college and university students.
Local winners of the illustrated poetry contest will be announced on April 16 at the Discovery Center (1937 N. Winery Ave., 559-251-5533), where the ACS will host Saturday science classes at noon, 1 p.m. and 2 p.m. The theme of the day's activities will be "Batteries: Composition and Recycling," and the kids will make their own batteries out of fruit. The ACS Earth Day coordinator is Melissa Golden (559-278-6822 or mgolden@csufresno.edu).
During the last few years, we've seen an increased concern with solar energy, air, water, global warming, climate change, environment, alternative energy, oil, carbon or carbon dioxide, ice caps, polar bears, ozone, smog, greenhouse gas emissions, recycling, waste management, biomass conversion, biofuels, ecology and others too numerous to mention. I optimistically, but cautiously, think that we've finally reached a tipping point worldwide on the media's and public's recognition of the environment and our role in preserving it. It's about time!
ExxonMobil, General Electric, Toyota, Schlumberger and other disbelievers in global climate change, which for years have lobbied against tougher limits on air pollution, have climbed on the bandwagon and tried to "greenwash" their former anti-environmental reputations. Despite its role in the Gulf of Mexico disaster, British Petroleum has the audacity to tout itself as "Beyond Petroleum."
The George W. Bush administration, while spinning a web of pro-environment propaganda, rolled back three decades of bipartisan environmental protections in its efforts to benefit its corporate clients in the oil, gas, coal and other industries at the expense of a clean, healthy and safe environment. On a wide range of issues, for example, global warming, childhood lead poisoning, mercury emissions, climate change, reproductive health, nuclear weapons, energy policy and Arctic drilling, it distorted and censored scientific findings that contradicted its policies.
In his inaugural address, President Barack Obama promised to "restore science to its rightful place." However, Obama's recent ambivalent attitude toward the environment has been disappointing, and the Republican resurgence doesn't augur well for the future. Obama is cynically dubbed "Obusha" by Citizens for Legitimate Government (http://www.legitgov.org) because of his continuing many of Bush's policies.
However, if Earth Day raises our consciousness of our obligations to the planet, results in a balanced view of our responsibilities to the fragile ecosystem and makes us aware of the crucial importance of governmental policies on the environment, it cannot but help to have a positive effect.
Earth Day Activities in and near Fresno
Thursday, April 14
Reedley College Green Expo, 995 N. Reed Ave., Reedley. Exhibits and a conference emphasize a sustainable environment through alternative choices and technology for a cleaner future. 9 a.m.–2 p.m. For more info, contact linda.launer@reedleycollege.edu or 559-638-3641 x3471.
Saturday, April 16
Aquarius Aquarium Institute's 9th Annual Earth Day Run for the Reef and Water Planet Adventure Day, The Shops at River Park/Sugar Pone Trail, Fresno. Race director: Ken Takeuchi, Pro Race Group. Teens/Adults: $18 general, $15 for members or $20 on day of event; children 12 and under: $8 general, $7 for members or $10 on day of event. Includes t-shirt, goodie bag and healthy snacks. Start and finish behind Edwards Cinemas. 5K Timed Run: 7:30 a.m.; 2-mile Walk/Run: 8 a.m. One wristband included with each Run/Walk entry for Water Planet Adventure Day, a morning of fun and water conservation information for the entire family starting at 9 a.m. Additional wristbands can be purchased at the event for $5 each. For more info, contact Tom Lang at 559-930-3474 or visit www.AquariusAquarium.org.
City of Visalia Earth Day, corner of Mineral King Ave. and Conyer St. Think Green, Be Green. Mill Creek Beautification Project. 8 a.m.–noon. For more info, call 559-731-4531 or visit www.gogreenvisalia.com.
Party for the Planet, Fresno Chaffee Zoo, 894 W. Belmont Ave., Fresno. 9 a.m.–4 p.m. For more info, contact spitts@fresnochaffeezoo.com or visit fresnochaffeezoo.org.
Millerton Lake State Recreation Area, 5290 Millerton Rd., Friant. 14th Annual Earth Day Restoration 7 Cleanup. Blue Oak Trail Rehabilitation and Cleanup. Grange Grove Day Use Area Native Tree Planting. La Playa Day Use Native Tree Planting. South Shore Entrance Station Area Enhancement. Interpretation Display Case Replacement. South Shore Litter Patrol. For more info, contact Steve Barber at 822-2332 x113 or sbarber@parks.ca.gov.
City of Woodlake Earth Day Fair. Sponsored by Sunset Waste. 11 a.m.–3 p.m. For more info, contact snunez@sunsetwastesystems.com.
Friday, April 22
Community Regional Medical Center, Fresno and R streets. Program for employees. 10 a.m.–2 p.m. For more info, contact cyoung@communitymedical.org or 559-459-6506.
City of Exeter Earth Day Fair. Sponsored by Sunset Waste. 1 p.m.–5 p.m. For more info, contact snunez@sunsetwastesystems.com.
Saturday, April 23
City of Lindsay Earth Day Fair. Sponsored by Sunset Waste. 11 a.m.–3 p.m. For more info, contact snunez@sunsetwastesystems.com.
San Joaquin River Stewardship Program—Earth Day, Millerton Lake State Recreation Area, 5290 Millerton Rd., Friant. Volunteer Service Day. Participants will work with Millerton Lake State park rangers performing a variety of park cleanup and restoration activities. 9 a.m.–noon. For more info, contact 559-289-8874, sstarcher@gmail.com or sanjoaquinriver@gmail.com.
Thursday, April 28
Fresno State Earth Day. 10 a.m.–3 p.m. Festivities will include guest speakers, panel discussions, sustainable cooking demonstrations and local vendors. For more info, contact sfarnesi@comcast.com or ahowell@csufresno.edu.
Saturday, April 30
Second Annual Fresno Earth Day, Unitarian Universalist Church of Fresno, 2672 E. Alluvial Ave., Clovis. 11 a.m.–4 p.m. This green festival includes nonprofit organizations, government agencies and local businesses providing useful information, goods and services related to sustainable living and protecting the environment. Includes live entertainment, practical workshops, demonstrations, children's activities and local cuisine. A pivotal opportunity for Central Valley residents to join together to create an ecologically intelligent, commercially beneficial and socially productive community. Sponsored by a coalition of businesses and community organizations (Fresno Betsuin Buddhist Temple, Fresno County Bicycle Coalition, Fresno Metro Ministry, GreenFresno.org, Interfaith Social Justice Collaborative, La Querencia, San Joaquin River Parkway Trust, Sierra Club Tehipite Chapter and Unitarian Universalist Church of Fresno). Erected in 2010, the church provides an example par excellence of the currently popular "green building." For more info, call 559-322-6146 or visit www.fresnoearthday.org.
Valley Air District will have staff at some events. For more info, call Sheri Bohigian at 559-230-5852 or visit www.Healthyairliving.com. San Joaquin Valley Air District (1990 E. Gettysburg Ave.).
To view events taking place throughout California, visit www.earthday.net .