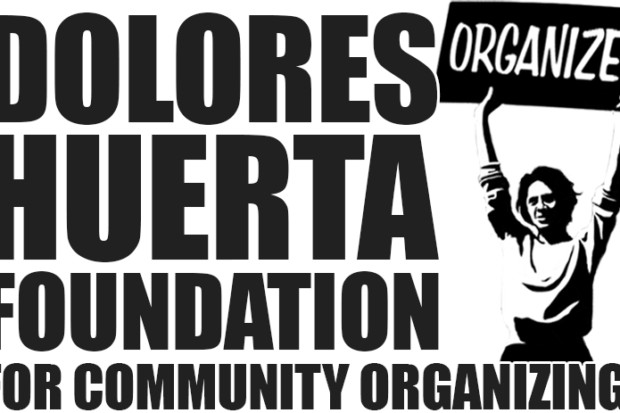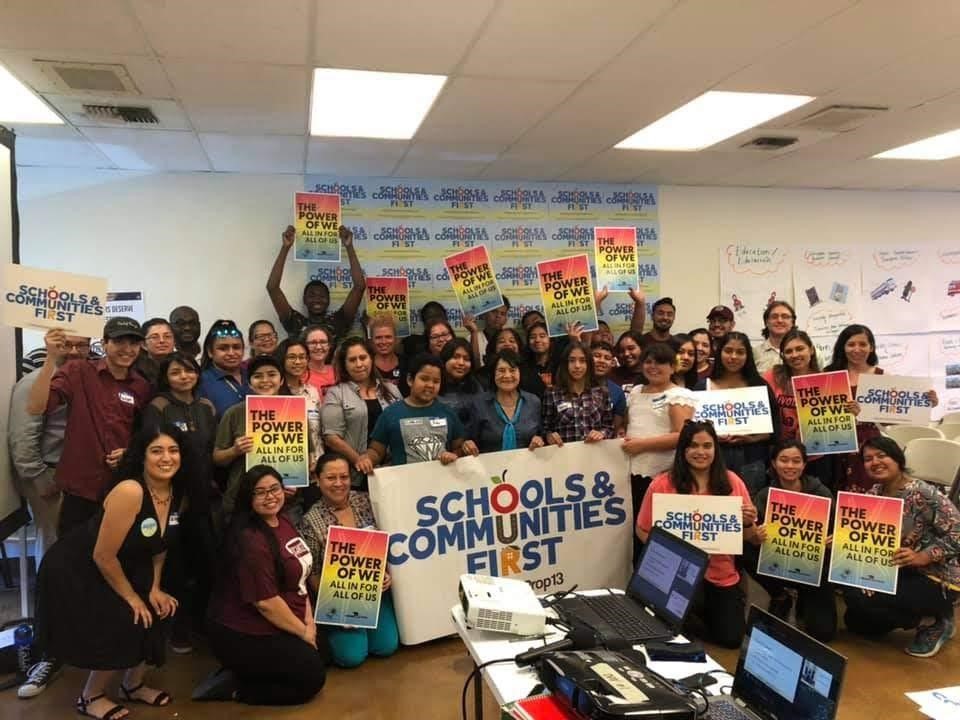 DHF Puts Schools and Communities First!
Since 2015, the Dolores Huerta Foundation (DHF) has been working diligently on the California Schools and Local Communities Funding Act, previously known as "Make It Fair." If passed, it will reclaim $12 billion per year for K-12 schools, community colleges and local communities by closing commercial property tax loopholes that corporations and wealthy investors use to avoid paying their fair share of property taxes. It will protect all homeowners and renters by maintaining tax protections for all residential property and ensure strict accountability so that money goes directly to our schools and communities.
California is the fifth largest economy in the world and with 26% of U.S. billionaires calling this state home, we find it obscene that 1 in 5 children live in poverty, that California ranks 41st in per-pupil spending and that our libraries, hospitals, fire departments and community services we all benefit from suffer from lack of funding.
DHF is working with California Calls, a mighty statewide coalition of 30 grassroots, community-based organizations and leaders throughout California. The coalition, established in 2010, represents north and south, urban and rural, workers and business leaders, homeowners and renters, seniors and youth, teachers and students, long-time residents and newcomers.
DHF held a Schools and Communities First Core Leader Training in July 2019 to train grassroots leaders and activists on Schools and Communities First for staff, vecinos, youth and community members to participate in outreach and mobilization. DHF invites you to get involved and volunteer with us in this important effort!
Reach out to Eliana Honeycutt, the Civic Engagement Coordinator, at 661-322-3033 ext. 504 or e-mail her at ehoneycutt@doloreshuerta.org for more information.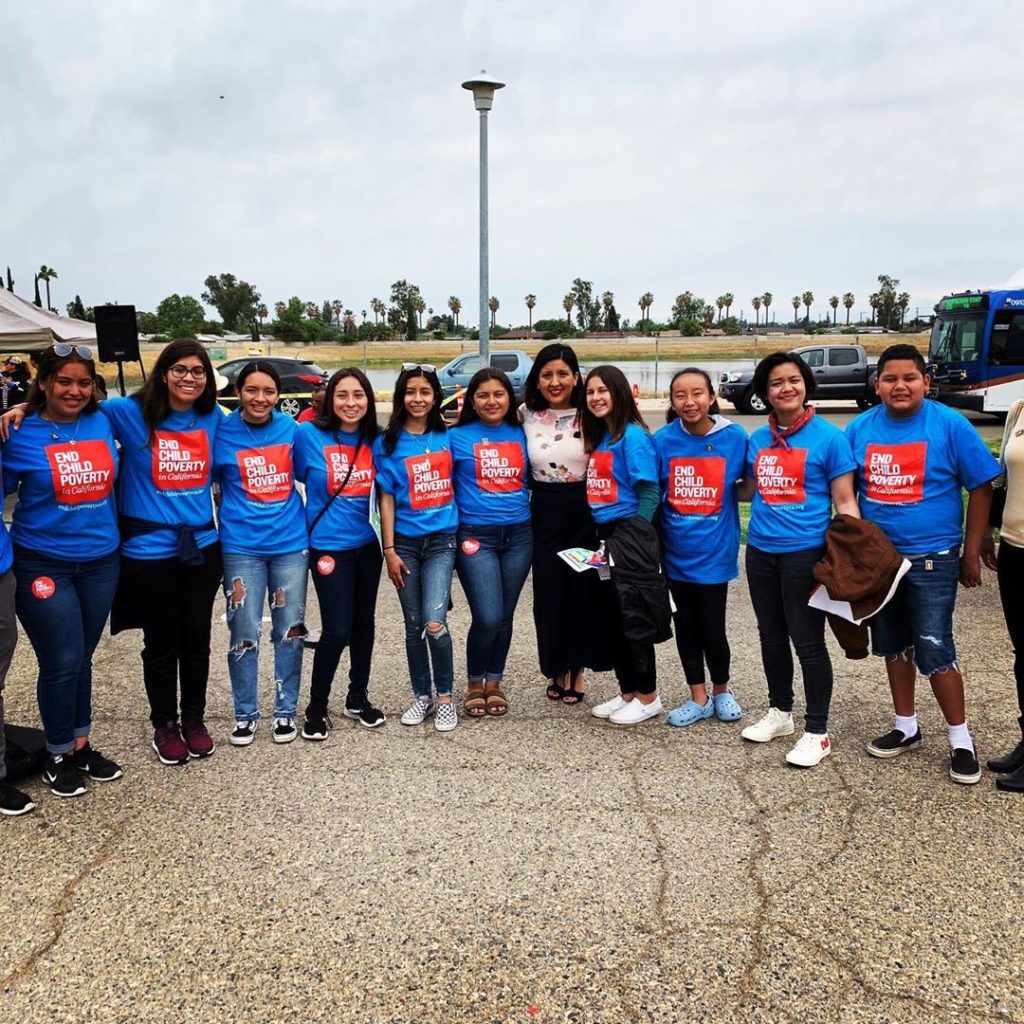 Together, We Can END Child Poverty!
DHF is partnering with with End Child Poverty CA (ECPCA), a statewide nonpartisan campaign demanding an end to deep child poverty for 450,000 of California's children. The ECPCA aims to get Californians engaged in working toward a bright future for ALL our children. Carlo Gomez, DHF's new State Program Director to End Child Poverty in California, says, "DHF has a great opportunity to galvanize nearly 20 years organizing with communities to change and improve their [children's] conditions."
California has the highest rate of children living in poverty of any state in the nation.
"When we think about the amount of money it's going to take to end abject poverty…this is not an expense, it's an investment," said Dolores Huerta, DHF Founder and President.
She continued, "Too often, poverty spending simply adds to or reduces existing budget items. The plan is to end deep child poverty in California in just four years and reduce overall child poverty in California by 50% over a decade."
We urge Californians to join us in providing real and lasting solutions to this inhumane crisis. Be a part of the @EndChildPovCA campaign to create a better future for 2 million children. Will you join us? For more information on our partnership with the ECPCA, please contact Carlo Gomez at cgomez@doloreshuerta.org.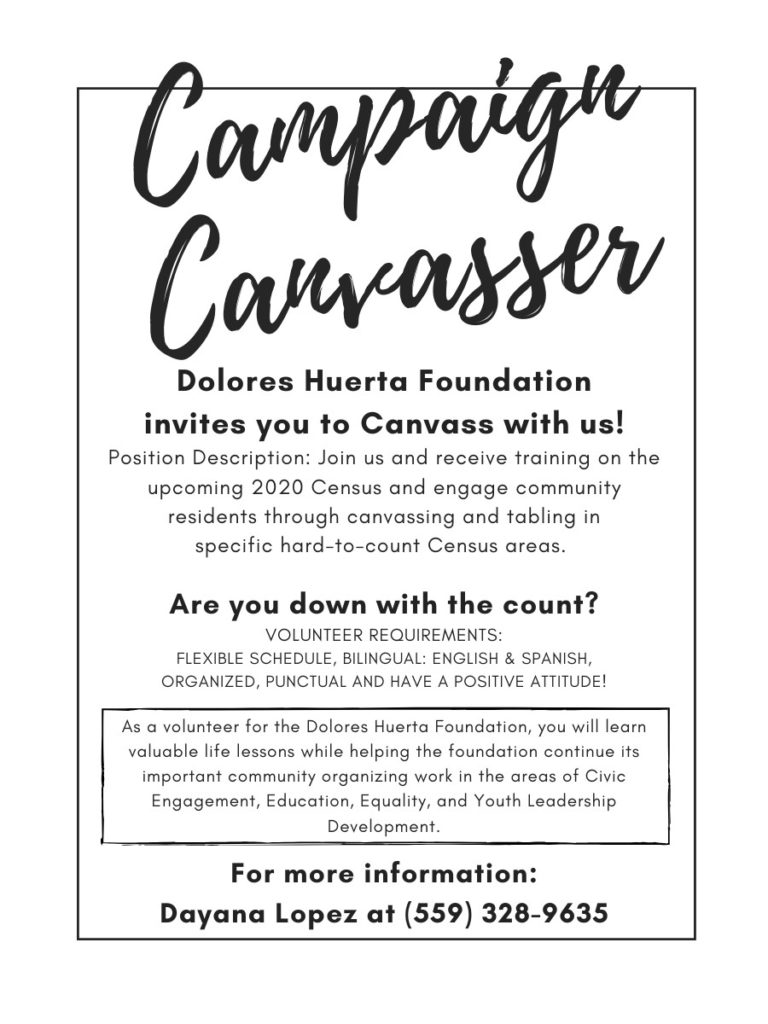 Census 2020 Town Halls Activate Kern and Fresno Counties
On Nov. 21, the Dolores Huerta Foundation invited teachers, students and community members to reclaim their power at Census 2020 Town Halls in Bakersfield and Tulare. DHF organized two Town Halls as part of its community outreach campaign to increase Census participation in Kern County's hard-to-count areas.
Fernando Torres, a Bakersfield organizer with DHF, stated, "When we don't get counted, we lose funds for our childrens' education for the next 10 years! We lose having a clinic that is a 10-minute drive rather than a 30-minute drive away. Maybe most importantly, we lose political representation like the opportunity to be represented in Congress by a person that knows our struggles, that holds our community values."
In attendance were Superintendent Harry "Doc" Ervin, Trustee Lillian Tafoya and After Schools Program Director Deanna Clarke of the Bakersfield City School District, who stood in solidarity at the Bakersfield Town Hall with DHF's efforts. Natalie Martinez, a member of DHF Youth, delivered a speech on why the Census matters to her and her family.
An undercount in 2020 could put many Kern County residents at risk of losing valuable resources. There is a great deal at stake for all our communities of color, particularly those in low-income rural communities. DHF will continue to host town halls, engage in door-to-door canvassing and other outreach through Census Day on April 1, 2020.
Join the movement to bring our communities the information and encouragement they need to participate in Census 2020! #CuentaConmigo #BeDownWithTheCount.