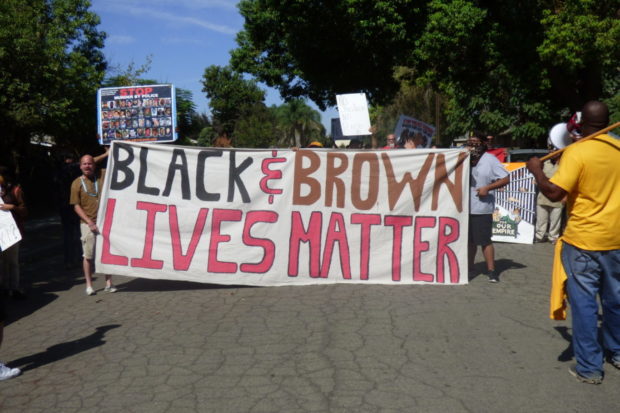 By Ernesto Saavedra
(Editor's note: On Aug. 10, Fresno community members blocked traffic outside of the Robert E. Coyle Federal Building in downtown Fresno during the lunch rush. At the end, two of the community members were cited for "jaywalking," among other things. On Aug. 15, beginning and ending at the New Light for New Life Church of God in West Fresno, Fresno community members gathered once more for a Freedom and Justice March. Both actions highlighted the need for our community to rise up and unapologetically disrupt White supremacy everywhere and in all its manifestations including police harassment and brutality. Although covered by the mainstream media, what many outlets left out were the demands the community is putting forth. Here they are, unedited.)
It has been almost one year since the murder of Michael Brown, Jr., and the uprising that followed. From August 7-10th, we will stand together, united in purpose, as we uphold our commitment to this movement for Black Lives.
Over the last year, our movement has made it clear that Ferguson is Everywhere. That's why we're using the hashtag #UnitedWeFight—because we lift up and demand justice not just for Michael Brown, Jr., but for Sandra Bland, for Cary Ball, for Yvette Smith, for Kajieme Powell, for Dontre Hamilton, for Taneisha Anderson, for Vonderrit Myers and for far too many more.
More info at http://fergusonaction.com/united-we-fight/.
According to the National Police Misconduct Statistics and Reporting Project statistics which started from 03/09-06/10 there has been 5,986 reports of police brutality that are reported resulting in 382 deaths, a great majority of these individuals have been black men and women.
Advocates respond by holding a press conference and demonstration outside the federal building with the following demands:
The De-militarization of Local Law Enforcement across the country
A Comprehensive Review of systemic abuses by local police departments, including the publication of data relating to racially biased policing, and the development of best practices.
Repurposing of law enforcement funds to support community based alternatives to incarceration and the conditioning of DOJ funding on the ending of discriminatory policing and the adoption of DOJ best practices
A Congressional Hearing investigating the criminalization of communities of color, racial profiling, police abuses and torture by law enforcement
Support the Passage of the End Racial Profiling Act
The Obama Administration develops, legislates and enacts a National Plan of Action for Racial Justice
We see these events as vicious and relentless attacks by those in power in an institutionally racist system that will stop at nothing to preserve and protect. White Supremacy. Continued police brutality resulting in the deaths of black bodies by law enforcement must come to an end and law enforcement around the country must be held accountable.
*****
For more information, contact Ernesto Saavedra at ernesto.fresnoca@gmail.com.