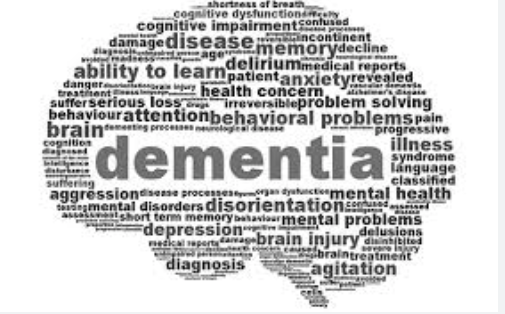 (Editor's note: This article is reprinted courtesy of California State University–San Francisco.)
Diagnosing dementia is often difficult. The brain itself is complicated, so someone suffering from dementia can have many symptoms ranging from changes in language abilities to behavioral changes. These symptoms can mimic other conditions, such as serious mental illness or substance use.
Primary care providers, who already have a lot on their plate, might be missing opportunities to screen for or detect dementia.
"The number of things primary care providers must know and have to address in a workday would be overwhelming to most people," says Dr. Anna Chodos, M.D., M.P.H., associate professor of clinical medicine at the University of California San Francisco (UCSF).
"What we're trying to do is make diagnosing dementia one of the things that seem very doable in the context of assessing and addressing symptoms."
Chodos is part of a statewide effort led by the California Department of Health Care Services called Dementia Care Aware. She serves as executive director. Organized by UCSF, it is a statewide collaboration of dementia experts from across California to provide primary care providers with tools and resources to improve dementia screening and care for patients.
Key among the initiatives is a simple screening approach called the "cognitive health assessment" that lets a provider know if a patient is more likely to have dementia and if follow-up care is necessary.
"Diagnosing dementia often doesn't go in a patient's chart, even when providers feel pretty certain the patient has dementia," Chodos said. "One reason is that it's challenging for providers to know when we can recognize and document dementia—which is a syndrome of new cognitive and functional decline—or if we must have more certainty about the disease that may be causing that decline, which would be something like Alzheimer's disease or frontotemporal dementia.
"There isn't a clear singular diagnostic test for all of these different diseases. Many diseases can cause dementia, but we don't have a singular blood test or imaging finding that confirms if a patient has dementia. That adds some uncertainty."
She said it's not until patients begin having substantial difficulty in their daily lives that they become more likely to be diagnosed. By that time, care planning is often crisis-driven. There is less time to prepare or come to terms with what's happening.
Also, the person living with dementia is at a more advanced stage of decline, and if someone is supported by friends or family, they have been dealing with the symptoms and challenges without support, such as specialized social services, for some time. Burnout among caregivers for people with dementia is extremely common, and time has been lost to address and maybe even prevent that burnout.
The Dementia Care Aware cognitive health assessment is an approach that emphasizes brain health and gives patients the most time possible to improve their cognition and function if it is done annually as a screening approach.
"By emphasizing brain health interventions, we're trying to affect the progression of cognitive symptoms," she said. "For the underlying diseases that cause dementia, we don't have a lot of accessible disease-specific treatments. However, there are many things you can do to make people's lives better, prevent a crisis and, most importantly, slow decline."
She points out that physical and social activity, correcting hearing and vision impairment early, and managing blood pressure and diabetes are powerful ways to promote brain health and prevent or delay the onset of diseases that cause dementia.
Primary care practitioners can find trainings, podcasts and webinars on the Dementia Care Aware website that offer free Continuing Medical Education/Continuing Education/Maintenance of Certification credits. A core training on how to administer cognitive health assessments allows providers to bill for doing the cognitive health assessment annually with their Medi-Cal patients and can fit into annual wellness visits.
Dementia Care Aware (dementiacareaware.org) also offers additional trainings, webinars, podcasts and free support through a warmline phone service for primary care teams through which dementia experts provide callers with decision-making consultation for dementia screening, assessment, diagnosis, management and care planning. Clinicians and primary care teams can call 800-933-1789 weekdays from 9 a.m. to 5 p.m. and receive support.
"We're trying to make this really practical and doable," Chodos said. "Not just for practitioners, but for caregivers, advocates and patients, by making it easy to find resources once a patient has been identified as having symptoms of dementia or decline. There are many valuable resources available in California, and we want to connect people with those resources."