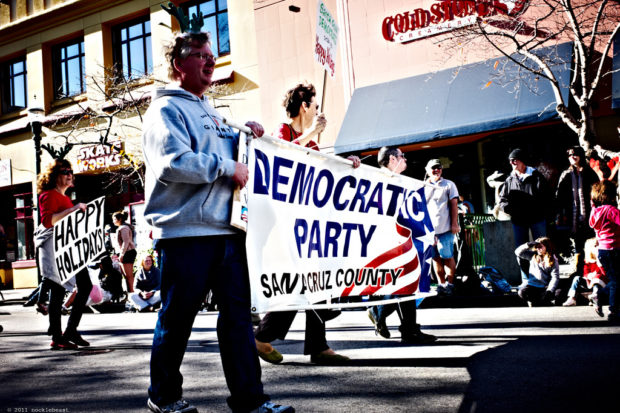 By Community Alliance Staff
The Greater Fresno Metropolitan Area greatly extended its influence within statewide Democratic organizations during the mid-April California Democratic Party (CDP) Convention held in Sacramento.
Doug Kessler of Selma was elected CDP Region 8 director.
Fresno County Democratic Party Chair Michael D. Evans was elected chair of the Federation of Democratic County Central Committee Members, and Rose Ann Martinez of Sanger was elected secretary of the same body.
Susan Good and James Williams, both of Fresno, were elected to the Progressive Caucus of the CDP as vice chair–Central and parliamentarian, respectively.
Sean Kiernan, a student at Fresno State, was elected political director of the California College Democrats.
Susan Rowe of Madera County was elected South Central vice chair of the CDP's Rural Caucus.
Kessler, chair of the Fresno County Democratic Central Committee's (FCDCC) Field Coordination Committee and a Democratic State Central Committee Executive Board member, was elected director of Region 8, which includes Fresno, Kings and Kern counties and part of Tulare County.
Kessler says that he will fight hard for the Central Valley's interests with the state party. "We often hear that we don't get our fair share from the party, and that message needs to be given to the party."
His first priority is to get Leticia Perez elected in the State Senate District 16 special election to replace Michael Rubio. Following that, "I want to help the Democratic central committees in the four counties any way we can," says Kessler. "We need to put a lot of work into Kings County, in particular."
The Federation of Democratic County Central Committee Members provides a forum for Democratic central committees throughout the state to share ideas for developing their organizations and working effectively with the CDP. Evans believes the organization has untapped potential.
"The Federation recently has experienced weak leadership and something of an identity crisis," says Evans. "As state party chair, John Burton and his excellent staff have done an excellent job of addressing the needs of the central committees, thereby alleviating one goal of the Federation."
Evans says the Federation needs to redefine its raison d'être. He would like to see "enhanced communication and sharing of best practices between central committees, a mentoring system that pairs experienced party chairs with newer ones in counties that have similar concerns, and a renewed effort at party building particularly in the state's traditional red areas."
"Young people are not the 'future' of the Democratic Party," states Kiernan. "We are an important part of it now. The California Young Democrats and the California College Democrats can work to assure that young people across the state are aware of Central Valley issues."
In his role as political director of the California College Democrats, Kiernan wants to "assist chapters [throughout the state] in scheduling visits with state legislators and members of Congress to lobby for the legislation we support." Given that this is not an election year, he would like to see the group's political direction focused on influencing the legislative process.
"This strong presence from Fresno County with direct access to the party's decision-making apparatus could have big dividends for Democrats in the Central Valley," says Evans.
Learn more about the local Democratic Party and its regional and statewide initiatives by contacting the Democratic Party Headquarters at 559-495-0606 or fresnocountydemocrats.org. The Headquarters is open 11 a.m. to 3 p.m. Monday through Saturday.