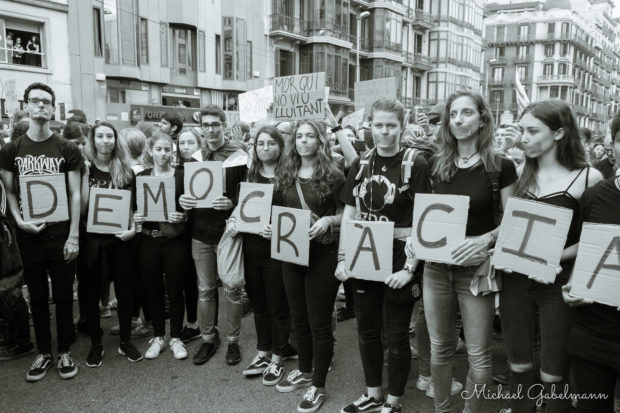 Po Francisco Duarte
"Democracy" for all, that is the flag raised by this country – United States of America – claiming the mission of imposing its brand on the rest of the world and at any cost. The question is what kind of democracy is lived in this country? We will stop at some characteristics that define a democracy: first, the government is elected by a majority of the people, second, there is freedom of expression and association.
La primera característica nos llevaría a concluir que todo gobierno electo por votación popular es democrático lo cual sería irrefutable dentro de un sistema en el cual existen opciones reales de elección, la ciudadanía participa libremente, sin trampas, ni engaños, ni manipulación. La pregunta es si en este país se cumplen esos requisitos democráticos tan básicos.
Después de su visita a este país- antes de la guerra civil- Alexis de Tocqueville escribió que la democracia encierra el peligro de degenerar en despotismo "suavizado", significando tal vez "disfrazado" de democracia. Aquellos en posición de poder- político o/y económico- pudieran utilizar recursos para engañar o/y suprimir la voluntad popular. La llamada Dictadura Perfecta – disfrazada de democracia- se implantó en México durante décadas controlando organizaciones civiles, grupos sindicales, medios de comunicación etc. Al pueblo mexicano se le permitía votar pero no se le daban verdaderas opciones de cambiar el sistema ni político ni económico.
¿Se alienta o se suprime el voto? Una característica democrática es el alentar al pueblo a una participación masiva en el proceso de elección de su gobierno, en lo que Estados unidos- en particular el partido republicano- tiene un récord vergonzoso por su intento de desalentar y suprimir votantes utilizando un sistema electoral defectuoso y artimañas diversas. La supresión de votos es un recurso antidemocrático utilizado con mayor libertad desde que el 2013 el Tribunal Supremo eliminó la intervención federal en los estados con problemas de discriminación en las urnas. Georgia, Dakota del Norte y Kansas lo aprovecharon para adoptar restricciones nuevas afectando principalmente a minorías que suelen votar por el Partido Demócrata (Revista Mother Jones). Notamos que ya antes de ese dictamen 24 estados habían adoptado sus propias restricciones incluyendo la exigencia de cédula de identidad con fotografía, exigiendo además que el nombre del votante en los formularios sea idéntico al que aparece en otras bases de datos oficiales, la inclusión de una dirección- que afectaba primordialmente a miles de nativos de áreas rurales y reservas – en especial en Dakota del Norte – además de la purga de votantes del padrón electoral alegando baja participación. Esto no es todo, en Georgia, por ejemplo, las autoridades estatales eliminaron 214 centros de votación y redujeron el periodo de votación por correo- Otro truco muy socorrido es cambiar la dirección de las casillas de votación, el uso de llamadas de robots con información falsa con el mismo propósito de causar confusión en los votantes- además de hacer una "purga" de hasta el 10% de los votantes inscritos en el padrón electoral del estado. El sistema además ha fallado en establecer un día nacional para esta actividad de tanta importancia dejándolo a un martes de trabajo con el propósito no tan oculto de desalentar la participación ciudadana. Algunas de estas medidas alegan el propósito de eliminar un "fraude electoral" que se ha probado inexistente.
Other excluded citizens: in Florida, the wait for former inmates to participate in the process, ranges between 5 and 7 years before they can request the full restoration of their right to vote, that affects 1.6 million people or the 10% of the state population. In other general information 36 of the fifty states of the Union prohibit the vote of those who are on probation; 32 states deny anyone who has only one criminal record. It is estimated that in this way 5.6 million citizens are excluded from the electoral roll, for many, in violation of their constitutional right to vote stipulated in amendment 15 of the constitution. The 'Gerrymandering'- another antidemocratic resource- is a way in which the politician is the one who chooses his voters. It describes the manipulation in the delimitation of electoral maps ensuring the triumph of those who have the power to mark those limitations. None of these measures neither encourages nor describes a participatory democracy. We also ask how free expression is when capital participation is without limit, giving extra voice to those who have more resources, losing the argument for equality. In the current system the amount of money that can be raised for campaigns qualifies or disqualifies candidates. These resources give the power to promote candidates and political agendas that are not necessarily supported or for the benefit of the majority, such as examples, health care and universal education, taxes for the richest, increase in the minimum wage, equal pay regardless of gender, restrictions on the kind of weapons that can be obtained, an arrangement of the immigration system with a path to citizenship etc. If this is a functional democracy in which the people rule, why have not they legislated in favor of these provisions supported by the majority of voters? "Mr money is a powerful gentleman."
Using some data during the midterm elections the previous year, a record was established in the million-dollar cost of $ 5, 200 million dollars–according to the CRP–Much more than invested in any other mid-term election whose record was $ 4, 100 million, that is, an increase of around 35% even though it is known that citizen participation in these activities barely exceeds 30%. Few doubt about the power that capital has to corrupt political processes.
Hablar de libertad de expresión es un tema obligado y complejo, más aun cuando hemos considerado la voz ronca del capital. La libertad de expresarse existe en este país, como en muchos otros, más como una falacia que como una realidad cuando el espacio para comunicarse tiene un precio altísimo, cuando existe un monopolio de la comunicación a nivel mundial que se encarga de moldear y dirigir las opiniones, cuando- aun a nivel universitario- la libertad de cátedra está profundamente limitada. Aun los medios de comunicación que se llaman progresivos son propiedad de capitalistas y saben los limites que no pueden rebasar en sus opiniones. Cuando intereses creados muy poderosos te indican lo que debes oír, decir y creer, se desmorona todo principio democrático cambiado por una dictadura oligárquica o/y plutócrata. Ya desde el siglo X1X Alexis de Tocqueville dijo no saber de ningún país donde «hubiese menos independencia mental y verdadera libertad de discusión que en Estados Unidos». Nos toca a todos decidir si el tipo de democracia que se ha practicado en este país desde sus inicios nos ha ofrecido- y nos ofrece- una verdadera opción de cambios y si vale la pena exportar esta democracia al resto del mundo. Ese será nuestro próximo tema de discusión.