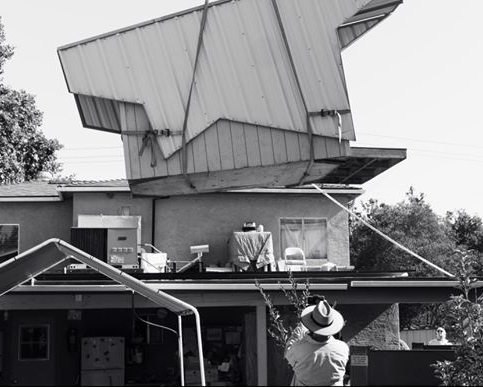 Text and photos by Caroline Jackson

Up, up and away, like a Wizard of Oz scene; that's how it went on July 31 at the Dakota EcoGarden. The Dakota EcoGarden (https://ecovillagefresno.org/dakotaecogarden/) received a donation of a shelter designed by architect Arthur Dyson. This gigantic crane went over the roof to set it on it's new pod foundation.
Dakota EcoGarden is a transitional homeless shelter owned by Nancy Waidtlow. It provides a holistic, individual housing alternative for the homeless. It's a supportive pathway, in an eco-friendly environment, to a meaningful and self-sufficient life. Community support and involvement are welcome.
*****
Caroline Jackson is a local attorney and art photographer