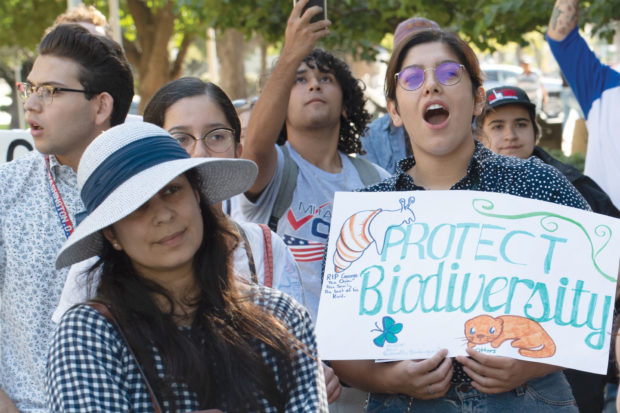 By Vic Bedoian
Photos by Peter Maiden
Central Valley communities, hard-pressed by a multitude of environmental dangers, responded to the Climate Strike actions of Sept. 20 with enthusiasm and ire, as well as with an undercurrent of exasperation. Groups of protestors, including many young people, gathered in cities up and down the Valley calling on their political leaders to start doing something about the climate crisis.
In Fresno, a youth-led march and rally of 200 people or more formed a picket line at City Hall. A late afternoon event at the State Building downtown focused on the most glaring issue of concern—the fossil fuel industry.
"I feel like there's no other issue more important than protecting the earth and stopping climate change. It literally affects everyone, everywhere, and I think we need to band together and focus on changing our behavior and start fixing the problem."—Jill Sarkasian
Jesus Mendoza of the Central California Environmental Justice Network (CCEJN) kicked off the rally on that theme, "We're doing great things as a movement and better things are coming our way. Just last week, we defeated AB 1299. AB 1299 would have actually given a big open door for small oil companies [and] refineries to monitor themselves. I don't think that's likely."
Local young people are responding to the climate crisis with intelligence and determination. They were well-represented at the events.
Johnny Rosas of the Central Valley youth group 99 Rootz believes everyone should have access to clean air and water, and emphasized the role of young people in the environmental justice movement, "I think we should really bring awareness to this issue because I feel like a lot of people don't know what's going on, and I feel like by everyone being here and making [their] voices heard, we're letting everyone know that it's important to protect the environment.
"Standing together and letting our voices be heard, we're definitely going to create some changes because our youth are the next in line to inherit this planet. We want to keep it beautiful and not do any harm to it before it's too late."
Another youthful leader is Julie Guzman of the Madera Coalition for Community Justice, "We all know there's a big problem here in Central California, for example, including Lamont, Lost Hills, Colonia, Arvin, Bakersfield and Taft and many other towns in the Central Valley.
"We are all strained by this out-of-control oil industry. There are many other ways to create clean energy. And I have a message for Governor [Gavin] Newsom: We need to stop new fossil fuel projects. All it does is pollute our air and water, and do we really want that?"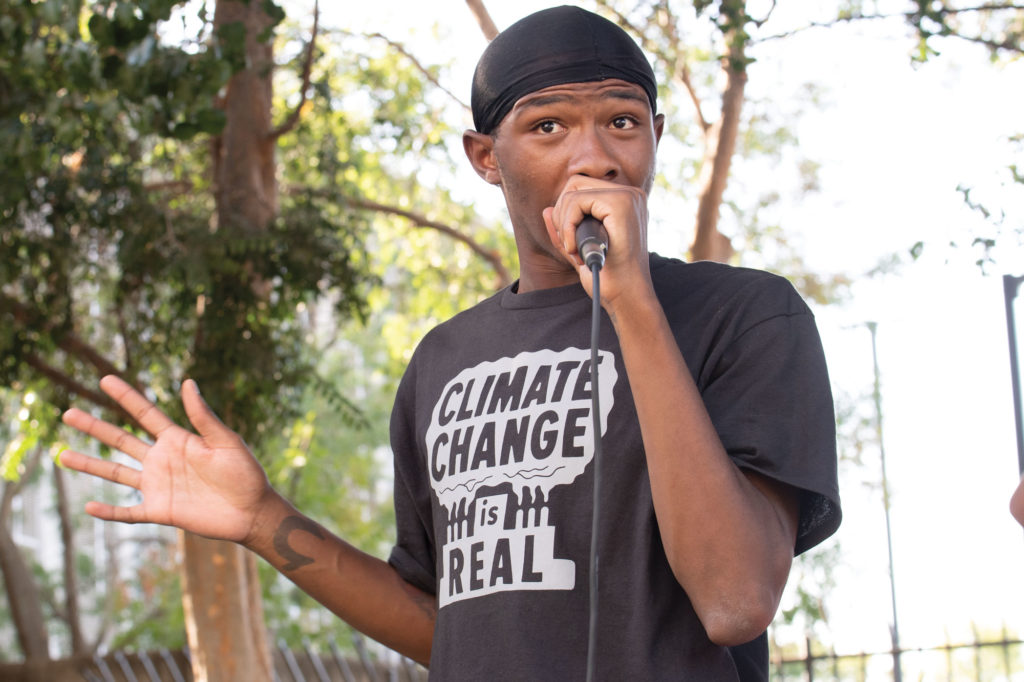 Kieshaun White has risen to fame in Fresno and elsewhere by taking matters into his own hands. Born with breathing difficulties on Fresno's west side, he created a people-driven air pollution monitoring system. It has now been deployed throughout the city, filling the gap in air monitoring that government agencies only dream about.
He encouraged young people to be creative because of the possibilities available for young people to effect change—"a youth having a dream, a passion and a boat leading them in the right direction to create something bigger than what they expect."
Mendoza had a message for the no-longer-youthful folks in the crowd, as well, "Bring them under your wing or at least open up doors for them. Because it's important to start to cultivate the future of tomorrow.
"And this movement of climate justice is an opportunity to bridge the generations where youth and elders can come together. And we share the same values, and this is how important it is to invest in our youth."
Nayamin Martinez, executive director of the CCEJN, communicated the reality that, despite all the enthusiasm, there is still a long way to go. "Let me just say that the state of California claims to be a champion in climate change. Just since Governor Newsom took office, there have been permitted 2,000 new oil- and gas-related drilling permits in our state. No, shame on him!
"If we want to be a champion of climate change, we need to transition outside of fossil fuels. We need green jobs!"
With positive attitudes, their creative signs and their conversations, everyone at the Climate Strike rallies expressed a high level of enthusiasm, knowledge of the issues, a tone of defiance and skepticism toward those in power, which will arm them in the battles coming ahead over building a sustainable Valley.
As the event was winding down, the group finished off with a march and chant, "Central Valley heart of Cali," giving voice to devotion for their home turf.
*****
Vic Bedoian is an independent radio and print journalist working on environmental justice and natural resources issues in the San Joaquin Valley. Contact him at vicbedoian@gmail.com.