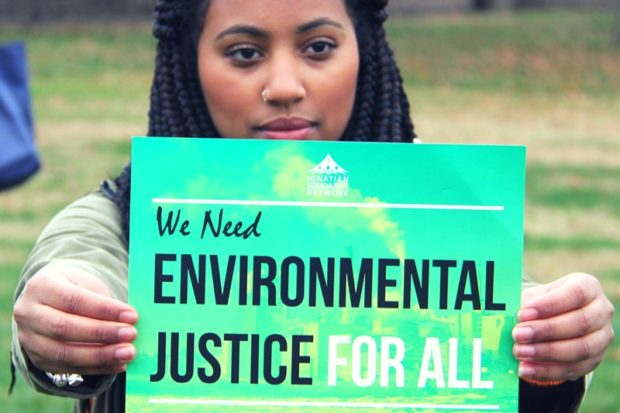 By Nayamin Martinez
The Biden administration took two early measures to fulfill its campaign commitments to address climate change: 1) The United States rejoined the Paris Agreement, and 2) the federal government established a moratorium on oil and gas leases on public lands.
These are two good steps in the right direction but certainly not entirely what the country needs. If we do not follow concrete steps to transition away from fossil fuels, to diversify our energy sources to greener and sustainable options, these two steps will only be cosmetic and for PR purposes.
In California, we have been experiencing a similar dynamic. Our former governor, Jerry Brown, claimed to be a "climate change champion," and he backed this claim by passing ambitious policies and programs that included significant investments in renewable energy sources and programs to reduce carbon and greenhouse emissions.
Through an executive order, he set an ambitious target, making the state carbon neutral by 2045. He committed to putting 5 million plug-in and electric cars on the road by 2030.
Brown toured the world gathering support from states and cities to cut carbon emissions; he championed the "Under 2 MOU," which was a partnership of more than 200 governments that agreed to cut emissions to keep global temperatures from rising more than 2 degrees Celsius. He welcomed international leaders in September 2018 to San Francisco for a climate summit.
Nevertheless, Brown did not take the most important step to make California a real climate change champion; he never bothered to ban or reduce oil production. California is the fourth-largest oil producer in the country, and Brown did not take any measures to change this trend despite numerous claims from environmental organizations that demanded: "Keep it in the ground."
Under the Newsom administration, the rhetoric of California's being a climate change champion continues. He has continued supporting investments in emission-free vehicles and recently announced an ambitious plan under which all new cars sold in California by 2030 will be all-electric.
He has supported agricultural programs that sequester carbon and even launched innovative strategies to use public lands to fight climate change, conserve biodiversity and boost climate resilience.
However, Newsom, like Brown, has not taken real actions to reduce fossil fuel extraction in our state. He directed the secretary of natural resources to fire the head of the Division of Oil Gas and Geothermal Resources (DOGGR), the state agency responsible for regulating the oil industry.
This decision was made after a report from a watchdog group revealed that seven supervisors within the DOGGR were responsible for approving permits for new oil wells owned shares in major oil companies. The Newsom administration subsequently renamed the DOGGR as the California Geologic Energy Management Division (CALGEM).
But these measures did not change the fact that in the first six months of 2020, CALGEM approved 2,691 permits for new wells. According to an analysis done by Consumer Watchdog and FracTracker Alliance, this number is 190% higher than the same period in 2019.
In lieu of acting, Newsom has asked the legislature to "ban fracking." Fortunately, this recommendation is closer to becoming a reality.
On Feb. 17, State Senators Scott Wiener (D–San Francisco) and Monique Limón (D–Santa Barbara) introduced SB 467, which would ban fracking and other forms of extreme extraction (acidizing, cyclic steam injection, and steam and water flooding) and would require a 2,500-foot human health and safety setback between new oil and gas wells and homes, schools, medical facilities and childcare centers.
Passing this bill will not be an easy task, as previous experience has shown us. In July 2020, AB 345, which would have established a 2,500-foot setback between new oil wells and sensitive receptors, was approved in the Assembly but died in Senate committees.
Nevertheless, coalitions that include national and state environmental organizations (Sierra Club, 350, Center for Biological Diversity), as well as environmental justice groups (Center on Race, Poverty and the Environment, Central California Environmental Justice Network, Physicians for Social Responsibility), have come together to support SB 467 and all the efforts needed to ensure that our state makes a real transition away from fossil fuels and that it brings justice to the millions of Californians who have suffered environmental injustices from oil wells.
Nearly 7.5 million Californians—mostly Black, indigenous and people of color—live within one mile of an oil or gas well at a great cost to their health. Research has found that PM2.5 is found in higher concentrations surrounding oil and gas wells, and this is associated with premature mortality, chronic bronchitis, and other heart and lung diseases.
A recent Stanford study also showed that living within half a mile of oil and gas drilling leads to preterm birth and lifelong health impacts and that these health impacts are worst for Black and Latinx mothers.
Although the importance of protecting public health and environmental justice communities is gaining traction at the state level, in Kern County, the area that produces 85% of California's oil, local elected officials continue to prioritize the profits of the oil industry. At the end of February, the Kern Planning Commission voted 4-0 to recommend that the Board of Supervisors approve an oil and gas ordinance that would allow more than 40,000 new wells.
The community responded with 7,000 signatures on a petition opposing the expansion of oil and gas production. The commissioners dismissed these comments, arguing that people are "uninformed" and denying the studies that show the negative health effects that oil and gas production have on communities of color.
More work remains to be done at the federal, state and local levels if we want to be climate change champions. Your voice matters, regardless of where you live. Even if you do not have an oil well near your home, you can demand policies that guarantee a sustainable climate future.
*****
Nayamin Martinez is the director of the Central California Environmental Justice Network.