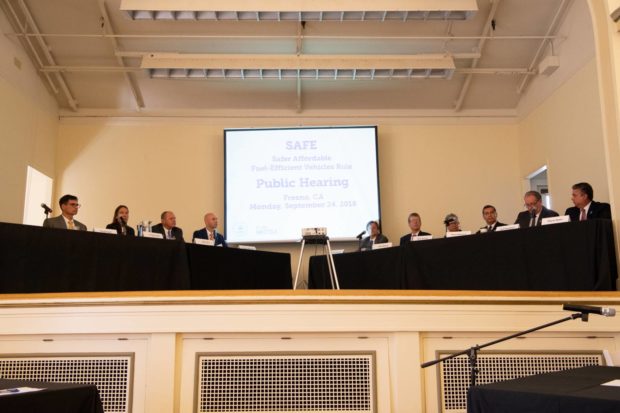 By Vanessa Warheit
Dozens of environmental, industry and community advocates spoke at a federal hearing in Fresno on Sept. 24 in almost unanimous opposition to the Safer Affordable Fuel-Efficient (SAFE) vehicles proposal. Proposed by the National Highway Transportation Safety Administration (NHTSA) and the U.S. Environmental Protection Agency (EPA), SAFE would roll back clean air protections that have been in place since 2012 and repeal California's tailpipe emissions waiver under the Clean Air Act.
The waiver gives California the authority to enact tougher clean air standards for automobiles than federal standards. It has been in place since 1970, and the tougher standards that California has been able to enact because of the waiver have been adopted by 15 other states.
California lawmakers and policy experts, including Attorney General Xavier Becerra, came to Fresno to condemn the proposal. Mary Nichols, head of the California Air Resources Board, told the panel that "California will not sit idly by as you try to flatline our efforts" to support clean air technology.
Speakers at the public hearing were grouped into panels of 3–6 people and spoke for three minutes each to a panel of representatives from the EPA and the NHTSA. Many of the speakers voiced their frustration about the timing of the event, the limited opportunities for people around the country to participate, and what they felt was a lack of sufficient publicity.
"I only found out about this two weeks ago," said Julia Foote, community outreach coordinator of the Sierra Club, who nevertheless managed to bring a dozen activists from the Bay Area to speak at the hearing.
Constance Reagan, a local citizen and a Republican, complained to the panel that she had only learned of the hearing a few days prior. "We weren't notified—it was just stuck at the back of the [Fresno] Bee," she stated. In her testimony, she described the proposal as "a political tactic to undermine what the previous administration did, without any thought to the long-term consequences of what it does to the environment."
Several medical doctors spoke at the hearing, including representatives of the American Lung Association, the Fresno Family Allergy Asthma Clinic, the Fresno-Madera Medical Society and the Central California Asthma Collaborative. All cited alarming health statistics attributable to air pollution including increased rates of asthma and other respiratory diseases.
Kevin Ortiz of the San Francisco Latino Democratic Club pointed out that one in two Latinos live in communities with air that violates current air standards.
Janelle Lee, an emergency resident physician at UCSF Fresno, came directly from her hospital shift. "I am here to speak up for those who are too sick to speak," she said.
"Air pollution triggers a cascade of health effects," Lee continued. "When people show up at the hospital, I can only patch them up the best I can—and then send them back out into the terrible air. There is still so much we need to do outside the walls of the hospital, and I fear Washington has crumbled under pressure to protect the auto industry.
"I'm going to go back to the ER tonight, but I need your help. We cannot do this alone."
Many community members from Tulare and San Joaquin counties also gave vivid descriptions of family members suffering and dying from asthma, respiratory disease and cancer. Janet Dietzkamei of the Central Valley Clean Air Coalition recounted the "cabin fever" she feels on the many days when poor air quality forces her inside.
"Every one of us who live in this valley is being affected by this air," Dietzkamei said. "We are asking that our waiver is not taken away from us, so that we can pursue our goal of cleaning the air."
The NHTSA proposal claims that it would increase "vehicle affordability leading to increased driving of newer, safer, more efficient and cleaner vehicles." However, many speakers pointed out that it would revoke California's ability to mandate the sale of electric vehicles, and that California's mandate is the engine behind electric vehicle adoption in the United States.
Marc Geller, of the Golden Gate Electric Vehicle Association, explained that hundreds of thousand of people now drive electric cars, with support from the state of California, and that they will fight to maintain their right to access clean electric vehicles.
"The new policies proposed by the EPA take us backwards, in terms of air quality and the health of our people, national security and economic development," Geller said. "We will not go back to the days of no consumer choice. The proposed rule should be withdrawn."
The EPA and the NHTSA have argued that current clean air rules make cars "too expensive" and that relaxing emission standards would lower the cost of new cars and encourage people to get rid of their older, polluting vehicles.
Clare Statham, a grandmother of three from Fresno, pointed out that her grandchildren's two recent trips to the hospital for pollution-related asthma far outweighed whatever a newer, cleaner vehicle might cost. "Become educated about medical costs," she scolded the panel, "and learn these facts before you define what 'too expensive' means."
California lawmakers and policy experts condemned the proposal for its lack of legal, scientific or technical credibility and made it clear that California will fight the proposal if it is not withdrawn.
"Revoking the California waiver is contrary to the law and dangerous to the health of all Californians," said Meredith Hankins of the UCLA Emmett Institute on Climate Change and the Environment.
"You can be assured California will object to it at every step," asserted California EPA Secretary Matthew Rodriguez.
Attendees came from all over the country to voice their concerns. Craig Lewis, director of strategy and business planning for Constellium, a global leader in automotive crash management systems based in Alabama, said that his company has invested heavily in U.S. manufacturing since 2016, employing almost 1,000 people and investing more than $500 million in three U.S. states.
Lewis urged the panel to recognize the importance of regulatory certainty. "If neither we, nor our customers, can tell where regulations are headed down the line—or if there remains conflict and confusion with the uncertainty caused by protracted litigation or multiple standards—it will be disruptive to the growth of our business and to the jobs we support."
The hearing was one of three events being during the week that allowed people to share their opinions on the proposed rule. The other events took place in Pittsburgh, Penn., and Dearborn, Mich.
Members of the public throughout the country are encouraged to submit written comments on the joint proposal of the EPA and the NHTSA at www.regulations.gov/docket?D=NHTSA-2018-0067. Comments should be identified by Docket ID No. NHTSA-2018-0067 or EPA-HQ-OAR-2018-0283 and must be received by the last day of the comment period, Oct. 26.
*****
Vanessa Warheit is a California organizer with Rise for Climate, Jobs & Justice at 350.org. She is a seasoned professional organizer, program manager and advocate with expertise in climate solutions policy and communications.