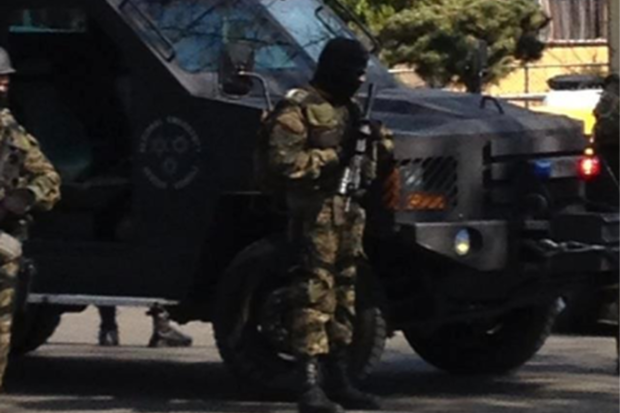 By Floyd D. Harris, Jr.
Rev. Floyd D. Harris Jr., national president of the National Network in Action, a civil and human rights organization, the Mexican-American Political Association, the Fresno Brown Berets and New Light for New Life Church of God recently held a community rally against police brutality, harassment, racial profiling, excessive force and deadly force.
On a Sunday evening, more than 100 people gathered at the corner of Arthur and Strother avenues, where Jerel Stanfield was shot in the head, leg and back on Easter Sunday. The African-American community came out to receive information on Copwatch and Know Your Rights When Confronted by Police.
Civil rights leader Rev. Harris said, "Fresno Police Chief Jerry Dyer laughed in a press conference while former City Council member Jerry Duncan, who was planning to run for mayor of Fresno, said, 'Make no mistake about it; they are terrorists (making reference to 'Black people'). They are much like those people in Iraq who are blowing up innocent people.'"
On Aug. 29, Dyer said he was launching Operation West Side with a simple approach—to eliminate Black gangs, which means to murder them (www.youtube.com/watchv=nhnR8zlCjDM).
Rev. Harris said that it is business as usual with the Fresno Police Department (FPD) giving our kids a hot dog and a bounce house, patting them on the head at the age of 5 years old and then shooting them in the head or the back when they get older. Rev. Harris said the Black community has a constitutional right and a human right to protest against police brutality, harassment, racial profiling, excessive force and deadly force.
Pastor Paul McCoy from New Light for New Life Church of God said that "we must set the example for all the community so we can hold each other accountable. We as a community and a neighborhood must understand what goes on that has a direct relationship with our daily behavior."
The Bible tells us "My people are destroyed for a lack of knowledge" (Hosea 4v6). Where there is an absence of knowledge, destruction will fill the void. We destroy ourselves, as well as those who live outside our neighborhoods will destroy us.
Gloria Hernandez educated those gathered on the amounts of money we are losing as taxpayers defending Dyer while many city jobs are being lost or contracted out to private industries. The discrimination complaint filed by two deputy chiefs was settled prior to going to trial. The two deputy chiefs and their attorney won $100,000 while we the taxpayers paid Dyer's Hollywood-contracted attorney more than $800,000 to quietly settle this case. If Dyer is not a racist or anti-woman or anti-elderly, then why did he not go to a jury trial?
Hernandez expressed concern that there are too many ongoing cases that the city quietly settles prior to going to court and that the FPD has 28 repeat shooters who feel free to kill because they carry a badge.
Juan Avitia, national president of the Mexican-American Political Association (MAPA), supported the rally and made the point that police dressed up in ski masks and carrying military assault weapons descended into west Fresno armed with what appears to be a "tank" and ready for war. This is something never done in the more upscale parts of town.
In addition, Avitia noted that the police continuously justify their actions with the defense that a suspect was "appearing to reach in his pants for what might have been a gun." Yet in the latest shooting, the young Black male was shot in the back. A young Mexican male also suffered on the east side of Fresno in 2012.
During the Sunday event, Black men and community members walked up to the microphone and said they saw everything that happened in the Stanfield shooting yet the Fresno Bee and the local TV stations are not printing the truth because they never talk to us and there are two sides to a story.
The citizens are outraged at the FPD in how they brought danger and a hostile environment to a quiet community on Easter Sunday. Easter Sunday is a historical day for African Americans and many others of various faiths, and family, to enjoy. However, on this particular Easter Sunday, people were placed in the middle of gunfire by the FPD, which tried to execute Stanfield by shooting him in the head, the leg and the back.
Dyer appears to have overreacted to this "threat" to his officers by "gang members" and has launched an all-out war on the community, including arming his officers in a paramilitary manner and terrorizing Black and Brown people under the claim that his officers were threatened.
The FPD has a history of shooting and killing people of color who have been unarmed. In the latest situation, there were children who were playing and witnessed the FPD shoot Stanfield in the head. There were no counseling services offered to the children and family who witnessed this plan of execution by the FPD.
The FPD's history includes the deliberate hunting and killing of Joaquin Figueroa in 2006, a disturbing assassination by Fresno police officers that haunts our community to this day.
Why do the Fresno police shoot at citizens who have not shot at them? Why did the Fresno police and the local Fresno government call Black males and the Black community in Fresno "terrorists"? The FPD does not have the right to be judge, jury and executioner.
*****
Rev. Floyd D. Harris, Jr., is the president of National Network in Action. Contact him at 559-213-5886 or xyfloyd@aol.com.