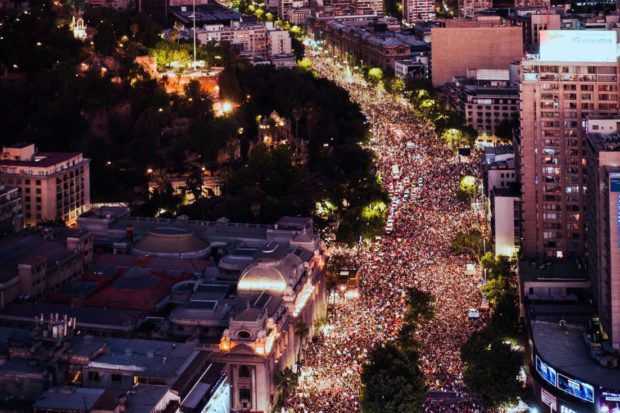 Until Sept. 11, 1973, Chile had a long history of democratic elections. Salvador Allende was elected in 1970 (after running unsuccessfully in 1952, 1958 and 1964.) The 1973 U.S.-supported military coup, led by Pinochet, bombed the presidential palace, killed President Salvador Allende, took over the country in a fascist dictatorship that nominally lasted until 1990.
But because the Pinochet dictatorship was dedicated and efficient about killing its enemies—essentially all those who were supporters of a centrist democratic tradition or proponents of any policies to the left of center—the political landscape of Chile was altered, apparently forever. Chile became a slaughterhouse for opponents of the fascist dictator, and, with Operation Condor, this terror spread throughout Latin America.
Operation Condor was a U.S.-backed campaign of intelligence operations and assassinations of opponents carried out by dictatorships in South America (Argentina, Bolivia, Brazil, Chile, Paraguay and Uruguay). It was implemented in 1975, and thousands were killed during this combined operation.
For instance, several Chileans who opposed Pinochet were killed and there were desaparecidos in Argentina; many Argentineans were also killed in Uruguay under similar circumstances. Thousands of young people filled the prisons in those countries; many others sought refuge in foreign lands—mainly Europe and Mexico.
Victims included dissidents and leftists, union and peasant leaders, priests and nuns, students and teachers, intellectuals and suspected guerrillas. All in the name of "combating subversion and terrorism."
Chile has not yet recovered from this prolonged period of destruction of people and democratic and community structures. The constitution adopted in 1980 to pretend to legitimize the dictatorship was still in place, with an authoritarian neoliberal orientation prioritizing profits over health, education, and social welfare and equity.
Thousands of Chileans began demonstrating in 2019 for changes in the government—for better healthcare and education, and for the elimination of the economic and social injustices imposed starting at the time of the bloody Pinochet coup in 1973.
Chile Despertó—Chile Awakened—and on Oct. 25, 2020, the people of Chile voted overwhelmingly to get rid of the current constitution and draft a new one. They elected a Constituent Assembly to do this, and at the same time, held the first round of elections for president.
Jose Antonio Kast, a leader of the extreme right wing and a Pinochet supporter, held a slight first-round lead over Gabriel Boric, a leader of the mobilizations and of the Chilean new left.
The runoff election was Dec. 19. Boric got about 56% of the votes, and Kast about 44%. Gabriel Boric Font will be inaugurated as president of Chile on March 11, 2022. The democratic left is back in power in Chile.
U.S. foreign policy has not changed much in the intervening 50 years. The memory of the many thousands of dead and disappeared makes all of us know that the people of Chile will need to be ready to defend themselves.
*****