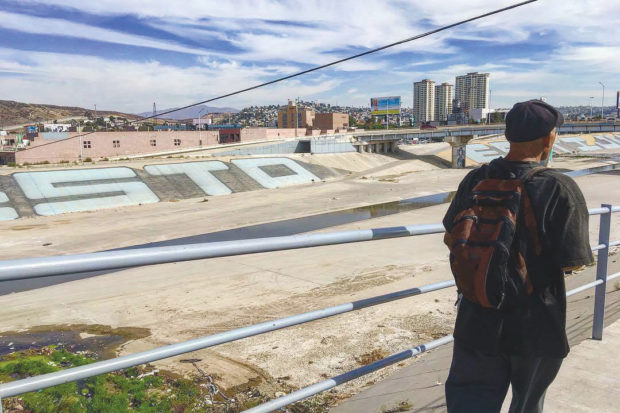 By Lizbeth De La Cruz Santana
The Migri Map project (migrimap.sitey.me) seeks to develop a physical map and mobile application for Android and IOS humanitarian aid devices for migrants, deportees and asylum seekers in Tijuana, Mexico. The main objective is to give visibility to existing resources in one of the busiest borders in the world that has become an axis for migrants of various nationalities.
The idea of ​​this project was born in September of this year in Tijuana, an emblematic place that inspired the need for a resource to support migrants. This binational effort is led by Lizbeth De La Cruz Santana (lizbethdelacruzsantana.com), a doctoral candidate at UC Davis, and Danilo Castillo, a future lawyer and current intern for Al Otro Lado (AOL) (alotrolado.org). Both are children of migrants, Mexicans and Salvadorans, respectively, and have dedicated their careers to immigration issues and assistance to migrants in their community and on the border of Mexico and the United States.
Considering the field work that De La Cruz has done as a researcher for Humanizing Deportation (humanizandoladeportacion.ucdavis.edu) and Castillo with his contributions in helping asylum seekers in their admission process at AOL offices, their experiences have encouraged the urgency of designing a guide that seeks to provide resources of importance for the well-being and future of migrants in Tijuana.
The peculiar thing about this project is the access to this information to people who are in Tijuana and at the same time to any user with interest to familiarize themselves with the resources that this guide includes. Thus, through technology, the Migri Map attempts to provide information in an immediate way that can alleviate the difficulties that arise when migrating and being displaced.
Although several organizations have developed their own guides, none have designed a resource that has a digital and interactive component, accessible in various languages ​​and that encompasses on a platform the issues of deportation, repatriation and asylum seeking.
In response to the need to provide assistance to migrants who arrive and reside in Tijuana, this effort provides attention to the following categories that will be part of the guide: 1) dining services, 2) hostels, 3) legal assistance, 4) health services, 5) telephone access, 6) computer and Internet access, 7) clothing and hygiene, 8) showers, 9) housing options and 10) entertainment and leisure activities.
Since the beginning of this project, fruitful collaborations have been established with the Tijuana Humanitarian Aid Strategic Committee, Families Belong Together and Tom Hernandez of the Fresno Immigration Coalition.
Together, the group will develop the guide in the following months with the goal of launching the physical guide and mobile application before the summer of 2020. For the moment, the team requires the technical talent of application developers who are interested in joining forces to give life to this guide.
Essential to advance the mission of the project, De La Cruz and Castillo will participate in a series of informative talks to present the project together with experts on the migration issue. For dates and the specific data of each presentation, visit migrimap.sitey.me.
Upcoming talks in Fresno:
Dec. 10, 6 p.m., Democratic Party HQ, 1033 U St.
Dec. 12, 6:30 p.m., Fresno Center for Nonviolence with the Women's International League for Peace and Freedom (WILPF), 1584 N. Van Ness Ave.
For more information and opportunities for collaboration, e-mail migrimap@gmail.com.
*****
Lizbeth De La Cruz Santana is a Ph.D. candidate at UC Davis. Her studies focus on literature in Spanish with an emphasis on human rights focused on migration issues. Her academic work emphasizes community-based collaboration through fieldwork on the U.S.-Mexico border to produce narratives around the deportation experience.