The content of this page is paid for by the Central Valley Progressive PAC FPPC#1265564
Special Election: Nasreen Johnson Is Your Progressive Choice for the Board of Supervisors
By Mike Rhodes
There will be a special election on March 5 that will determine the balance of power on the Fresno County Board of Supervisors (BOS). The choice could not be more obvious: If you want the homeless treated with dignity and respect, if you care about the environment and want an advocate for social and economic justice, vote for Nasreen Johnson, who is endorsed by the Central Valley Progressive PAC.
Michael D. Evans, who is on the CVPPAC executive board, supports Johnson. He said that "last November, we made progressive advances in the State Senate and on the Fresno City Council. Now we have an opportunity to turn the Board of Supervisors leftward as well. Nasreen Johnson will provide true leadership that delivers for Fresno County residents. Her strongest opponent, Steve Brandau, is a self-described Tea Partier with little interest in the role of government in the success of our community."
This special election is the outcome of Andreas Borgeas winning his race for the State Senate last November. He was the representative in BOS District 2, which covers much of the northern part of Fresno (see map).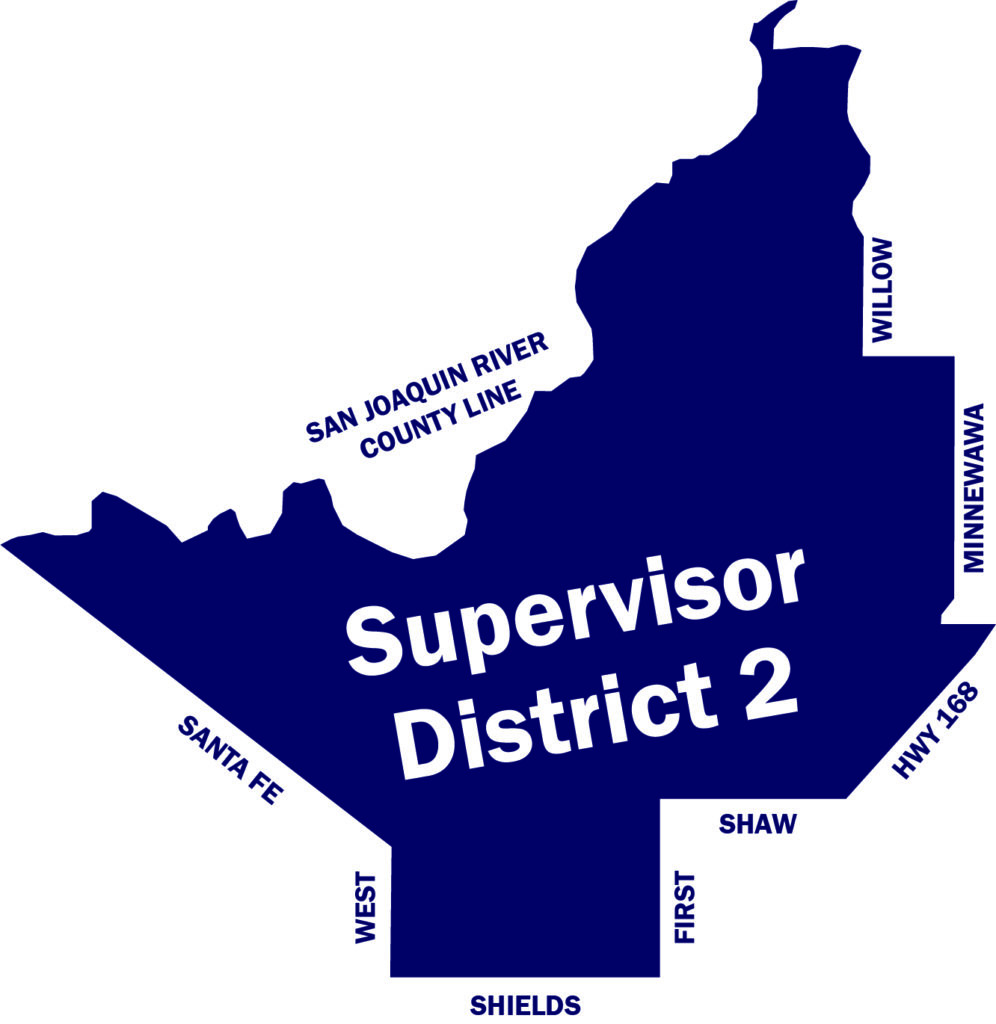 In preparation for this special election, the CVPPAC sent out questionnaires to all of the candidates to determine their positions on issues progressives care about. Johnson was the only candidate to return a questionnaire. Here is what she said about her positions on important community issues:
CVPPAC: Tell us about your positions on the environmental problems facing Fresno County. For example, what actions should the Board of Supervisors take to be more proactive in addressing air-quality issues in the Central Valley? Do you support "fracking" regulations or a ban on "fracking" in Fresno County? etc.
Johnson: We must make choices that will leave our community and environment healthy for our future generations. I am supportive of doing what we can to improve air quality. One thing we can do is promote better planning of development. I oppose fracking.
CVPPAC: What is your position on high-speed rail? What else could be done to improve accessible and affordable public transportation throughout the county?
Johnson: I support high-speed rail and further investment in public transportation.
CVPPAC: Given the national debate on immigration, what steps, if any, should the Board of Supervisors take to support and defend our immigrant community? In particular, what should the Board do to defend our undocumented neighbors and Deferred Action for Childhood Arrivals (DACA) recipients?
Johnson: I support DACA. It is not the job of local law enforcement to enforce immigration laws.
CVPPAC: What specifically do you plan to do to ensure Fresno County's stock of affordable, safe and decent housing increases significantly?
Johnson: I will support investment in affordable housing. We need to set housing goals to encourage smart growth.
Johnson also indicated in the questionnaire that she believes climate change is an environmental crisis that must be addressed by decreasing our dependence on fossil fuels and increasing solar, wind and other alternative energy sources. She is opposed to President Trump's wall and supports a woman's right to reproductive freedom and will do what is in her power to keep abortion affordable and legal.
Pam Whalen, the immediate past president of the CVPPAC, said that "this is a very important race and an opportunity for progressives to make a huge difference in the political landscape in Fresno. All progressives should pitch in to help Nasreen either financially, by canvassing, phone banking or all of the above. We're on a roll, let's keep it up."
For more information about Nasreen Johnson's campaign, visit https://johnsonforsupervisor.com.
*****
Mike Rhodes is an independent journalist and a member of the CVPPAC. Contact him at mikerhodes@comcast.net.

The next meeting of the Central Valley Progressive PAC will be Saturday, February 9, at 3:30 p.m. at the Fresno Center for Nonviolence, 1584 N. Van Ness Ave. On the agenda will be the Board of Supervisors race on March 5, an update on the changes to the CVPPAC endorsement process and more discussion about how to stop voter suppression in Fresno County.
For more information, visit http://www.cvppac.org/.