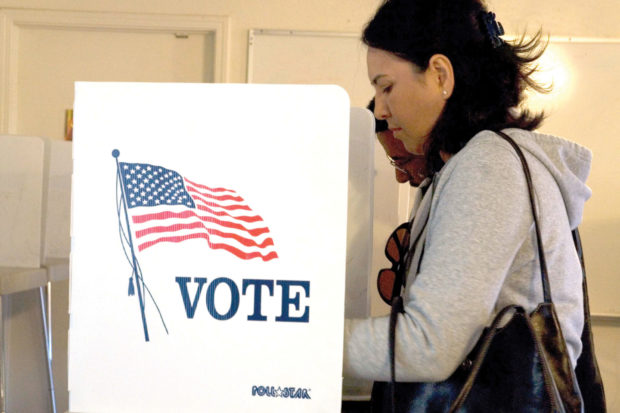 By Michael D. Evans
The recently elected California Democratic Party (CDP) chair, Rusty Hicks, has committed to focusing on traditionally underserved areas of the state including the Central Valley. He wants the state party to be a "strong ally for our rural communities" with particular "attention, organizing and resources into the Central Valley."
Fulfilling one of his campaign pledges to draw attention to the "region's opportunities and challenges" by scheduling an Executive Board (E-Board) meeting in the Central Valley, Hicks has announced that the Spring 2020 E-Board will be in Visalia. The CDP typically holds one state convention and two E-Board meetings each year. Fresno, despite being in the center of the state, is often overlooked for such events because of the absence of union accommodations.
Moreover, the CDP has designated Fresno as a battleground county for 2020, and resources will be forwarded to the area in support of that effort. Hicks says that "the Central Valley will play a central role in our 2020 coordinated campaigns to protect and build upon the gains of 2018."
Hicks also has named many Central Valley Democrats to serve on the CDP's standing committees, which is where the nuts-and-bolts work of the party gets done.
Affirmative Action Committee
Mission: Ensures a strong commitment to diversity and expanding participation. Advises all persons with power of appointment and all elected bodies of the demographics of California Democrats so that the CDP's makeup is representative in gender, ethnicity, creed, age, sexual orientation, economic status, physical ability and area of residence.
Dorothy "Dottie" Smith (Fresno County), a former State Center Community College District trustee, was named a co-chair of this committee. "I will definitely be a voice for equality and equity for California Democrats in general and for Fresno/Central Valley Democrats in particular," says Smith.
"It should not matter what part of the state they live in, the color of their skin, their gender, their age or how they identify themselves," she states. "I aim to work to affirm that the committee is truly reflective of the diversity of the Democrats in our state. By doing so, the CDP will see more Democrats actually voting."
Also on this committee is Marsha Conant (Fresno County), president of the Fresno Stonewall Democrats club.
Credentials Committee
Mission: Approves the credentials of all persons appointed or elected to the California Democratic State Central Committee. Hears certain appeals from decisions of the Compliance Review Commission.
Felipe Grimaldo (Madera County), an organizer with the Fresno Teachers Association, is on this committee. "It is very important that Democrats get motivated to participate more within our party, specifically from the Central Valley," he says.
"We need to show that we have a place and a voice from the center of California and that we have a self-identity that needs to stand out away from the shadows of high populous areas such as Los Angeles and San Francisco.
"The Central Valley benefits from having active Democrats like myself in standing committees because we voice our opinions on platforms that historically tend to turn a blind eye to Central Valley issues."
Also on this committee is Emilio Huerta (Kern County), an attorney and former candidate for Congressional District 21.
Organizational Development Committee
Mission: Recommends local, state and national political strategies, activities and policies designed to improve the organizational effectiveness of the Party; proposes a plan for redistricting of the CDP's regions after each State Reapportionment is adopted; proposes guidelines to the Rules Committee concerning the chartering of organizations; and recommends the granting or rejection of applications for the chartering of organizations.
Michael D. Evans (Fresno County) is a co-chair of this committee and has been named to head the County Central Committees Support subcommittee. He views participation on the committee "as a key role for raising attention to the needs of forgotten areas, especially the Central Valley. There is so much we can accomplish through sharing best practices, collaborating regionally and acquiring input from Democrats throughout the state."
Estella Kessler (Fresno County), a member of the Fresno County Democratic Central Committee, has represented the Central Valley on this committee for several years and currently serves on the Party Structures subcommittee.
"The Central Valley has been unrepresented until this year," she says. "It's very important to stand up for the Valley and make sure that the Central Valley is treated equally as the North and South. We have different issues here in Valley, and I will do the best to make sure the party gives equality to our needs."
Also on this committee is co-chair Santos Garcia (Madera County), who is a Madera City Council Member.
Voter Services Committee
Mission: Develops a system of grassroots organizing at the precinct level; coordinates programs to increase voter registration; organizes new citizen swearing-in events; organizes outreach for potential new registrants; recommends goals and guidelines for the CDP's voter contact program; develops a plan to increase the percentage of Democratic voters who register for permanent vote-by-mail status; coordinates training seminars; and attempts to assure that at least one Democratic candidate files for every partisan office.
Doug Kessler (Fresno County), a member of the Fresno County Democratic Central Committee, serves on the committee and is co-chair of the Assembly Democrats Recruitment subcommittee. He says that Central Valley participation is important "because our problems are so different than the North or the South."
"We are able to put state pressure on counties that are late with [mailing out] VBMs (vote-by-mail ballots)," he says. "We can get state help with voter problems. We are able to work on local issues because our needs are different than the rest of the state, especially in voter engagement, where what works for us may not work at all in urban areas."
Also on this committee are Daren Miller, a Fresno County Board of Education trustee; Natasha Moiseyev, coordinator of Central Valley Indivisible; Jose Ornelas, a San Joaquin City Council member; Espi Sandoval, a Kerman City Council member; and James Williams, president of the San Joaquin Valley Democratic Club (all from Fresno County), and Julie Solis (Kern County).
Some standing committees still lack representation from the Central Valley (Finance, Legislation, Platform, Resolutions and Rules), and that is an area of focus for future engagement. However, anyone can attend standing committee meetings, which take place during the E-Board meetings and conventions of the CDP.
Earlier this year, Hicks named an Ad Hoc Committee to Review the Composition of the Party's Decision-Making Bodies that was chaired by Ada Briceno of Orange County and co-chaired by Kimberly Ellis, who had also run for CDP chair, and Michael D. Evans of Fresno County. That committee completed its work during the summer, and its recommendations are reflected in the chair's appointments to standing committees.
More recently, Felipe Grimaldo (Madera County) was named to the Ad Hoc Committee on ADEM Elections. That committee is tasked with improving the process for Assembly District delegate elections relative to how the elections are operated, how locations are selected and the need for consistent staffing and volunteer training.
"Central Valley grassroots leaders must have the support they need from the rest of us," states Hicks.
*****
Michael D. Evans is a political activist, editor and writer. Contact him at evansm@usa.net.