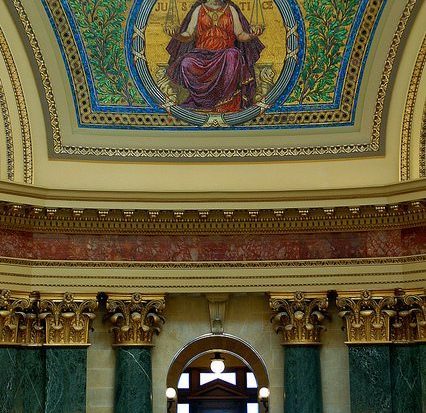 By Community Alliance Staff
Central California Legal Services, Inc. (CCLS), invites the public to its annual Champions of Justice Reception in celebration of their work in the community on behalf of clients. The reception brings together members of the legal community, partners and others to honor collective efforts in the fight for justice. This year's Champions of Justice honorees represent the many unsung heroes tirelessly working to progress the CCLS mission to "Advance Justice and Empower People." The reception takes place on Oct. 2 from 5 p.m. to 8 p.m. at The Grand on Ten (1401 Fulton St.).
Fresno attorney William "Bill" M. Krieg with the law firm of Kemnitzer, Barron & Krieg receives the organization's highest award, the Ronald M. George Equal Justice Award. Krieg has a long history of support for CCLS and is an invaluable source of advice and guidance on litigation matters. Krieg and his firm have directed cy pres distributions to CCLS and other programs. CCLS has benefited from more than half a million dollars.
A single mother, Olena Volyk, is recognized in the Client Category. Fired from her job of more than seven years because of her Ukranian accent, she was denied unemployment insurance benefits. Volyk relied on her income to support herself and her son and to pay for tuition and books at Fresno City College. She came to CCLS seeking representation for her hearing on the denial of benefits. She won her case and later presented CCLS with a donation check for $350, asking that it be used to help others like herself. Such a donation from someone whose only source of income was her unemployment benefits conveys the importance of our services to clients and how greatly they are appreciated.
"Passionate about her work" best describes Christina Skaf Hathaway, this year's honoree in the Staff Category. An attorney in the Fresno office, Hathaway values the importance of helping her clients understand the law. She often works late in the office, looking for solutions for her clients. She believes strongly in protecting tenants from illegal evictions and has helped hundreds of families avoid homelessness. She fights to defend the rights of homeless individuals after their property was destroyed by the City of Fresno and Caltrans.
In the Special Project Category, OneJustice (formerly Public Interest Clearinghouse) receives recognition for its critical role in helping not only CCLS serve its clients and their communities but also for helping virtually every legal aid program in California do the same. Their mission is to bring life-changing legal assistance to Californians in need. OneJustice supports a network of 100+ nonprofit legal organizations and their 800 staff attorneys help them to stretch their capacity and sustain their impact through increased financial leadership, new fund-raising strategies, executive coaching, board governance trainings and more.
Kings County attorney Anne Fadenretch is recognized in the Volunteer Category for her pro bono services to seniors in Kings County. She has provided more than 150 volunteer hours over the past year assisting with powers of attorney, simple wills, advanced health care directives, Medicaid and the like. As a volunteer CCLS board member since 1997, she has helped to guide the program through her leadership roles that include president, vice president for more than 10 years and, for the past two years, immediate past president.
Appointed in early 2011, the Honorable Kathleen "Kate" A. Meehan, commissioner for the Superior Court of California, County of Fresno, is this year's honoree in the Judiciary Category. Those appearing before her are treated with dignity and respect, making certain they understand the court's process. She served on the CCLS Board of Directors for more than 10 years including three years as president. Meehan has provided leadership in promoting pro bono services in the legal community beginning with her pro bono service with Public Counsel, a legal services advocacy group for low-income families in Los Angeles. Pro bono work provides clients access to the justice system through a pool of attorneys who bring broad areas of expertise.
Individual tickets or tables of eight may be purchased and sponsorship and advertising opportunities are available. For more information, visit www.centralcallegal.org or contact Luisa Medina at 559-570-1242 or luisa@centralcallegal.org.