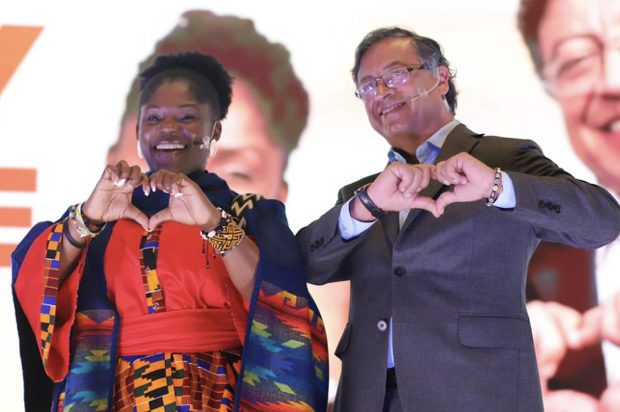 Unity on the Left
The progressive forces in Colombia have come together on the Historic Pact ticket, with Gustavo Petro for president and Francia Márquez as vice president. Polling, and the results in the March 13 primary, indicates that they are likely to win.
The people of Colombia are rejecting a series of right-wing governments, supported by the United States, that have mishandled everything: health, education, the economy, the environment, foreign policy, police and military violence and, of course, the pandemic. Community, labor, feminist, environmental, Afro-Colombian and campesino/Indigenous organizing for change has been suppressed by paramilitary death squads and assassinations.
The Candidates
Márquez is a lawyer and environmental leader who won the Goldman Environmental Prize in 2018. She is the first Colombian of African descent to be a candidate for national executive office, and she stated that she will work for the reparation of the rights of Colombian Afro-descendant communities.
"In our community, we have learned that dignity is priceless—to love and value the territory as a living space, and to fight for it, even at the risk of our own lives," Márquez said.
Like many activists, she has endured a number of near-fatal attacks for her work against illegal mining, including one where two of her bodyguards were killed.
Petro was a member of the April 19 Movement (M19), which was a group for armed resistance that disarmed in 1991 and has since engaged in electoral politics and participated in drafting the constitution of Colombia. He is a senator and was mayor of Bogotá. He has also survived at least one assassination attempt, in 2018.
The Program
The Petro-Márquez ticket plans to
Distribute wealth more fairly. Currently, more than 40% of Colombians live below the poverty level and there is massive inequality. Land reform and a wealth tax are planned.
Curtail oil and gas extraction. Petro has pledged to ban new fossil fuel exploration on his first day in office. Existing reserves would continue to be exploited and present contracts would be honored, but the plan is to move Colombia away from dependence on fossil fuels and from an extractive economy, although currently these represent more than half of Colombia's export revenue.
Increase revenues from tourism and encourage small-scale agriculture and manufacturing to replace fuel profits.
Implement a peace process. Colombia is the world's most dangerous country for human rights defenders and environmentalists. The intense criminalization of protesters and rampant extrajudicial killings are an ongoing genocide.
More than 300 former FARC (Revolutionary Armed Forces of Colombia) members have been killed since the peace accords were signed in 2016, and at least 145 Indigenous Colombian activists, rural organizers, trade unionists and other leaders were killed last year.
The weapons used in those killings come from the United States, which provides huge amounts of military aid used for eliminating dissent against the neoliberal policies imposed by successive right-wing governments, causing massive civilian casualties, widespread displacement and the systematic killing of social movement leaders.
Death Threats and Assassinations
The far-right paramilitary group Aguilas Negras recently issued death threats against several members of the left-wing Historic Pact coalition, including the presidential candidate Petro and the vice-presidential candidate Márquez. Márquez stated that it was the third death threat she had received in less than one month.
"They are trying to impose terror in Colombia," she said. "We demand guarantees for the exercise of our political rights." (A copy of the death threat shows the racist and sexist terms with which Márquez is attacked, as death to both candidates is declared to be the mission of this armed paramilitary group.)
In addition to Petro and Márquez, 18 other political, labor and social leaders have been threatened. These include legislators recently elected to Congress.
For the last month, Petro and Márquez have been calling on the Colombian government to protect their political rights and for the Prosecutor's Office to investigate the threats. In the first 95 days of this year, 50 environmentalists; land defenders; human rights defenders; and Afro-descendent, Indigenous, peasant and social leaders have been assassinated.
In addition, during this period, 13 former combatants of the FARC who were in the reincorporation process, that is, disarmed and in civilian life, were murdered. Also, more than 130 people have been killed in 31 massacres.
United States Supports the Killers
After two centuries of right-wing oligarchy rule, Colombia is trying for change. Petro and Márquez represent a center-left coalition, with policies that would not be remarkable anywhere in Europe. However, a substantial portion of Colombia's GDP goes to the United States to oil and coal companies and to pay historic debt and Colombia is key in the U.S. strategy for Latin America.
In 2017, Colombia became NATO's first Latin American partner, then signed the U.S.-Colombia Strategic Alliance Act. The United States is unlikely to accept even a moderate center-left government, especially one that has pro-environment goals.
Does a pro-peace, pro-environment, pro-people coalition that includes a spectrum of the left and Black and Indigenous activists have a chance against the Colombian elite and the United States? When the disinformation war doesn't work, they will escalate to election fraud and to military and paramilitary violence.