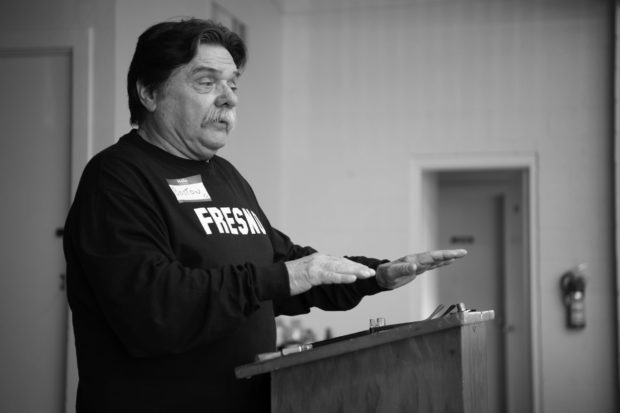 By Camille Russell
On March 20, 2017, after serving 38 years in California's prisons, Community Alliance writer Boston Woodard was paroled. However, he had a 45-year-old parole violation in Massachusetts from his teenage years. Despite his record of good behavior, taking advantage of programs, rehabilitation and many supporters outside prison, Woodard was forced to spend 19 months at Cedar Junction State Prison in Massachusetts. He was finally released on Nov. 5, 2018, with $50 and two sets of clothing in a cardboard box.
The saga of his transport from California to Massachusetts after release from Solano State Prison, his frantic return to California and the lack of support given to him by the State of California can be found on the Community Alliance Web site by searching "Boston Woodard."
Woodard's contribution to our understanding of what goes on behind the walls of California's prisons is unique. Many authors have written about the prison system as scholars or as former prisoners, but Woodard courageously wrote about the prison experience while serving time. He chose that most difficult of human tasks—speaking truth to power.
When he made the choice to be a truth-teller, he did it with full knowledge that there would be repercussions. Yet his sense of justice and his desire to learn and grow gave him the strength to persevere and become increasingly effective as a writer and advocate for himself and for justice within the criminal justice system.
Please join me in honoring Woodard by making a donation to him. He is managing his return to freedom thus far with help from friends and family, a little Social Security and guidance from caring people in the social service sector. He's eager to get a job, but we all know that's easier said than done. Let's help him in his transition from prison.
How to donate: Write a check payable to "Community Alliance" (Memo: "Boston Woodard") and send it to Community Alliance, P.O. Box 5077, Fresno, CA 93755.
Copies of Woodard's book, Inside the Broken California Prison System, which contains selected articles written by Woodard for the Community Alliance, will be available at the Community Alliance fund-raiser. You can buy the book or the Kindle version from Amazon.
Woodard will be speaking in Fresno at the Community Alliance fund-raiser in June. Details will be announced soon.
*****
Camille Russell is a Community Alliance and Peace Fresno board member. If you have questions about payment options, contact her at camille.russell@att.net or 559-276-2592.