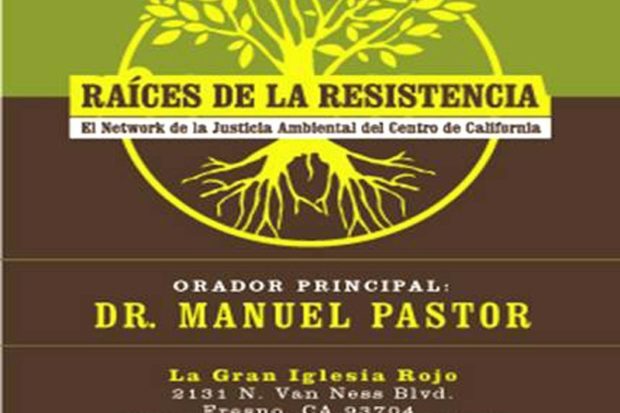 By Debbie Reyes
The Central California Environmental Justice Network (CCEJN) will hold its 2012 biannual conference this month. This year's theme is "Roots of Resistance: Building Environmental Justice for Healthy Communities." The conference will take place on Nov. 10 from 9 a.m. to 4 p.m. at the Big Red Church (2131 N. Van Ness Ave.).
The CCEJN's keynote speaker is Dr. Manuel Pastor. Dr. Pastor is a professor of sociology and American studies and ethnicity at the University of Southern California (USC), where he also serves as director of the Program for Environmental and Regional Equity at the Center for Sustainable Cities and co-director of the Center for the Study of Immigrant Integration. He was the recipient of the 2012 Wally Marks Change-Maker of the Year Award from the Liberty Hill Foundation in Los Angeles.
Dr. Pastor's recent books include Just Growth: Inclusion and Prosperity in America's Metropolitan Regions (co-authored with Chris Benner) and Uncommon Common Ground: Race and America's Future (co-authored with Angela Glover Blackwell and Stewart Kwoh), which documents the gap between progress in racial attitudes and racial realities and offers a new set of strategies for both talking about race and achieving racial equity.
Dr. Pastor is committed to helping advance equity in the San Joaquin Valley. He inspired research endeavors that led to the report he wrote the foreword to and advised on "Land of Risk and Land of Opportunity," which documented cumulative health impacts in the San Joaquin Valley. This effort was led by Dr. Jonathan London, a UC Davis professor and director of the Center for Regional Change.
The CCEJN is a coalition of grassroots environmental justice activists from the San Joaquin Valley. The organization was founded in 2000 as an outgrowth of the Center on Race, Poverty and the Environment's Advisory Board. The CCEJN has played an important role in raising awareness about environmental justice issues in the San Joaquin Valley.
The CCEJN's members are grassroots activists and environmental justice organizations spanning eight counties: Kern, Kings, Tulare, Fresno, Madera, Merced, San Joaquin and Stanislaus. Organizations and members include El Comite Para Bienestar de Earlimart; the Center on Race, Poverty and the Environment; the California Prison Moratorium Project; Greenaction for Health and Environmental Justice; Community Water; the San Joaquin Valley Latino Environmental Advancement and Policy Project; TriCounty Watchdogs; the Association of Irritated Residents; Fresno Metro Ministry; the Community Water Center; the Grayson Neighborhood Council; and Californians for Pesticide Reform from Huron to Wasco. The group is governed by an all-volunteer Unity Board Council.
The conference is free, and the CCEJN will try to provide food, transportation, Spanish translation, child care and sometimes lodging. For more information, call 559-367-6020.
*****
Debbie Reyes is the CCEJN coordinator for this year's "Roots of Resistance" conference. Contact her at 559-367-6020 or pmpvalle@yahoo.com. For information on the CCEJN, visit www.ccejn.wordpress.com.