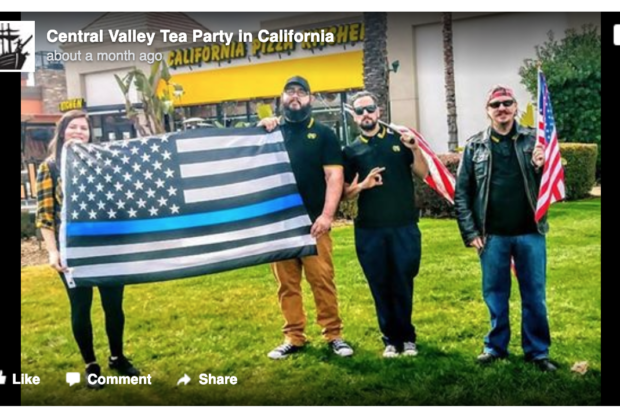 By Kevin Hall
In this month's special election for the Fresno County Board of Supervisors District 2 seat, three candidates are on the ballot: Democrat Nasreen Johnson, Tea Party Republican Steve Brandau and no party preference Steve Hosey.
With the strong advantage of near incumbency as the second-term, Trump-loving city council member from conservative northwest Fresno, Brandau is the odds-on favorite, but in a low turnout election such as this should prove to be minor candidates supported by strong field campaigns can win.
Brandau has been endorsed by Fresno City Council members Luis Chavez and Paul Caprioglio and former City Council member Oliver Baines, all Democrats, followed by a long list of the local right wing's star lineup: Fresno Police Chief Jerry Dyer, Fresno Mayor Lee Brand, Fresno County Sheriff Margaret Mims and Fresno County Supervisor Buddy Mendes.
Proud of his Tea Party roots and positioned as just a humble carpet cleaner from Fresno, Brandau ran for City Council as the "Joe the Plumber of Fresno" back in 2012 when the racist birther movement was going strong during President Barack Obama's reelection.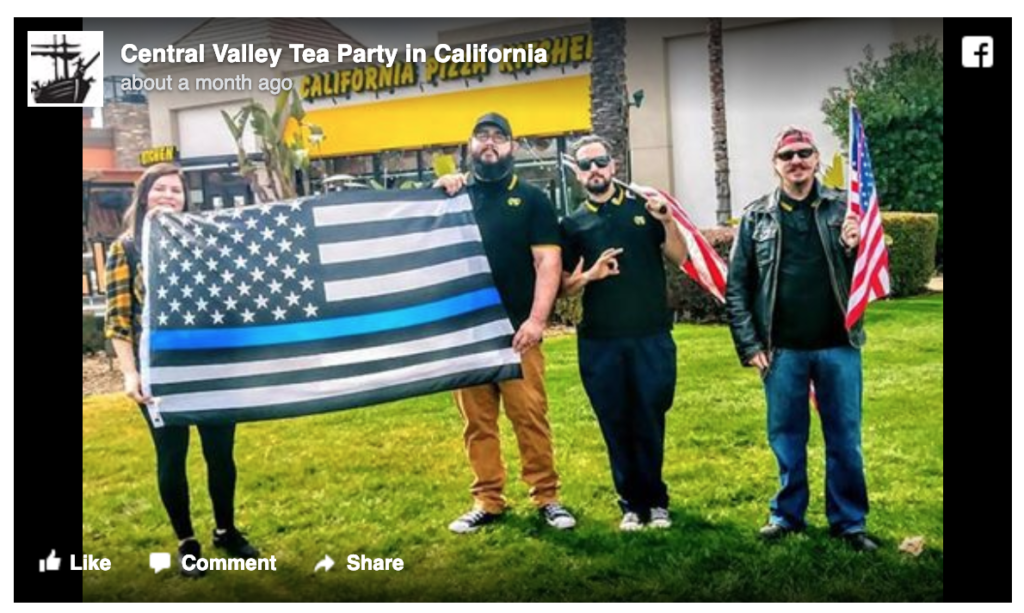 Brandau's local Tea Party chapter stays active. The group held a campaign fund-raiser for him on Feb. 1, and a couple of weeks later gathered at Blackstone and Nees for a "Patriots Unite California Rally." One participant there happily flashed the three-fingered White power terrorist sign for a photo posted to the group's Facebook page.
In late 2017, the Fresno Bee's Tim Sheehan reported on Brandau's retweet of a post from an anti-immigrant Swedish nationalist who wrote, "The Swedish gov are (sic) deliberately trying to erase my home and culture." He told the Bee that "the post caught his attention because of his own interest in 'the collapse of European culture.'"
Here, of course, Brandau demonstrates his most Trump-like quality of gaslighting. On the one hand, he retweets a racist's post and backs it up with his own racist dog-whistle about European culture and in the next breath plays innocent to Sheehan, babbling, "I retweet lots of people I wouldn't agree with on other subjects, it's just lots of opinion. We have a society based on open discussion."
Brandau either has intentionally modeled his bigoted behavior on the President's excesses or he comes by it naturally, because what refugees and political opponents are to Donald Trump, homeless people and community activists are for Brandau: targets. Fear-based rhetoric designed to dehumanize and blame a population of "other" people and excite conservative voters aching for some group ranting are the pair's shared hallmark.
Years of reporting on homelessness for the Community Alliance by Mike Rhodes and last year's four-part series by Paul Thomas Jackson lay out a long history of abuse of this highly vulnerable population. It preceded Brandau's arrival on City Council, but he couldn't have joined in much more eagerly and took it up a notch two years ago with his introduction of a discriminatory anti-camping ordinance.
As Jackson reported in May 2017, Brandau's introduction of the ordinance came with a tweet, later deleted, calling for "Bums GTFO." He hyperbolically told the Bee's Sheehan, "We have 600 people holding a city of a half-million people hostage." The ordinance was dropped after a court in Idaho ruled a city can't make it illegal to camp if it doesn't provide enough beds for people who have no place to stay, but Brandau is still so proud of his failed ordinance that it serves as fodder for a campaign mailer in his current race for county supervisor.
He was, of course, a strong supporter of the Caprioglio-led attack on the homeless population through the closing of neighborhood CRV (California Redemption Value) recycling drop-off stations. "On trash day, we have a bunch of people who look like cast members from The Walking Dead," Brandau told Sheehan in September 2017. "I see this stuff plain as day, and it's ruining all our lives."
And in support of the Trump-Mims' agenda, Brandau introduced a resolution in March 2017 in opposition to SB 54, the California Values Act. The bill was passed and signed into law, barring local law enforcement agencies from acting as an extension of ICE by arresting and detaining people for immigration violations. Brandau's hate bill was yanked without a hearing.
Community activists, at least those on the left, are Brandau's other favorite target for public indulgences of his anger. His most revealing moment came in January 2018 when the residents organized against unmitigated industrial development in the Reverse Triangle as South-Central Neighbors United.
They and a broad coalition of organizations and individuals appeared before City Council and demanded the city adhere to the California Environmental Quality Act, a fight they won earlier this year. Brandau's thin veneer of civility, in which he affects a soft-spoken personna, disintegrated in a torrent of anger directed at environmental justice attorney Ashley Werner with Leadership Counsel for Justice and Accountability.
Likening residents' advocacy to an act of prostitution, Brandau called Werner and Leadership Counsel as a whole, "poverty pimps." When then–City Council president Esmeralda Soria apologized on behalf of the Council, Brandau interrupted her repeatedly to make sure he wasn't considered a part of the apology. It was brutish behavior.
Community residents who came to voice support for placement of the motto "In God We Trust" received a much warmer welcome from him in May 2017. For them, he teared up as he finished a god-imbued soliloquy, saying, "But the way we live our lives and interact with each other is even more important."
Brandau's gaslighting, bullying and, ultimately, cowardice qualify him perfectly as a candidate of the Trump-deformed Republican Party. It's a combination that draws some unlikely supporters from the Democratic side of the aisle. Whether out of political practicality or an alignment of values, it is clearly in the best interest of all Fresno County residents that Democrats voting in this race not be misled by the endorsements of Chavez, Caprioglio and Baines; that Republicans come to their senses; and that the no-party-preference crowd cast their ballots in support of a better kind of politics.
*****
Kevin Hall hosts Climate Politics from 5 p.m. to 6 p.m. on the second and fourth Fridays of each month on KFCF 88.1 FM. He is on Twitter at @sjvalleyclimate and @airfrezno. Contact him at sjvalleyclimate@gmail.com.