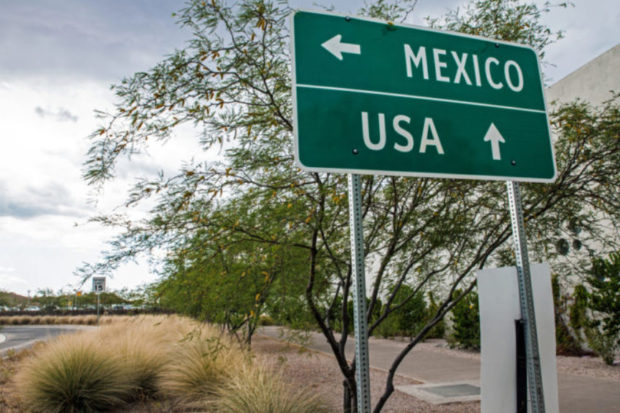 By Leni Villagomez Reeves
There are two issues to address. They are closely related. First, we must realize that it is U.S. policies and direct interventions that have produced violent unstable conditions in Mexico and most of Central America. Also, it is necessary to consider that anti-Mexican bias and hate crimes have a long history in the United States, and that all Brown people coming from the south are "Mexican" for purposes of discrimination and being targets of violence.
The current uprisings and protests ignited by the recent police killing of George Floyd and fueled by centuries of violent deaths of people of color at the hands of the authorities are focusing national attention on police brutality and the legacy of White supremacy and racism. The U.S.-Mexico border and U.S. policy dealing with migrants and refugees coming from Mexico and Central America are a significant part of that ugly legacy.
The heavily militarized border is a laboratory for repressive security experiments that have been adopted by police departments around the country. Human rights abuses are routine there, and routinely include children, both with and without their parents.
Thousands of migrant children, also known as "unaccompanied minors," have attempted to enter the United States across the border from Mexico; most come from Central America. Border Patrol agents and Customs and Border Protection (CBP) officers have not been held accountable for many shooting deaths of civilians and other abuses.
ICE operates openly in defiance of court orders restricting their actions. Migrants and refugees have been increasingly criminalized and abused as border security has intensified.
Again, refugees flee toward the border because their countries have been made unlivable by U.S. economic policies, enforced by U.S. sponsored or direct violence when required. (Even so, a centrist/reformist government as that of Manuel Zelaya in Honduras was not tolerated by the United States, which organized its overthrow by military coup in 2009.)
Another significant part of the ugly, persistent and fundamental story of racism and White supremacy in the United States is the long history of anti-Mexican racism that has led to illegal mass deportations, school segregation, segregated business practices, lynching and mob violence.
Racial violence was utilized to gain White economic control in areas formerly part of Mexico including, but not limited to, Texas, Arizona, New Mexico and California. Although this began in the 1840s, this is not ancient history: The FBI reported 485 hate crimes against Latinos in 2018 alone, which is the tip of the iceberg.
Anti-Mexican rhetoric tends to immediately prompt these hate crimes, but they come from a solid base of policy motivated by hatred and racism. They also come from a teaching of history that celebrates violence against Mexicans and Native Americans as "progress."
When we attempt to offer our vision for the future and our comments on what is important about the events of these days, it is important to remember that White supremacy, racism and racist violence is, and has been, a serious problem for Native Americans, "Mexicans" (including people from Central America and people born in the United States), Asian and Asian Pacific people and their descendants. It is a serious error to ignore these issues or to write people out of history, or current events.
*****
Leni Villagomez Reeves is a local physician and activist. Contact her at lenivreeves@gmail.com. Check out her news and views about Cuba on Facebook (fresnosolidarity/).