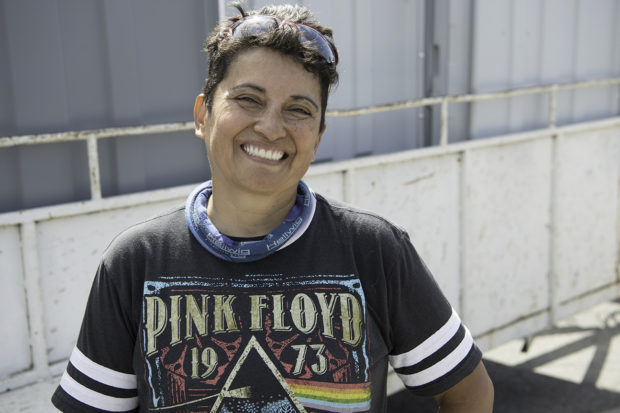 By Community Alliance Staff
Gordie Ochinero-Bermudez of Fresno embarked on a special trip May 8–14. She biked from San Francisco to Los Angeles—about 450 miles!—as part of a fundraising effort to provide porta-potties for the homeless in Fresno.
She biked about 70 miles per day with only two-support persons assisting her with food/fluids and safety along the route.
In a prepared statement, Ochinero-Bermudez expressed the following before hitting the road: "In conjunction with a group of business owners and community-oriented citizens, we have contracted with a local supplier to provide 12 months of service and maintenance for 6 Porta-Potties at various homeless locations throughout the Fresno area.
"It is our goal to collaborate and work towards providing a more sanitary and healthier environment, as well as implement greater safety and community awareness. The goal of my Dignity Ride is to raise a minimum of $7,000.00 to pay for the contracted porta-potty services."
Ochinero-Bermudez has been working with the homeless community for the past nine years. She went through personal traumas and addictions, which included living on the streets of Sacramento for a period. She is now sober and is expecting a child with her wife of three years.
She set up a GoFundMe account and eventually achieved her goal of $7,000. She presented the porta-potties on May 22 in Fresno's Chinatown.
To get more information about Ochinero-Bermudez's activities in support of the homeless, contact her at gordie7gordie@gmail.com or on Facebook at Gordie Ochinero-Bermudez.