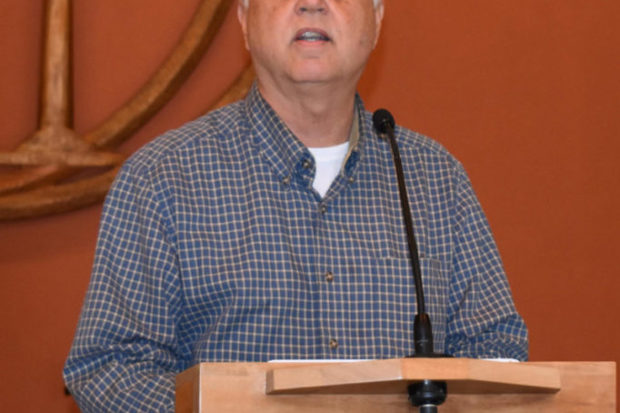 ***The content in this section is paid for by the Central Valley Progressive PAC***
By Mike Rhodes
If I'm right about this, we are about to change Fresno into paradise where those living in other parts of the state and country look to us as a beacon of hope. We will base our public policy on the core progressive values of social, economic and environmental justice. If I'm right, you will become a member of the Central Valley Progressive PAC and we will take political power in this community from the school board to the mayor. If I'm wrong (and you don't join the CVPPAC), it will be business as usual with the corruption, poverty and ecological degradation we have come to expect. Of this I'm certain—the choice is yours.
Recently, the CVPPAC's immediate past president, Howard Watkins, invited me to give a presentation at the Unitarian Universalist Town Hall about the current state of politics (both locally and nationally) and what I thought could be done about the situation. I eagerly accepted the challenge and gave the presentation on March 19.
My Town Hall went something like this.
A couple of years ago, my wife, oldest daughter and I went to Barcelona. I was impressed with the parks that were everywhere, public art, a humming economy, clean air and magnificent public transportation. Politically, their biggest concern seemed to be separating Catalonia from Spain so they would have more independence.
As I stared at a wide avenue in the middle of Barcelona I wondered out loud if Fresno could ever be a world-class city that people would travel from all over the world to see. I had my doubts. In fact, I thought that perhaps we were too far gone. The urban sprawl, brought about by the greed of builders and developers, has left us with a series of strip malls, inadequate public transportation and one of the lowest densities of green space (parks) in the country. With some of the highest concentrations of poverty, we are sometimes referred to as the Appalachia of the West.
Fresno's transformation begins four years from now after progressives have won every seat up for election. We now have the power to implement public policy based on our core values. I will tell you how we are going to accomplish the necessary electoral victories shortly. It all starts in western Fresno County where corporate farmers have pumped out so much groundwater that the land is actually sinking. Environmental disasters like Kesterson, where polluted drainage water was responsible for grossly deformed waterfowl, are a signal that something is just not right.
The corporate farming entities in western Fresno County are receiving most of the $100 million in federal farming subsidies, and their owners are more likely to live in Beverly Hills than Mendota. These are not small mom-and-pop operations. Their right-wing propaganda machine has promoted the narrative that the water they demand from Northern California is about valuing people over fish. They ask if it is more important to save the smelt or to provide farmworkers with jobs and produce food for the nation. They have been pretty effective with that message, until now (four years in the future), when they successfully lobby for and receive what they have wanted all these years, unlimited water from northern California rivers, delivered through the aqueduct.
The publicly subsidized water they are receiving is given at below cost and with limited restrictions. The corporate farmers realize they can make more profit by selling the water to Los Angeles than growing crops, so that is exactly what they do. And they want to continue receiving federal farm subsidies for not growing crops on their fallow land.
That is the final straw for progressive policy makers in Fresno. We end the corporate welfare for these freeloaders and plow the money saved into installing solar panels on the open land abandoned by the corporate farmers run by absentee CEOs. The electricity generated and the new jobs created installing and operating the solar farms are an immediate boon to the economy. Soon, there is so much construction going on that manufacturers begin setting up shop in some of the abandoned buildings in the old industrial section of downtown Fresno (south of Ventura). This, of course, creates even more jobs, driving our unemployment rate below 10%. There is excitement in the air and low-cost electricity being shipped throughout the region.
Community activists demand that we create a Municipal Utility District (MUD) and oust PG&E, which is profiting from the movement of electricity over their lines. PG&E's CEO squeals like a stuck pig and paints a picture of Armageddon if we cut them out of the picture. An election is held, Fresno forms a MUD and benefits even more from the increasing number of solar farms.
With electric costs to Fresnans at an all-time low, small electric cars appear everywhere on the streets. There are so many clean vehicles on the road, we are again able to see the snow-capped Sierra mountains on most days. Tesla, seeing Fresno as the center for the country's conversion to electric cars, locates their newest manufacturing plant in Fresno, creating thousands of new jobs.
A new technology is discovered and Fresno is the first city in the country to begin installing interlocking solar roadways. Blackstone Avenue is converted with this new material that not only creates a long-lasting safe roadway but also creates solar electricity at the same time. Fresno is the manufacturing center for these interlocking roadways, which creates new jobs and electricity that is now being exported region-wide. Fresno has become the heart of the new economy in the United States.
With the revenue generated by sales of electricity and the booming economy, Fresno has been able to take on some of the intractable social problems facing the community. For example, homelessness has been eliminated. Every homeless person has been provided with a place to live and whatever social services they need to resolve the issues that made them homeless in the first place. Treating people with dignity and respect, rather than taking and destroying their property, is the new policy.
The replacement of the Chief of Police three years ago led to a change of culture within the department. A member of Black Lives Matter is now the Independent Police Auditor and will ensure that we do not return to the time of extra-judicial executions and the other abuses of authority that were an everyday occurrence.
With improved schools, good-paying jobs for everyone who wants one, improved public transportation and parks everywhere, it makes it easier to answer Rodney King's question about "can't we all just get along?" Yes, we can when we are able to have public policies that reflect our values of social, economic and environmental justice.
The question then becomes, how do we get from where we are today to where we want to be?
The Central Valley Progressive PAC's goal is to transform this area from a region controlled by right-wing politicians who serve the interests of the wealthy to something like what I have described above. We are going to do that by uniting the many progressive groups and individuals in this area and implementing an electoral strategic plan for winning elections.
When the Service Employees International Union (SEIU) started organizing poor and homecare workers in Fresno, they found the political landscape here to be particularly harsh. Coming out of the Bay Area, they did not understand how the privileged in Fresno achieved and maintained power. They did a power structure analysis to understand the dynamics at work.
The SEIU power structure analysis gave insights into the region and a pathway for how they could build a movement to improve low-income workers' pay and benefit. The CVPPAC used this analysis to develop a plan to win long-lasting political power.
One of the most important discoveries in the SEIU power structure analysis was the degree to which money plays a role in local politics. Builders, developers, agribusiness and their allies play a critical role in local politics. It is why Fresno has so few parks, inadequate public transportation and terrible air pollution. The collusion and corruption between those sectors and politicians is legendary. The FBI uncovered some of the scandal with Operation Rezone, which discovered representatives from the building industry were bribing City Council members with trinkets (e.g., a set of tires, cheap suits) in exchange for favorable votes on their projects.
The ultimate answer is campaign finance reform, but we can't sit on our hands until we accomplish that far-off goal. If 1% of the residents in Fresno County became members of the CVPPAC, the income would more than overcome the special interest contributions from builders, developers and agribusiness. The biggest advantage we (progressives) have is that there are a lot more of us than there are of them, and if people join together we will win.
The second most important discovery in the power structure analysis is just how un-level the playing field is when it comes to voting. If you have ever seen one of the maps the CVPPAC has produced showing voting patterns in Fresno, you will see that the people in the vast majority of precincts vote for progressive candidates or causes. Almost every precinct south of Shaw Avenue (and moving closer to Herndon all of the time) votes progressive, and the north is dominated by the conservatives. The difference is that voter turnout near the bluffs and in northeast Fresno is high (85%–90%) and always supports the conservative cause or candidate. In southeast and southwest Fresno, it is the opposite—low voter turnout (30%–40%) and always supporting the liberal/progressive cause or candidate.
Voter turnout is high in north Fresno because the residents their live affluent lives, they own a house, have a car that works, can get off from work to vote, etc. Life is different south of Shaw. More people live in apartments and if you have moved since the last election, you have to re-register or you could be turned away at the polls. Poor people have more transportation issues, they can't always get off work and have been encouraged to believe their vote doesn't matter (because the system is rigged).
Out of 3,000 people in the Fresno County Jail in the last election (November 2016), two-thirds of them had not been convicted of a crime and were just awaiting trial. They were too poor to bail themselves out. That is 2,000, mostly poor and working people, who simply can't get out to vote. A mobile polling place could easily be brought into the jail, but it is not.
Our struggle is to build a grassroots political movement that will have enough money to run viable candidates and increase voter turnout south of Shaw Avenue so we can get progressives elected to local offices.
An example of how this will work is when organized labor and community groups came together to defeat Measure G, the proposal by the Republican mayor to privatize city sanitation workers jobs. In an unprecedented alliance, a coalition formed to defeat Measure G in a citywide election. The CVPPAC was an important part of that coalition. The CVPPAC has helped elect a majority on the FUSD Board of Trustees to support students and school employees, we have helped elect progressive Fresno City Council members like Esmeralda Soria and have had success in many other Central Valley races.
Right now, the CVPPAC is working on a campaign to elect a new representative in the Fresno City Council District 7 race. The seat is currently held by Clint Olivier, who will be termed out in November 2018. CVPPAC members will be working on a door-to-door campaign to identify issues and leaders in the district. Winning in District 7 and holding on to other City Council seats will give progressives a majority at Fresno City Hall. In 2020, we will elect a progressive mayor.
I'm not sure if our path to becoming a world-class city will play out exactly as described above, but I do know that we will only win if we have political power and can implement progressive values into policies. This all begins with you joining and becoming an active CVPPAC member. A membership form is on this page. Fill it out and mail it in today. The next CVPPAC meeting will be on Saturday, April 8, 2017, at 3:30 p.m. at the Fresno Center for Nonviolence, 1584 N. Van Ness Ave. For more information, contact Pam Whalen at 559-994-9390 or visit www.cvppac.org.
Know and Protect Your Voting Rights

Sunday, April 30—Save the Date

Panel and Community Discussion

From registration to voting to counting the ballots, this panel will explore the national context and local issues affecting voter access and provide practical tips to deal with concerns as they arise. Panelists include representatives from Mi Familia Vota, the National Lawyers Guild, the League of Women Voters and other experts on voter access. Sponsored by the Central Valley Progressive Political Action Committee.

Visit http://www.cvppac.org/ for the exact time and location.