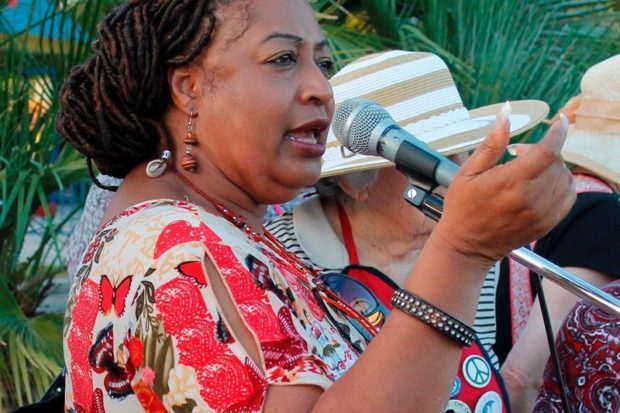 By Dr. Jean Kennedy
Is the system working 50 years after Dr. Martin Luther King, Jr.'s "I Have a Dream" speech? Well, let's see.
Today, taxpayers pay more than $70 billion per year to warehouse more prisoners than any other country that has ever existed. Prison owners and investors compete for job contracts against companies that hire "free people." Even former union jobs have disappeared behind bars. The huge prison industry hurts working-class Americans regardless of whether they actually know someone behind bars.
In fact, let the truth be told, prisons have ruined individual lives and devastated the Black community. Sentencing disparities are now been addressed by Attorney Eric Holder; yes, a Black man himself who no doubt thinks about the chilling facts regarding how Black males have been targeted and disproportionally represented in this country's prisons.
Even Dr. Michelle Alexander reminds us that "Jim Crow laws are alive and well in this 21st century, so there is no getting away from the truth." Today, ex-offenders find it difficult to obtain employment, even with those companies who used inmates to work for them behind bars while paying them less than minimum wage.
The Department of Corrections and Rehabilitation is neither correcting nor rehabilitating inmates. Black males who attempt to integrate themselves back into society after their prison sentence find that there are few or no jobs awaiting them. Applications continue to display a "felon" check-off box despite a movement to Ban the Box. The system of recycling inmates back into the penal system has got to stop.
Fifty years later, we have Dr. King's Dream speech to celebrate, but exactly how long is it going to take this super nation, known as a world leader, to realize that overcrowding its prison system with the chronic mentally ill and the chronic homeless is an injustice? Will someone please tell these mayors (like the one in Fresno), who are anti-homeless people, that jails are not designed for homeless people? I wonder just what would Dr. King say to these local politicians who see homeless people as an easy target for their own agenda.
I believe today Dr. King would challenge federal and state governments on these prison plantations and would have called Reagan a fool for closing down the mental hospitals. He likely would have challenged the sentencing for crack versus powder cocaine disparities. He might even have questioned the warehousing of civilly committed detainees and the lack of a tiered registry for sex offenders. The current registry includes individuals who have been convicted of the nonviolent crime of "sexting" on a cell phone, urinating in public or engaging in consensual teen sex.
I wonder how Dr. King would have addressed these pressing issues in our society. Dr. King might have challenged the Stand Your Ground law, and he would have spoken out for Obama's Affordable Care Act. He would have challenged local elective officials like Mayor Ashley Swearengin on their harsh policies toward the homeless. Yes, Dr. King's speech would be quite different today.
The Tea Party patriots would view Dr. King the same way they view President Barack Obama's personhood. In fact, this country has become obsessed with silencing African-American males at any cost; just look at how the role of the President, who just happens to be a Black male, is disrespected and disregarded. So I agree that an "injustice anywhere is a threat to justice everywhere."
Author's note: I invite you to support my virtual social justice classes, for which you can receive a Certificate of Completion. Also, tune into Real Talk with the 1 Drs, a nightly radio call-in show starting at 8 p.m. on Blog Talk Radio, for a discussion of community issues throughout the nation. We have a Social Justice Spoken Word night and an Open Mic on Fridays. We are also seeking someone to host a youth show.
*****
Dr. Jean Kennedy is an organizational psychologist who does freelance work, serves as a radio host on Blog Talk Radio, Real Talk with the 1 Drs, and supports the work of NNIA Social Justice Programs, where she volunteers as the director of the Freedom School. Contact her at 559-237-1023, drjeankennedy@yahoo.com or drjeankennedyradioshow@gmail.com.