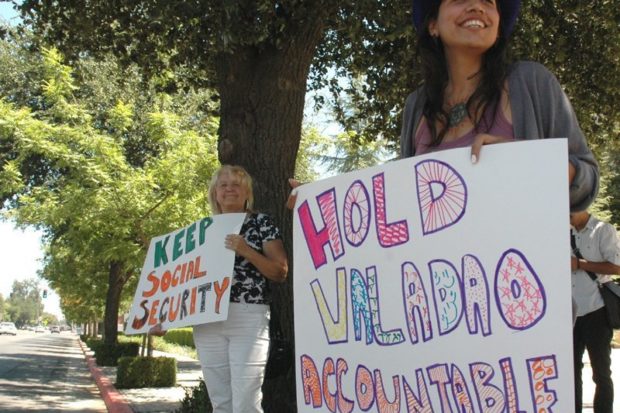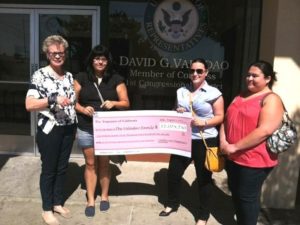 By Simone Whalen-Rhodes
Congress has just taken a five-week recess in August and only has two bills to vote on the whole month of September. Their continued gridlock and dysfunction has caused many to call this Congress the laziest ever.
"Hanford native and 21st Congressional district representative David Valadao has let down the Central Valley. His votes have revealed his troubling, self-serving priorities," says Joshua Salinas, a Selma resident and Fresno County Democratic Headquarters office manager. While voting to continue his support for dairy owners like himself (he has taken more than $1 million in subsidies), Valadao also voted to cut nutrition support from the Farm Bill—jeopardizing food on the table of countless Valley families.
A recent event to hold Rep. Valadao accountable on his attacks on Social Security took place on Aug. 14 (the 78th anniversary of Social Security) at Fresno's Federal Building. A local activist group, the Raging Grannies, sang, "Congress comes along and tells us they want us to agree. They are going to mess up our Social Security. Valadao you got to know your plans have got to go, hands off of Social Security!"
Events have been taking place all over the country to hold Republican Congressional members accountable for their policy making. This Congress has let the Farm Bill fall apart, is refusing to bring about comprehensive immigration reform and has done nothing to create jobs or economic growth.
Sept. 6 will be Congress' last day of recess. A special send-off party for Republican Rep. Valadao is being planned. The event will include big hats, lawn chairs and a kiddie pool. We are commenting on the long vacation time Congress is getting, while our federal legislation is left to the wayside. For more information about this event, contact California Democratic Field Organizer Simone Whalen-Rhodes.
Whalen-Rhodes is working with the Democratic Congressional Campaign Committee to help elect someone who can better represent the interests of the people of the Central Valley.
*****
Simone Whalen-Rhodes is a local political organizer. Contact her at swhalenr79@gmail.com.