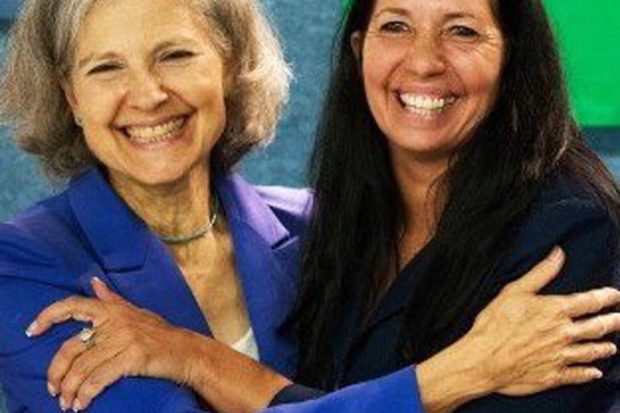 By Richard Gomez
Green Party presidential candidate Dr. Jill Stein is bringing the fight that's going on at the grassroots level—for our homes, jobs, single-payer healthcare, student education, immigration reform and economic sustainability—to the United States. She is addressing the struggles that are actively fought in our communities but denied legitimate representation in electoral politics. We need more than a revolution; we need an awakening of mass consciousness.
Stein is a 62-year-old mother and housewife born in Chicago and raised in Highland Park, Ill. She graduated magna cum laude from Harvard College and Harvard Medicine School. She's been a physician, instructor of internal medicine and a pioneering environmental health advocate regarding human health issues. She continues to lead and be involved in activities to promote sustainable agriculture, clean power, freedom from toxic threats to human health and green local economies.
Recently, she and vice presidential candidate Cheri Honkala spent the night in jail after refusing to leave the regional headquarters of mortgage giant Fannie Mae in Philadelphia. They were there to support two women whose families faced unjust evictions by Fannie Mae, as well as the eight million other families who have faced foreclosure at the hands of Wall Street.
She is more than qualified to win the election and lead our nation. She is currently on the ballot in 32 states, the District of Columbia and a write-in candidate in three states with potentially enough votes to win the Electoral College and the presidency. She, her staff and other volunteers have collected contributions of more $5,000 in 20-plus states to qualify for federal matching funds.
Her plan, the Green New Deal, is an emergency arrangement based on the New Deal of the 1930s that would get us substantially out of our depression. It would create 25 million jobs, community jobs and living wage jobs at the same time that it jumpstarts the green economy that can make wars for oil obsolete because it meets our energy needs here at home. It is a bottom-up program that puts communities in charge of finding what jobs they need to be sustainable.
Historically, America's successes have always come from social movements from the grassroots. We must all stand with the politics of courage, not fear, and take our lives back from our political and economic abusers. Let's make our conscience our guide to greatness, and let us not lose the name of action and joy.
Stein is expected to be in California in mid-October. Contact the author to help create an event to help her and local Greens. Folks who are interested in more information about Stein should visit her Web site at www.jillstein.org.
The Fresno County Green Party meets the second Thursday of each month at the Hugh M. Burns State Building (2550 Mariposa Mall). The next meeting will be Sept. 13 at 7 p.m.
******
Richard Gomez is currently a council member of the Fresno County Green Party. Contact him at 559-408-3320, nate136_66@yahoo.comor on Facebook at richard.gomez.9843@facebook.com.