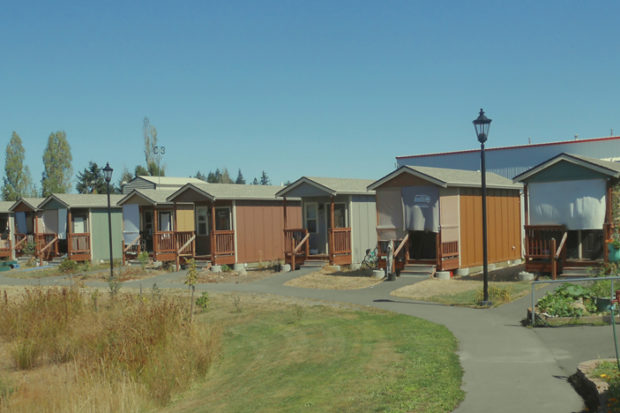 By Nancy Waidtlow
I receive desperate calls from people who are homeless or on the verge of homelessness almost every day. In my post-retirement second career with the Dakota EcoGarden, I have learned a lot about homelessness in the Fresno area.
First, the good part: Lots of people are being housed. But any patting ourselves on the back would be premature. The Housing First model preferred by our previous mayor has worked to some extent. But are we satisfied with "it could be worse"? Efforts to add/find more housing need to be intensified, along with efforts to bring more jobs to the area and to figure out how to make sure that full-time work is rewarded with a living wage. A policy requiring that vacant properties be returned to the rental market as soon as possible would also help.
It almost goes without saying that the City of Fresno's anti-camping ordinance, with the provision that our jail might be used as a last resort housing, is not a solution in any sense of the word. Thanks to City Council President Esmeralda Soria for the lone "no" vote.
One expert, Barbara Poppe (see "10-Year Plan to End Homelessness Reaches 10-Year Mark with No End in Sight" in the January 2018 Community Alliance article), concluded that the Fresno/Madera counties homeless population will double from the 2017 count by 2020 if we continue with only our current strategies. Her report identifies three actions that will ensure "homelessness is prevented whenever possible, or if it can't be prevented, it is a rare, brief, and non-recurring experience."
Two of her recommendations are aimed at preventing homelessness. Obviously, this should be the first priority, but we have a contrary rule from HUD (U.S. Department of Housing and Urban Development) that before housing help can be obtained, one must be unsheltered for a prescribed amount of time. The Dakota EcoGarden accepts "on the verge of becoming homeless" as adequate need. We need more EcoGardens and we need Art Dyson EcoVillages.
But the quickest and cheapest way to solve the biggest part of the homeless problem comes with Poppe's third point. She calls for "immediate access to shelter and crisis services, without barriers to entry." That sounds like a safe and legal campground, although Poppe does not include this in her suggestions. Fresno's mostly mild weather makes this option feasible.
With minimal shelter, our cold, foggy winters and hot summers can be made endurable. If an indoor solution is found, let's do it. In the meantime, let's give people a place to go when they have lost their homes other than to the sidewalks, bushes and parks.
A legal campground for homeless people is not the same as the encampments that were bulldozed into oblivion in 2011 and other times before that. The encampments were scary, dangerous places. "Abandon hope all ye who enter here" was the feeling and usually the reality.
I (and many others including Community Alliance Founder Mike Rhodes) am suggesting an organized camp that provides security. It is fenced and access is allowed only to identified residents. It provides toilet facilities, trash collection and clean water. It should be located close to transportation. These are the basics.
From there, a roofed community space, a kitchen and storage facilities, Internet capability and other amenities could be added. The advantages of being in a safe, supportive community that is easy for community helpers to find and access outweigh the discomfort of the camping experience.
Many cities are getting projects off the ground. Look on the Internet for EVE in Eugene, Ore., Community First! in Austin, Texas, and the huge tent model in Tacoma, Wash. Some of these are more complex than a simple safe and legal campground, but we can learn from all of them. These projects are "low barrier" or "no barrier," meaning they are open to whoever needs them, without entrance requirements. There are behavior standards that can result in eviction, but the initial chance is given, and often there is a provision for counseling and a second chance.
The city and county of Fresno have unused land and a wealth of good-hearted people. What's missing seems to be the necessary confidence that solutions can be found—many solutions to fit the diversity of the people who need this help. One way would be to make the land available and offer incentives, including code and zoning flexibility, to individuals or groups that want to establish and manage a site.
The funds currently being used to pay the police officers on the homeless task force could help in this effort, as well as the savings in not having to clean up illegal camps and the decrease in ambulance trips to emergency rooms because people in such a community have community support and better access to regular healthcare.
Also, perhaps less tangible but no less real, would be the increase in the value of property formerly considered degraded by the presence of homeless people. If we can also use HUD money for our projects, it would certainly make it easier, but it would be unconscionable to just wait for that money to become available.
This past February, the legislative committee of the local Women's International League for Peace and Freedom sent a delegation to talk with Fresno Mayor Lee Brand and H. Spees, the City of Fresno's chief in charge of homeless issues. We were hopeful that new, bolder and more humane policies were in the works. It has been slower than we had hoped, but at least it looks like city and county are finally going to try to work together.
The poor are always with us. Perhaps. But how we treat them is certainly our choice and our responsibility.
*****
Nancy Waidtlow bought the property and helped establish the Dakota EcoGarden transitional homeless facility and has helped manage it since its beginning, along with other board members of the nonprofit Eco Village Project of Fresno. Learn more at www.ecovillagefresno.org.