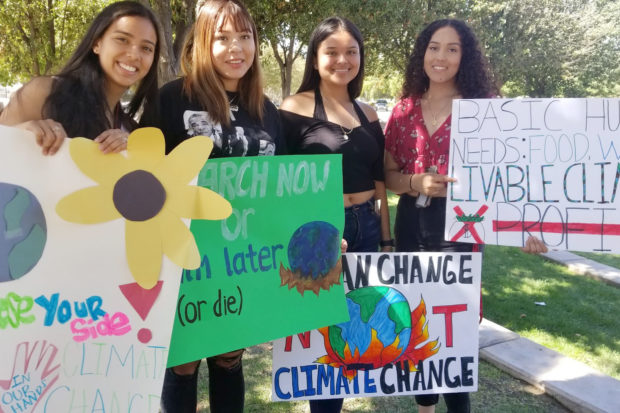 By Pedro Hernandez, Vanessa Suarez and Alonso Santos
Sunrise Fresno formed in early 2020 as a cohort of youth activists determined to hold politicians accountable for taking climate action. Despite our age and backgrounds, we all knew environmental justice has been denied far too long in the San Joaquin Valley.
Months later, our hub had grown and we directly engaged Congressional candidates to sign our "No Fossil Fuel Money Pledge" during the 2020 primary election. Out of the many politicians we've engaged, the most notable response was when Rep. Jim Costa (D–Fresno) remarked, "I believe in climate change, but I will not sign your pledge." It landed with a certain weight.
It reaffirmed what many of us knew: It's up to us to save ourselves. Our leaders know that the climate crisis exists but continuously refuse to act—leaving our families and friends at risk.
When the levers of power are seized by corruption, solutions founded on integrity are often out of reach.
Fresno and the greater San Joaquin Valley are at an inflection point. Despite decades of agricultural prosperity and energy production, the Valley is facing a potentially complete breakdown. While climate change and global warming are often spoken about as problems for the next generation, their impacts in the Valley are being felt today.
These impacts are intersectional and take on many different forms, with social, cultural, economic and ecological consequences for Valley communities. While the results vary by community, we know that industry profits at the expense of people and our planet.
It is imperative we take action now to mold our own Vision for the Valley. We all have a right to a seat at the table. It's time for us to seize the power that has been denied to us and speak with the authority we have as residents on the frontlines of the climate crisis.
In defiance of the status quo, we offer our vision for the San Joaquin Valley: A Green New Deal for the San Joaquin Valley.
Our vision forward is rooted in history. We must respect indigenous sovereignty and never forget that San Joaquin Valley towns are built atop of unceded Yokut land with a history of violent colonization.
This colonization displaced original inhabitants and fundamentally scarred the landscape. The Valley ecosystem once included rivers that would overflow regularly, creating a vast network of wetlands that invited thousands of diverse species of animals and plants.
Since the 1800s, more than 90% of California's wetlands have been drained for intensive agriculture, urbanization and industrialization. It was this environmental destruction that created our current segregated landscape where undocumented immigrants and people of color are forced into jobs that exploit both the labor force and our environment while bearing the brunt of pollution.
We demand society and a restorative economy that reflects our future environmental and public health needs.
The Green New Deal is the only policy proposal that aims to reduce greenhouse gas emissions in order to avoid the worst impacts of climate change while simultaneously addressing historical socioeconomic disparities.
Incorporating a just transition into our Vision for the Valley provides opportunities to shift away from fossil fuel–dependent jobs into unionized jobs with high pay and benefits in new climate technologies that are anticipated to arrive in the Valley. These new diverse employment opportunities can pave the way for the Valley to break free from the shackles of Big Oil and agribusiness.
Due to the Valley's long history of oil and gas extraction, a considerable portion of the workforce is employed by the industry while Democratic politicians such as Fresno City Council Member Esmeralda Soria, State Senator Melissa Hurtado (D–Sanger), State Center Community College District Trustee Annalisa Perea, State Senator Anna Caballero (D–Salinas) and Assembly Member Rudy Salas (D–Bakersfield) continue to accept campaign contributions from Big Oil.
As we transition away from fossil fuels toward energy systems that reduce and remove carbon emissions, it is essential to hold elected officials, project developers and employers accountable to ensure our workforces are not left behind.
Similarly, the Valley's agricultural workforce must be overhauled to address the climate crisis while meeting food demands. Agricultural workers are on the frontlines of pollution exposure, working under dangerous conditions and often without just compensation while these same practices displace endangered plants and wildlife.
A transition away from industrial agriculture toward regenerative practices can protect the livelihoods of agricultural workers and communities, safeguard the surrounding environment and wildlife, provide good-paying jobs, increase the sustainability of the whole agricultural supply chain, bolster producers' bottom lines, foster community cohesion and fight climate change. The land management workforce should also have opportunities to make a dignified living from the habitat restoration efforts and urban greening projects needed to restore our ecosystems and close the nature gap.
Our inflection point sits in the hands of our community. It's up to us to build a Valley where everyone has the right to live, learn, work, eat, play and pray in a healthy environment; where decision-making power is in the people's hands, particularly those who have been marginalized time and time again; where space is not only made for nature to flourish but where Valley residents are re-incorporated as part of it; and where ethical employment opportunities are available to all.
*****
Pedro Hernandez, Vanessa Suarez and Alonso Santos are members of the Fresno Sunrise Movement. Contact them at fresnosunrisemovement@gmail.com.