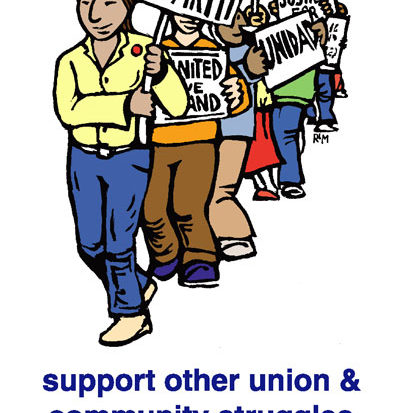 When it comes to the plight of undocumented students (AB 540 students) in this nation, we must suspend our judgment and understand their presence from a historical context. The political discourse surrounding this topic has done nothing to bring to a halt and perhaps has increased, the prejudice and ignorance on the subject. Powerful actors in society continue to propagate a thinly veiled hatred toward a diligent and resilient group of students.
First, we must understand that AB 540 students do not fall out of the sky and are here by accident. To rely on politicians to educate us on this critical issue surrounding such a courageous group of students is foolish because they will likely dance to the tune of the special interest groups contributing to their campaign. Whether people choose to acknowledge it, most undocumented immigrants are here in large part due to the foreign policy of this government with other countries.
To understand the above statement, we must be familiar with the North American Free Trade Agreement (NAFTA) of 1994 signed by Canada, the United States and Mexico. The United States was well aware that this treaty was going to displace approximately 12 million Mexicans within the first 10 years and create a major influx of new immigrants into the United States.
Although this treaty has created many social ills on both sides of the border, it has been of great financial gain for transnational corporations and the economic elite on both sides of the border. One compelling source among many that chronicles the consequences of "free trade" with more than five years of data from farmworkers is Ann Aurelia Lopez's The Farmworkers' Journey.
According to the latest U.S. Census Bureau figures, the Fresno area economy is about 90% based on agriculture in which 9 out of every 10 laborers are likely undocumented workers. One of the main reasons why the agriculture industry is reluctant to use the government's e-verify system (Social Security verification) is that it will lead to a shortage of farmworkers (the Fresno Bee reported on this fact). This is the same case within the service industries such as the food industry, landscaping, construction, housekeeping and other service sectors. Simply ask Meg Whitman or Lou Dobbs, and many other political figures who have been caught employing undocumented workers.
Let's not fool ourselves and be honest about this issue. This country would be wise to cash in on the investment that its taxpayers have in providing a K-12 education, and in many states the admittance of these undocumented students into some of their colleges and universities. In California, and several other states, these students are attending college legally thanks to the passage of laws such as AB 540, which has been in effect since 2001.
If these college graduates are given a realistic pathway to legally integrate into the professional world, the financial gains would be enormous. According to the UCLA North American Integration and Development Center, the earnings of DREAM Act beneficiaries throughout their working lives would be $1.4 trillion–$3.6 trillion. This means that this group of hard workers could become an instrumental part of the tax base at a time when the retirement of the baby-boomer generation necessitates a strong and vibrant workforce.
Once we get past the unfounded fears, providing legalization for undocumented immigrants in this state and across the nation is the right thing to do. We know what has to be done, but do we have the political will and the social responsibility to do it?
May Day March for Immigrant Rights and Workers' Solidarity
Central Valley neighbors and friends, please join us for the 6th Annual May Day Immigrant Rights March. This year more than ever, we need to come together and join forces because of the increasing attacks on all working people regardless of immigration status. So please take a pause from the everyday grind and join us in the spirit of community for some music, live performances, marching and speakers on immigrant and worker rights.
When: Noon–4 p.m.
Where: Eaton Park Water Tower at O and Fresno streets in downtown Fresno
Information: May Day Committee for Immigration Reform
Virginia Velasquez, 559-499-1178
Leonel Flores, 559-776-6642
Ines Rojas, 559-273-6459
Stan Santos, 559-908-6701
Una Cosecha de Conciencia y Justicia Social
Cuando en esta nación hablamos de la situación con los estudiantes indocumentados o estudiantes AB540 en California, debemos suspender nuestros juicios y mejor entender su presencia desde un contexto histórico.  Se les llaman estudiantes AB540 por la ley californiana que legaliza sus estudios universitarios sin que tengan que pagar una colegiatura de "fuera de estado;" la cual es hasta seis veces más.  Eso sí, tienen requisitos para poder considerarse estudiante AB540 y estos son: 1) que sea indocumentado, 2) haya estudiado por lo menos tres años de prepa y se gradué de una prepa californiana.  Ya habiendo aclarado tal termino, continuaremos con nuestro punto.  El discurso político de este tema con los estudiantes indocumentados no ha hecho nada para detener, pero si ha aumentado el prejuicio y la ignorancia sobre este mismo tema.  Figuras poderosas como pueden ser políticos, jefes ejecutivos y grupos de intereses especiales propagan un odio inhumano hacia estos estudiantes decididos y que nos se niegan darse por vencidos.  Primeramente,  esta sociedad estadounidense tiene que aceptar que estos estudiantes indocumentados/AB540 no caen del cielo por una obra milagrosa.  Es muy inocente de nuestra parte esperanzarnos a que los políticos nos eduquen sobre este tema tan importante y de sus estudiantes valerosos; especialmente sabiendo que los políticos bailan al son de sus contribuyentes millonarios y billonarios con sus intereses especiales.  Lo aceptemos o no, la mayoría de estos emigrantes está aquí debido a la diplomacia de los Estados Unidos con otros países.
Para comprender mi aseveración o argumento anterior, debemos familiarizarnos con el Tratado de Libre Comercio (TLC) iniciado en 1994 por los países de Estados Unidos, Canadá y México.  Antes de que el gobierno estadounidense firmara este tratado, ya estaba consciente que esto provocaría un desplazamiento de 12 millones de mexicanos en los primeros diez años y los cuales la mayoría crearían un ola migratoria enorme hacia su país.  Mientras que este tratado de libre comercio ha creado muchos males sociales en ambos lados de la frontera, este mismo ha dado grandes ganancias monetarias a las corporaciones transnacionales y a la elite económica de ambos países.  El libro de la profesora Ann Aurelia López, La Jornada de los campesinos (The Farmworkers' Journey), con más de cinco años de investigación sobre las familias emigrantes mexicanas nos da un buen ejemplo de las consecuencias de este tratado.
De acuerdo con recientes estadísticas del censo estadounidense, la economía del área de Fresno está basada un 90% en la agricultura; en la cual 9 de cada 10 trabajadores es indocumentado.  Una de las razones principales por la cual esta industria agrícola se niega a usar el sistema de verificación del gobierno, e-verify (verificación de seguro social), es que esta causara una gran baja en la disposición de mano de obra.  Esto no es nada nuevo ya que hasta el periódico Fresno Bee lo reporto… y eso que ellos no suelen hacer este tipo de reportaje imparcial sobre el tema.  Este es el mismo caso en la industria del servicio como en la industria de comida, jardinería, construcción, limpieza de casas y entre otros sectores…basta con preguntarle a Meg Whitman y a Lou Dobbs entre tantas otras figuras públicas quienes han sido descubiertas empleando trabajadores indocumentados.
Dejemos de engañarnos a nosotros mismos y seamos sinceros con este tema.  Este país seria inteligente si le sacara provecho a la inversión que sus contribuyentes de impuestos ha hecho a través en la educación que ha proveído para estos estudiantes indocumentados…estamos hablando desde el kinder hasta la prepa e inclusive hasta la universidad en algunos estados.  En California como en algunos otros estados, estos estudiantes indocumentados están asistiendo legalmente a la universidad debido a leyes como el AB540 desde el año 2001.  Si a estos estudiantes egresados (graduados) universitarios se les da una oportunidad realística para que se integren de modo legal al mundo profesional, las ganancias monetarias serian enormes para este país y su gente.  De acuerdo con el Centro de Desarrollo e Integración Norteamericana de la Universidad de California en Los Angeles,  los salarios de los benefactores del Acta de los Sueños (DREAM Act en ingles) serian entre $1.4 trillones a $3.6 trillones a través de su trayectoria profesional.  Esto significa que este grupo de trabajadores dedicados podrían ser una parte clave en la base de impuestos cuando la generación de los "baby-boomers" en su jubilación esta en gran necesidad de una fuerza laboral fuerte y vibrante.  Una vez que este país y su gente hayan sobrepasado su temor a abrir sus ojos y provea una legalización a los inmigrantes indocumentados, entonces habrá hecho lo correcto en este tema.  Sabemos lo que se tiene que hacer. Pero en verdad tenemos la voluntad política y la responsabilidad social para hacerlo?
Reto a la gente del Valle Central para que acepte las necesidades educativas de las hijas e hijos de la gente que provee el 92% de la fuerza laboral en esta economía agrícola.  Un ejemplo del valor que se necesita es como el del estudiante indocumentado y presidente del gobierno estudiantil en la universidad de Fresno, Pedro Ramírez, al igual que el del presidente de la misma universidad, Dr. John Welty, quienes han salido a dar la cara por esta causa justa y humana.  Como puede ver, esta lucha no es solo de mexicanos o latinos sino de todos sin importar la raza, el color, el estatus social o las creencias religiosas.  Ahora nos toca a nosotros unirnos a esta causa con dignidad y apoyar a nuestras hijas e hijos, a nuestros vecinos, a nuestros compañeros de trabajo, a nuestros trabajadores y a toda aquella persona indocumentada que necesita de nuestro aliento y apoyo.  Parémonos a lado de estos estudiantes dedicados y sus padres quienes han hecho lo correcto con enormes esfuerzos y sacrificios.  Hoy por ellos, mañana por nosotros!  Demostremos que en este valle hermoso no solo somos los mayores productores agrícolas del mundo, pero que también cosechamos una justicia and conciencia social.