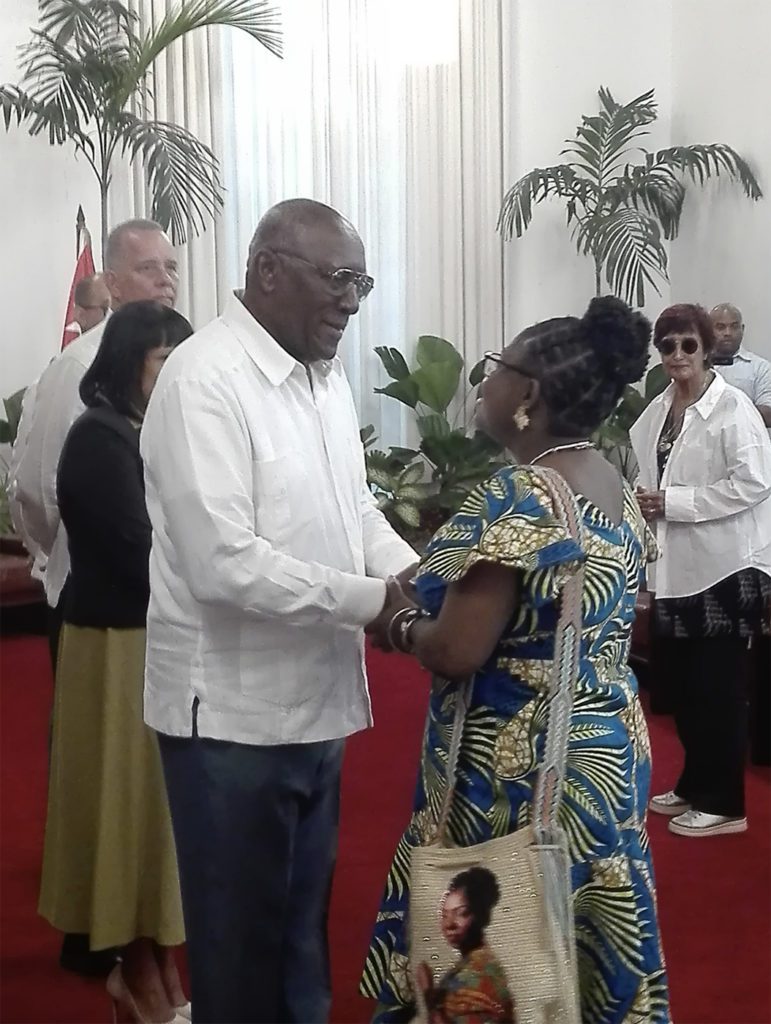 The vice-president of Colombia, Francia Márquez Mina, came to Cuba for the 31st Havana International Book Fair, which this year celebrates Colombia as the guest country of honor.
In May 2022, Gustavo Petro was elected president and Márquez Mina vice-president of Colombia on the center-left Pacto Histórico ticket. This is the first time in two centuries that Colombia has had a progressive government. It is the first time that an Afrodescendent woman has been among the country's leaders.
Márquez Mina's presence in the country's leadership is a recognition and vindication of environmentalism—she is a Goldman Environmental Prize winner—of Black culture and marginalized people in Colombia, of women and of peace.
It is not the first time Márquez Mina has been in Cuba. During the negotiations between the Colombian government and the Revolutionary Armed Forces of Colombia (FARC) she was also present. "I went to Cuba myself as one of the fifth delegation of victims even though I do not consider myself a victim. I am a political activist who has been victimized, which I think is different from being an actual victim."
This time, as soon as Márquez Mina landed at the airport in Havana, she spoke to the press saying, "I came to Cuba more than six years ago as a victim of armed conflict with my dreams, hope and heart fixed on peace and expectations that the process taking place between the FARC and the Colombian government could bring relief to many communities.
"I came here today with the same commitment.
"To return to Cuba as vice-president of the Republic of Colombia, after having come here some years ago as a member of the panel of victims in the peace dialogues between the Colombian government and the FARC, is evidence that in Colombia we are turning our dreams of total peace into reality. Of course, the role of Cuba on this path has been fundamental.
"From 2012 to 2016, Cuba served as the official seat of peace dialogues between the government of Colombia and the former guerrilla movement of the FARC. These were four years during which our country was able to rely on a space to think and rethink about itself from the viewpoint of a new vision in which policies of life, not death, allowed us to mark out a more hopeful direction for those who suffer from war and for those who come afterward, and those of us who participated in the panels of dialogue on behalf of civil society can vouch for the fact that this was a process done through hard work but also through conscience.
"I can never cease to be grateful to Cuba, its leaders and its people, for having been the site for this process. And for its readiness to support the interests of peace in our country.
"It is unjust that a country like Cuba, that has contributed so much to the peace of Colombia, should be part of a list of countries that support terrorism. Today, from Havana, I declare my support for this island nation to be removed from that list.
"I believe that Colombia owes a debt to Cuba."
Márquez Mina explained that this debt is related to the efforts of Cuba to be a home for peace dialogues. "We know that Cuba was placed on the Sponsors of Terrorism list for helping Colombia to achieve a commitment to peace, so we will not spare our efforts in continuing to demand on behalf of our government that Cuba be taken off this list," she said, adding that "a government that contributes to peace cannot be called terrorist."
Nine days before leaving office, Trump designated Cuba a State Sponsor of Terrorism. Two years later, Biden has kept Cuba on the terrorism blacklist. Ironically, Cuba has been a victim of U.S.-based terrorism—not a sponsor of terrorism. There is no credible evidence to support the designation, which is aimed at devastating Cuba's economy by cutting it off from international credit and investment.
For more than 52 years, the FARC and the series of right-wing governments of Colombia were at war. Neither side was able to achieve a decisive military victory.
In 2012, formal negotiations began to establish peace, with a preliminary General Accord, establishing commitments, an agenda and conditions. The goal was an agreement that the Colombian government would cease to attack the rebels, and the FARC would give up its armed struggle and instead participate in the political process.
To create conditions in which this could be possible, the parties agreed on a limited, five-point agenda that would include land policies and agrarian reform, political participation, the end of the conflict (this would include, among other things, questions of ceasefires and cessation of hostilities, security guarantees and addressing paramilitary violence), drug production and trafficking, and truth and reparations for victims. The negotiations took place in Havana over a four-year period, and Cuba and Norway were the guarantors.
Subsequent talks took place in the same site and with the same guarantors and similar agreements as the Ejercito de Liberación Nacional (ELN) remained as the last segment of organized armed struggle in Colombia. The ELN negotiating team has been in Cuba since the 2019 breakdown of talks. The then-government of Ivan Duque demanded their return despite the agreements.
The current government of Colombia supports the resumption of negotiations and rejects any use of Colombia by the United States as a pretext for including Cuba on the U.S. list of State Sponsors of Terrorism.
Take Action!
Stand with Cuba, with the new Colombia, with justice. Demand that Cuba be removed from the U.S. List of State Sponsors of Terrorism.

E-mail President Biden via www.whitehouse.gov/contact/.
Call the White House: special call-in days, March 15–16, from 9 a.m. to noon; Pacific Comments: 202-456-1111; Switchboard: 202-456-1414.
For more information and other ways to take action: acere.org.