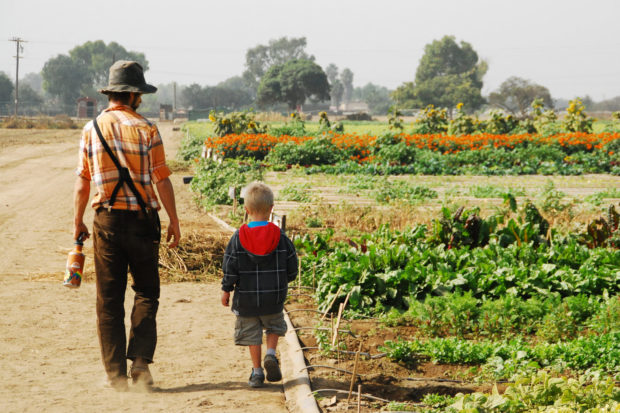 The sun is finally out, heating up the fields and bringing much need nourishment to the abundance of Mediterranean crops that grow here in the Central Valley. Politics are heating up too: The federal budget debate is taking hold in the Central Valley, especially for political figures like U.S. Rep. Jim Costa (D–Fresno), who sits on the House Agriculture Committee and will play an important role in drafting and passing the next Farm Bill.
The Farm Bill is the piece of federal legislation that funds everything from support for "specialty crops" (fruits and vegetables) to local and regional food system development and includes critical regulation like that governing the contracts signed between ranchers and the meat companies that buy their animals. That last piece may not seem too relevant to Valley residents who don't ranch, but it's surprisingly important for anyone who cares about our local economy and food system.
The agency of the U.S. Department of Agriculture (USDA) charged with enforcing these regulations is called the Grain, Inspection, Packers and Stockyards Administration (GIPSA). For a long time, the GIPSA had been asleep at the wheel. That changed with the 2008 Farm Bill, when Congress strengthened the GIPSA's ability to protect family livestock and poultry producers who are treated unfairly by large meatpackers.
Many California ranchers are facing extinction as a consolidated meatpacking industry pays them abysmally low prices for their cattle. Federal regulation is critical to protecting California's family ranchers, and the GIPSA rules are a good first step toward leveling the playing field for California's small and midsized family ranchers.
Unfortunately, a move by Rep. Costa has slowed progress in the House on implementation of the GIPSA rules. He circulated a letter asking that implementation of the rules be delayed and revised―in other words, weakened. We are already one year past the deadline that Congress gave the USDA to get the proposed rules written. More than 60,000 public comments have been collected on the rules.
Rep. Costa should be standing up and protecting the independent ranching community in California―not doing the bidding of the large meatpackers with plants in his district. If the GIPSA rules are not implemented but rather reopened for revision, that tells the more than 60,000 people who submitted comments that their voice does not matter in this democracy and it continues to jeopardize the livelihoods of independent family ranchers who are hanging on by a thread to stay in business.
Food & Water Watch and a coalition of groups around the state, including the California Farmers' Union, the Central California Regional Obesity Prevention Program (CCROPP) and the California State Grange, have been advocating for the prompt implementation of these rules in order to support small and midsized ranchers in our community. As the budget discussions for 2012 have begun, we are calling for Senators Dianne Feinstein and Barbara Boxer, along with Rep. Costa, to protect funding for other programs passed in the last Farm Bill that have gone a long way toward developing a healthy, sustainable and economically viable local food system in the Central Valley.
For example, locally, Fresno Metro Ministry received Farm Bill funding in the form of a Community Food Security grant to develop a community garden program. The Fresno County Economic Opportunities Commission received Farm Bill funding through the Farmers' Market Promotion Program to start farmers' markets and help socially disadvantaged and minority farmers access the farmers' market network.
The percentage of Farm Bill funding allocated for these programs is small in comparison to the overall Farm Bill budget. But a small amount of money spent well goes a long way toward supporting California's independent farming and ranching community and revitalizing local and regional food systems that stimulate rural economic development, create jobs and provide family farmers and ranchers with a fair price for their products.
The campaign to protect these programs and move the fair food agenda forward has just begun. Central Valley residents can play a key role in ensuring that our policymakers work on behalf of our community―but it will take all of us.
To learn more and join Food & Water Watch in this campaign, visit http://action.foodandwaterwatch.org/p/dia/action/public/?action_KEY=6956.