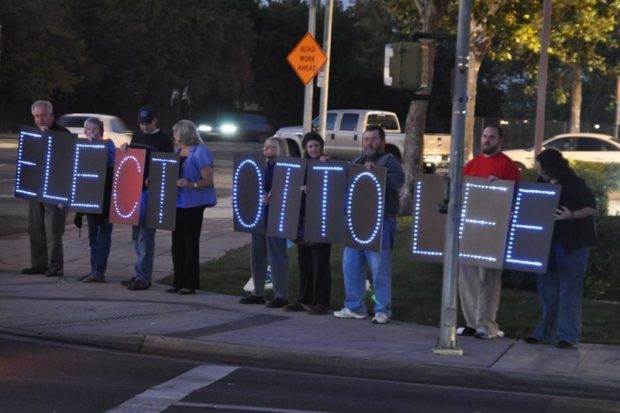 By Michael D. Evans
By and large, we had much to be pleased about with the election results in 2012. Yes, there were disappointments locally and there's considerable uncertainty as to how victory at the national level will play out. But the shift away from the Tea Party/Republican economic apartheid was successful, and we can only hope that will be permanent.
The presidential race saw President Barack Obama turn back an insidious effort by Republican Mitt Romney to unseat him. After the first debate, one of the national conservative columnists who fancies himself a centrist said that Obama was losing the campaign because he had failed to articulate a vision for the country. Now let's transpose that: What was Romney's vision? Perhaps "You can always count on me to lie to you." Defeating Romney was essential. Done.
Few prognosticators had given the Democrats much prospects of winning the Senate earlier in the year. But the Democrats got some unexpected help from a slate of Republicans whose demonization of women made them unpalatable to the overemphasized undecided voters and even to some of their Republican brethren. The Democrats retained control of the Senate, and we'll have to wait and see if they have the good sense to fix the rules of that body such that a majority is the same as it is everywhere else—50% plus one.
The House will still be in Republican hands, and we can anticipate continued divided government and obstructionism, although perhaps not quite to the extent we have seen in the past two years. However, a couple of the most egregious Tea Partiers, Joe Walsh (R–Ill.) and Alan West (R–Fla.), were defeated; nevertheless, the Tea Party remains a substantial and influence bloc in the House. On a brighter note, one of the most outspoken and eloquent progressives, Alan Grayson, returned to the body; who can forget his apt description of the Republican approach to healthcare for all: "Don't get sick, and if you do get sick, die quickly."
Voters elected an openly gay senator in Wisconsin (Tammy Baldwin), approved same-sex marriage in Maine and Maryland and legalized marijuana in Washington and Colorado. Perhaps our elections are starting to reflect real American values.
Still, it is disturbing that close to half the population nationwide clings to a far-right vision for our country and ignores facts, science and basic math. Hearing their rhetoric post-election, you have to wonder just what they might be capable of. Secession? Please!? But they will find outlets for their anger.
Closer to home, California was again a shining star nationally. Despite almost no national coverage (unlike that for similar anti-labor efforts in Wisconsin and Ohio), the deceptively worded, labor-busting Prop 32 was defeated. A hugely successful coalition of the California Labor Federation, the California Democratic Party, the Alliance for a Better California and other progressive advocacy groups cooperated to pass Prop 30 and defeat Prop 32. This coalition was a model grassroots electoral effort.
Regarding Prop 30, the initiative put forward by Gov. Jerry Brown to begin addressing the state's budget woes, Vivian Richardson of the Alliance of Californians for Community Empowerment said, "Tens of thousands of conversations on school playgrounds and in kitchens and grocery stores proved more powerful than expensive lies."
Unfortunately, the focus by key grassroots groups on Props 30 and 32 meant that the remaining nine propositions didn't get the attention that many of them deserved. Props 34 and 37, in particular, were probably negatively affected by the focus elsewhere.
Early polling had been favorable for Prop 37, which would have required labeling for genetically altered foods, but it lost "in the face of unrelenting deceptive advertising funded by giant chemical and processed food corporations to the tune of nearly $50 million," according to Kristin Lynch, the Pacific region director of Food & Water Watch.
(For a recap of Prop 34, see Maria Telesco's article.)
On the other hand, Prop 36 to revise California's three-strikes law passed in a landslide. "Californians are done with the 'tough on crime' era," says Debbie Reyes of the California Prison Moratorium Project. "2013 should be the year in which the Legislature reduces sentences for all felonies, decriminalizes drug possession and takes other concrete steps to reduce the size of our still super-sized prison and jail systems."
The state saw a net gain of six seats in Congress for the Democrats. In Fresno County, of the four Congressional seats that cross into the county, only one was won by a Democrat as Rep. Jim Costa was reelected. Despite a rousing and energetic campaign, Otto Lee received less than 40% of the vote in the heavily Republican District 22. Jack Uppal, facing the same odds, had a similar result in District 4. In the most disappointing race, John Hernandez was thumped by David Valadao in a district that has about a 15-percentage-point Democratic registration advantage. Hernandez got less than 30% of the vote in hardcore Kings County, and the district is unwinnable without a competitive outcome there. This is actually a net loss for the county as we heretofore had two Democrats representing part of the county (Costa and Rep. Dennis Cardoza).
Democrats achieved the long coveted two-thirds majority in both houses of the state legislature. This presents an enormous, but short, window of opportunity. Without immediate action, fickle voters will likely shut the door on this experiment in the midterm election. There were no state Senate races in the county this election. At the Assembly level, Henry T. Perea was easily reelected against an underfunded Tea Party opponent. For the county's other Assembly seat, the voters were the victim of the open primary system. Two Republicans, Jim Patterson and Bob Whalen, faced off, so voters had no legitimate option. Patterson won, but does it make any difference?
The same was true for the only Fresno City Council seat on the ballot, District 2. Again, two Republicans, Steve Brandau and Pat DiCicco, were facing off, and each had told the Fresno Bee after the primary that there wasn't much difference in their policy positions. Brandau won.
At the county level, Measure B for library funding passed with more than 70% of the vote. And at press time, it appeared that Measure O would fail. Measure O was put forth by the Board of Supervisors as a way of making it easier for them to privatize government services. The overall educational effort by labor seems to have had a rare payoff at the local level. The victory could be short-lived, however, as it is believed that with the addition of Republican Andreas Borgeas the Board will have the votes to privatize anyway.
The State Center Community College District (SCCCD) was one body for which some changes were anticipated. With Willie Smith's retirement, Eric Payne was elected to replace him in District 2 with the Latino vote apparently splitting between Paulina Miranda and Brian Murillo. In District 3, John Leal turned out incumbent Ronald Feaver. Despite a couple of significant challenges in District 6, Patrick Patterson was reelected. In District 7, where local progressive stalwart Kevin Hall was running, a late blast of negative mail pieces vilifying Hall seem to have tilted the race to his opponent, Richard Caglia. Nevertheless, on a body where the members tend to hang around for 20-plus years, a couple of new faces could provide fresh energy.
There were no surprises for the Fresno Unified School District (FUSD) seats. Incumbents Carol Mills and Janet Ryan were reelected, and Luis Chavez was elected to fill the open seat vacated by Larry Moore. Chavez had announced early and easily surpassed competitors Esmeralda Diaz and Daren Miller. The biggest loser in the FUSD election was the Fresno Teachers Association (FTA), which saw all of its endorsed candidates lose despite putting a ton of resources behind them.
"We deserve a moment to acknowledge a job well done," said Terry O'Sullivan, general president of the Laborers' International Union of North America (LIUNA), in a statement to his membership that has wider significance. "And then it's back to the trenches and back on the frontlines for the President's jobs and economic growth agenda, to fight to build America, [to] counter attacks on unions and the working class, and to continue our mission of organizing."
*****
Michael D. Evans is a political activist, editor and writer. Contact him at evansm@usa.net.
What Next?

By Michael D. Evans

Where do we go from here? It would take many seminars, workshops and conferences to fully address that question, but here are some big picture items we should address right away.

At the national level, we have got to push for voter protection nationwide. No one who is eligible to vote should be turned away from doing so, and no one should have to wait in line for hours to vote. Either we're a democracy or we're not. Let's make that call now. Voter access should be a top federal priority.

We must also guard against the coming "reinvention" of the Republican Party. Once the leading Republicans start giving lip service to the issues of women, Latinos and the others they have dissed so aggressively in recent years, the mainstream media will quickly jump on the bandwagon to legitimize this "shift" in their thinking. (Witness the eagerness with which the media accepted George W. Bush as a "compassionate conservative." I've even heard liberal pundits repeat that nonsense.) We must be vigilant in keeping the truth out there.

As regards President Obama's agenda, I had a host of items to address but filmmaker Michael Moore has expressed them far better than I. (See his letter to the president.)  Find the link to his letter on the Community Alliance Web site, and forward it to the White House.

At the state level, we need to build on the labor, Democratic and progressive coalition that worked so well in this election by addressing proposition reform. I have heard various suggestions as to how we might do that:

Make it illegal to pay signature gatherers.
Put a limit on how much individuals and other entities can contribute to an initiative.
Ban contributions to an initiative from outside California.
Raise the bar for the number of signatures needed. Instead of basing it on the total votes for governor in the last gubernatorial election (5% for an initiative and 8% for a constitutional amendment), base it on the total votes for president in a presidential election or, even better, the total number of registered voters.
Eliminate the initiative process altogether.

The right and other monied interests have become increasingly creative and deceptive on ballot measures, and they have an endless amount of money to waste on them. (Why create jobs when you can annoy Californians with a ballot initiative?) In addition, the measures are often contradictory and have placed absurd restraints on our state government. Let the legislature do its job.

Furthermore, these measures overwhelm even the best informed voters. MSNBC pundit Lawrence O'Donnell did a segment on filling out his California ballot that pointed out how unreasonable it is to expect the average voter to have sufficient knowledge on all of these issues. Although it was a poorly done segment, his point is well worth noting.

At the local level, fighting privatization efforts is key. But we must also look to make our city governments more representative. There are a couple of ways to do this. First, each municipal government in the county should be electing its membership at the district level rather than at-large. And particularly in Fresno and Clovis, the City Council races should be on the November ballot to ensure maximum participation.

We must engage now to make our community better; there is nothing to be gained by waiting until the next election. A couple of ongoing grassroots efforts are the Fresno County Democratic Party's precinct leader program (www.fresnocountydemocrats.org) and Communities for a New California's capacity building in disenfranchised communities (www.anewcalifornia.org/). And the full spectrum of progressive issues can be addressed through participation in groups like the Central Valley Progressive PAC (www.cvppac.org/) and the Progressive Network of Central California.

We have been handed some gifts, but the window can (and will) close quickly. Let's join forces to move forward on better governance at every level today.

*****

Michael D. Evans is a political activist, editor and writer. Contact him at evansm@usa.net.