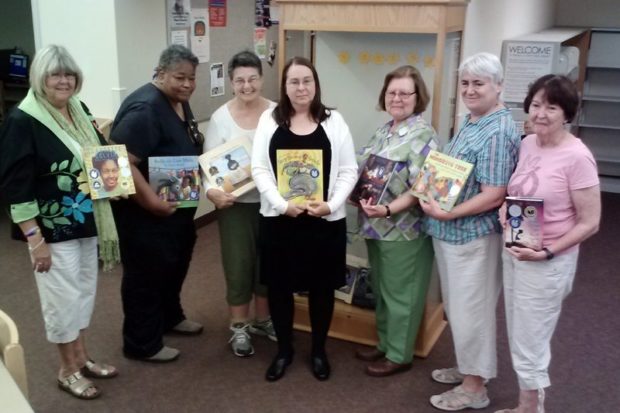 WILPF BUSINESS MEETING

WILPF will meet Thursday May 8, 7 PM, at Fresno Center for Nonviolence, 1584 N Van Ness. This meeting is open to all members.

WOMEN IN BLACK

May 7, first Wednesday of each month at noon at Fresno County Courthouse; come on the month in which your birthday falls! Wear black, bring a sign if you wish, and stand in silence for peace.

STIR IT UP – WILPF – ON KFCF 88.1 FM (LISTENER-SUPPORTED FREE SPEECH RADIO FOR CENTRAL CALIFORNIA)

May 28 3 PM (4th Wednesday of each month) Jean Hays does outstanding interviews on subjects involving WILPF interests and activities. Tune in!

RAGING GRANNIES

Meetings on selected Mondays at 7 PM. Call Ellie at 229-9807 for details.
YARD SALE ON MAY 17 – VOLUNTEERS NEEDED -CALL PATTY NOW!
The Great WILPF Yard Sale!! It will happen Saturday, May 17 at Patty Bennett's home at 512 E. Harvard, and we need you to help set up on the 16th and to work the sale itself, which starts at 7 AM. If you have stuff to donate and can't bring it on the 16th, call Ellie (229-9807) and arrange to take it to her house for storage. To volunteer call Patty at 225-9511. This is the other big fundraiser for Fresno WILPF and your help is both necessary and appreciated.
WATER CONSORTIUM CONFERENCE MAY 10
This amazing event will take place at Fresno City College Saturday May 10, starting at 8:30 AM with registration on the Plaza; the opening ceremony led by First Nations people will be at 9 AM. This day of fascinating and inspiring panels and workshops is free! Park on the main McKinley lot – also free – and follow event signs to the Social Science Building. Contact Jean Hays (559 313-7674) or Ann Carruthers (acarruthers@earthlink.net) for more info. Don't miss this one.
DR. SUSAN ARPAD
It is with deep sadness that we announce the death of former longtime Fresno WILPF member, Dr. Susan Arpad, who died on April 7th, at the age of 76, in Wadsworth, OH, of multiple myeloma. Susan had been the Chair of the Women's Studies Department at Fresno State/CSUF, from 1986 till her retirement in 1999. Upon retirement, Susan became very active in Habitat for Humanity Fresno, directing the "Women's Build", where a house each year was entirely constructed by women volunteers. She also secured grant money to build houses for farmworkers and other low-income families in West Fresno County. In 2004, Susan and her husband, Joseph, moved back to Wadsworth, where they had both grown up, and where they continued their work as community activists. The progressive Fresno community hated to see them go.
—Nora DeWitt
60TH ANNUAL JANE ADDAMS BOOK AWARDS
The Jane Addams Children's Book Awards are given annually to six children's books published that effectively promote the cause of peace, social justice, world community, and the equality of the sexes and all races as well as meeting conventional standards for excellence. These are the 2013 awards given in October 2013 by the Jane Addams Peace Association in New York. Our Fresno branch donates two sets (6 books each) annually, one set to the Downtown Fresno County Library and one set to the West Fresno County Library. [WILPF members can order these books from local booksellers.]
Congratulations to the following Awardees: Jacqueline Woodson, E.B. Lewis, Cynthia Levinson, Sarah Warren, Robert Casilla, Shane W. Evans, Ann Bausum, and Sy Montgomery.
In June 2013 a group of us went to the West Fresno County library to present two sets (2011 & 2012 sets) of Children's Book award books. The librarian made a display of the books and WILPFers were photographed in front. Bev Fitzpatrick, Lynn Graham, Ann Carruthers, Mary Perich, Patty Bennett, and Jean Hays are standing with the West Fresno librarian in front of the display.
——Ann Carruthers
WILPF INTERNS GRADUATING
We've truly appreciated our great interns Janette Miguel and Elizabeth Moreno. Their university graduation ceremony will be Chicano Graduation on May 17 5 PM at the Savemart Center.
Save the dates…
Fresno WILPF Cuba Solidarity Committee Chair Leni V Reeves will be leading a legal (licensed) Witness for Peace trip to Cuba December 8-18.  This will be a very special opportunity to see Cuba with someone who knows and cares about the area we will be visiting and who has friends among the many people who will help show us aspects of the fascinating and ever-changing Cuban reality. Contact me if you are interested and watch for more info in future WILPF pages.   559 855-4511 or email as below:
WILPF page edited by Leni Villagomez Reeves                  lenivreeves@gmail.com