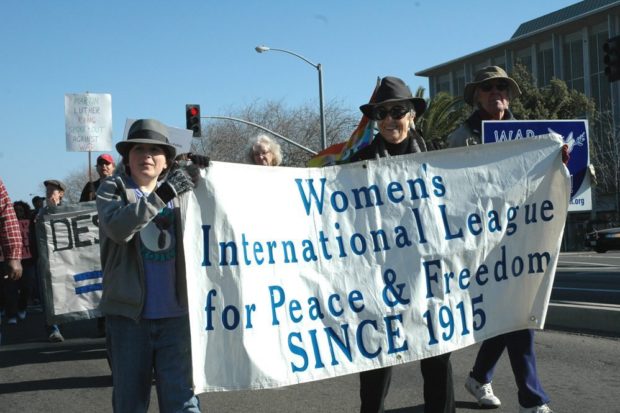 WILPF BUSINESS MEETING

WILPF will meet Thursday March 13, 7PM, at Fresno Center for Nonviolence, 1584 N Van Ness. This meeting is open to all members.

WOMEN IN BLACK

March 5, first Wednesday of each month at noon at Fresno County Courthouse; come on the month in which your birthday falls! Wear black, bring a sign if you wish, and stand in silence for peace.

STIR IT UP – WILPF – ON KFCF 88.1 FM (LISTENER-SUPPORTED FREE SPEECH RADIO FOR CENTRAL CALIFORNIA)

March 26 3PM (4th Wednesday of each month) Jean Hays does outstanding interviews on subjects involving WILPF interests and activities. Tune in!

RAGING GRANNIES

Meetings on selected Mondays at 7PM. Call Ellie at 229-9807 for details.
MEMBERSHIP NEWS
It is with great sadness that we report the recent death of two of our longtime members. Margaret McKnight died in Emeryville on January 16th, at the age of 79. Marge had practiced law in Fresno for twenty years, specializing as an appellate attorney. Dorothy Renzi died in Fresno on February 12th, at the age of 90. Dorothy was a renowned opera and jazz singer, a beloved vocal teacher, and a Professor of Music at Fresno State University for 16 years.
WOMEN IN BLACK AT FRESNO STATE
March 20th and 27th, last two Thursdays of the month from 12:20-1:20pm in front of the Henry Madden Library; educate the future generations about militarism and demonstrate no wars messages. Remember to bring a sign if you have one and to wear black.
BIDDER 70 MARCH 21 ——-DON'T MISS THIS!
WILPF and the Tehipite Chapter of the Sierra Club will co-sponsor the CineCulture showing of Bidder 70. In 2008, University of Utah economics student Tim DeChristopher disrupted a highly disputed Utah BLM Oil and Gas lease auction. Tim entered the auction hall and registered as bidder #70. He outbid industry giants on land parcels, which, starting at $2 an acre, were adjacent to national treasures like Canyonlands National Park, winning 22,000 acres of land worth $1.7 million before the auction was halted. Two months later, incoming Interior Secretary Ken Salazar invalidated the auction. DeChristopher, however, was indicted on two federal felonies, convicted, and served 2 years in jail. The filmmakers, Beth and George Gage will be there to discuss the film.
Film Screening Friday March 21, 5:30 p.m. Peters Education Center Auditorium
DAKOTA ECOGARDEN NEWS
Dakota EcoGarden, 2231 W Dakota, is an exciting place these days. We had a garden(ing) party in February. Our potluck was super, with music by Larry Cusick and Susan Heidebrecht, and Carl and Kathryn Johnsen, Steve Ono, and our new music discovery, Curtis Alexander. We now have nine residents! We greatly appreciate the contributions of many people and organizations, and since this is the WILPF page, I think it is appropriate to send out a huge thanks to WILPF for their generous contributions. The monthly potluck has a set date now: the fourth Sunday of the month, from 2 to 5pm. Mark your calendars!
Eco Village board members and EcoGarden residents have been on KFCF programs and Channel 30 TV. We spoke to a group at the College Community Congregational Church and will speak to the Reedley Peace Center on March 28. We held a Faith Summit homeless zip code meeting in the EcoGarden living room recently.
EcoGarden needs:
Blankets, sleeping bags, hygiene items, laundry detergent and other cleaning products, napkins, paper towels. Food,, coffee. Veggie seeds. Perishable food as well as larger items can be picked up by Ann (243-9390) or Nancy.
The greatest need right now is for our supporters to give us a chance to do some work for you. We have some very talented handymen and an experienced house cleaner – all hard workers. Call Nancy Waidtlow at 224 1738 for information or to participate. The house on Dakota also has a number, 225 2767. Nancy Holmes has the position of house host, but any of the residents can answer most of your questions and even conduct a tour.
………Nancy Waidtlow
ONE BILLION RISING
We Danced for Justice for this year's V-Day, One Billion Rising, event on Valentines Day. Fresno Rising danced again with the world to demand that violence against women end and to change the statistic that 1 in 3 women on the planet will be raped or beaten in her lifetime.
We began our day with POWER and the Women's Alliance group for their One Billion Rising celebration focusing on "Healthy Love" at Fresno State. The event began with a conga line, dancing around campus to bring attention to the V-Day event. The flash mob to Tena Clark's song, Break the Chain, began at noon. The group continued to celebrate, dance, listen to spoken word, then another flash mob dance to Break the Chain! It was a great event with community groups tabling to share their information on resources for victims and to help empower women.
Later in the day, we gathered downtown to hold another flash mob at the Fresno County Courthouse to follow Eve Ensler's call to Rise for Justice. We then moved over to the Fulton Mall for a final flash mob where we also included a spoken word session with a writings from Eve Ensler. At both downtown locations, we handed out packets with the song lyrics, info on Fresno Rising and on human trafficking and domestic violence, and resources for victims.
We had so much fun again this year; it's empowering to be a part of this global revolution. Join us on Facebook at Fresno Rising for updates and events throughout the year.
Peace ~ Teresa
WATER FORUM COMING MAY 10 – save the date.
SAVE THE DATE & GATHER YOUR STUFF FOR THE YARD SALE MAY 17
WILPF announces the return of the Great WILPF Yard Sale on Saturday, May 17 at Patty Bennett's home at 512 E. Harvard. PLEASE gather things you would like to contribute.
*****
WILPF page edited by Leni Villagomez Reeves lenivreeves@gmail.com