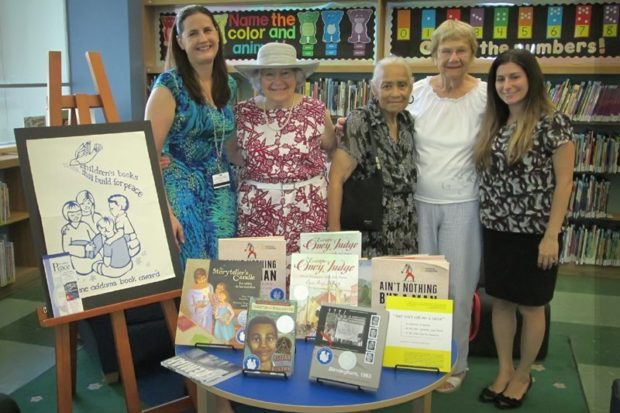 WILPF BUSINESS MEETING
Thursday Sept 13 7PM, at Fresno Center for Nonviolence, 1584 N Van Ness. This meeting is open to all members.

WOMEN IN BLACK
September 5, first Wednesday of each month at noon at Fresno County Courthouse; come on the month in which your birthday falls! Wear black, bring a sign if you wish, and stand in silence for peace.)

STIR IT UP – WILPF – ON KFCF 88.1 FM (LISTENER-SUPPORTED FREE SPEECH RADIO FOR CENTRAL CALIFORNIA)
September 26  3PM (4th Wednesday of each month) Jean Hays does outstanding interviews on subjects involving WILPF interests and activities. Let Jean know if you have ideas for a program. Listen!
Also on KFCF 88.1: WILPF member Dr Jean Kennedy, Keeping It Real 8PM every Tuesday

RAGING GRANNIES
Meetings on selected Mondays at 7PM. Call Ellie at 229-9807 for details.
WILPF Crafts Faire and fundraiser for peace and freedom is right at the beginning of December this year: December 1! So put it on your calendar, start putting aside things you're ready to part with that will help bring in a few dollars (or more than a few) at the silent auction, the raffle, or the fruit, plant, and etcetera sale table. If you are an artist/craftsperson and would like to be on the list when this year's registration info goes out, email nancywaidtlow@yahoo.com or call 224-1738. One volunteer position that I'm going to put out the word for is our children's table. Susan Heidebrecht-Cusick did a great job last year, but with performing also, it is a lot to ask. Yes, it's at the same place, our wonderful Big Red, First Congregational Church on Van Ness Blvd. just north of Weldon.
Homeless Project
At the August retreat WILPF will consider whether and how best to help with my homeless project. It consists of .59 acre of land with a 4BR, 2BA house. The main model is the safe and legal campground, but the house will make possible many extras such as classes and space for working on personal or group projects, and communal meals. Details next month, but we need many things: a vacuum, mops and brooms, pots and pans, utensils, fans, including ceiling fans, a freezer , a washer, gardening tools, hoses, water pipes, drip system parts, inflatable beds, inside and outdoor furniture, a ladder or two, lots of lumber and wire fencing to construct our "pads" and shade structures. Call or email me! — Nancy
Time to renew your membership
Nora DeWitt, Membership Chair of Fresno WILPF, is happy to report that 50 members have so far renewed their 2012 membership, in response to the letter we mailed out in July to the whole chapter.
If you have been meaning to renew your membership, but have not done so yet, it's never too late! The dues scale ranges from $15 – $150 (whatever you can afford). Please send your check to Fresno
WILPF, P.O. Box 5114, Fresno, CA 93755. We are also happy to welcome new member, Elaine Rucker, who joined in July.
Fresno WILPF well represented at Raging Grannies UnConvention
Patty Bennett, Pat Wolk, Betsy Temple, Gioia Frank and Nancy Hatcher, attended the North America Raging Grannies UnConvention last week in Victoria, British Columbia and all five of us joined in voting in favour of this resolution.
VICTORIA, BC, 11 August, 2012 — Today, the North American Raging Granny movement issued a call to action on the part of all levels of the Canadian and US governments to respond to the loss of our democratic rights around environmental integrity and social equality. Members of the movement from 27 municipalities across North America met for three days at the University of Victoria in British Columbia and unanimously passed the following resolution:
We the Raging Granny Movement, Senior citizens from across Canada and the US, with long life experience and dedicated to preserving a vibrant world for those generations to come, resolve:
Whereas we deplore that our national governments are pursuing policies which fail to recognize climate change and our democratic rights as major priorities,
Whereas there is no excuse in countries as rich as ours that our governments continue to pursue policies that threaten our general well-being. We owe it to future generations to follow policies that maintain long-term environmental integrity and social equality:
We demand that our governments pursue policies that support a sustainable economy and a vibrant democratic and egalitarian society which places our natural world, on which we all depend, in the central place where it belongs.
"Treat the earth well. It was not given to you by your parents. It was loaned to you by your children."  First Nations/Native Americans
Our outstanding intern at International WILPF
Meghan Walsh from Fresno WILPF is an intern at WILPF International in Geneva this summer. She will be going to the Human Rights Council at the UN in September and we hope to have a full report then. She has inspired a glowing report about Fresno WILPF in the International Newsletter, which you can see online.
Cuba Solidarity
I'm back from the 23rd Pastors for Peace Caravan to Cuba. Report-back coming soon! We took tons (literally) of aid but this is just a drop in the bucket compared to the needs and shortages caused by the US blockade of Cuba. What is essential is our solidarity and to end the blockade and normalize relations with Cuba.                       —— Leni