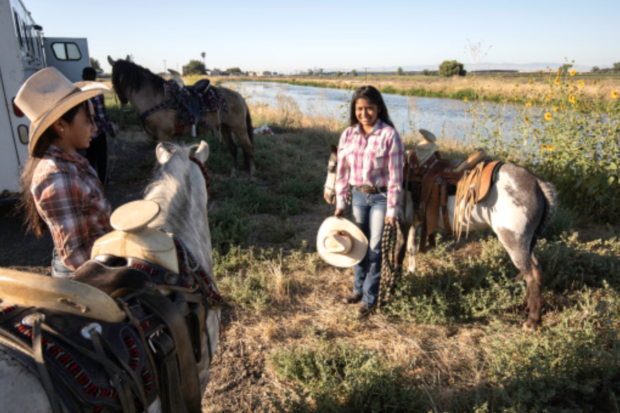 By Stan Santos
The 2019 Joaquin Murrieta Ride was held on July 26, 27 and 28, connecting Madera and west Fresno County communities, including Firebaugh, Mendota, Cantua Creek and Three Rocks, in the historic, memorial event. For the second year, the Ride was joined by an Immigrants, Rights March for Justice.
Edith Gonzalez has a moment with her horse Rey before the ride.

The march for immigrant rights. Marchers walked eight miles.

Rafael Barriga, from Morgan Hill, leading the horses.
Eliseo Gamino, teacher and representative of the Central Valley Leadership Round Table, spoke with reporter Vic Bedoian about the brief history of the famed Californio rebel who roamed the west side of the San Joaquin Valley beginning in 1849, before California became a state.
According to Gamino, "Joaquin Murrieta was a miner from Sonora, Mexico, who came to search for a better way of life, much like today. He confronted injustice. He was horsewhipped, his wife was beaten and raped. The state offered a $5,000 bounty for Murrieta dead or alive."
On July 25, 1853, there was a gun battle at Arroyo Cantua during which 20 California Rangers ambushed and killed several subjects associated with Murrieta. Many historians insist to this day that it was not the head of Murrieta that was displayed but that of another Latino rider, Joaquin Valenzuela.
Juanita Gonzalez organized a nonprofit corporation dedicated to maintaining the yearly event. She recounts that the Joaquin Murrieta Ride was started by her father "over another injustice that happened over 40 years ago.
"The Ride was started originally because of an injustice in Three Rocks, the injustice of taking away farmworkers' homes, and shutting down water and electricity and trying to boot them out of the community. So, we started this to bring light to the community because of some great impacts and Joaquin Murrieta's riders were killed in the area."
Three Rocks, Cantua Creek, Tranquillity and San Joaquin are among the poorest communities in California. Aside from lack of living wage jobs outside of agriculture, these communities suffer from the lack of potable water, air contaminated with pesticides and poor economic and educational infrastructure.
"So to bring plight and light to these injustices, that's what our new day and justice is about: trying to help our Hispanic farmworkers, Latinos, Mexican-Americans, immigrants in general," Gonzalez concluded. "So that's the correlation, justice for the people. This is a way of showing that we still want to continue that."
For the second year, immigrants' rights organizations and supporters joined the Joaquin Murrieta Ride to bring light to the unjust conditions in which immigrants must survive in order to eke out a better living for their families. At the time of last year's Joaquin Murrieta Ride and Immigrants' Rights March, there were only a few hundred unaccompanied children in Border Patrol detention facilities.
After a massive outcry from the public, the issue has been pushed to the back, overshadowed by right-wing violence, criminal behavior by the President and demands for Trump's impeachment.
Now, there are several thousand children in detention centers with inadequate food, hygiene and health conditions; several children have died as a direct result. Nonetheless, there does not seem to be any change on the horizon and many activists are resigned to place their hopes on the 2020 election.
However, it is not assured that the election will provide the necessary changes to alleviate these conditions. In fact, there already has been a new wave of Democratic elected leaders for the West Valley, including Rep. TJ Cox (D–Fresno) and State Senators Anna Caballero (D–Salinas) and Melissa Hurtado (D–Sanger).
Nonetheless, the changes do not seem to come soon enough. For example, during a recent meeting of the Central Valley Leadership Round Table, San Joaquin City Council Member Jose Ornelas reported that his community needed $12 million to build a water treatment facility; at the time, it had only had a small portion of that.
This year, among the marchers were elected leaders from Firebaugh, Mendota, Kerman and other communities. These local officials marched alongside youth from Fresno and the west side in a demonstration of an awakening rural consciousness and grassroots organizing.
They are transforming their aspirations and vision for their communities through the Central Valley Leadership Round Table. The Round Table meets once a month in locations throughout the Valley's west side.
Despite Sunday's temperatures above 106 degrees, the Joaquin Murrieta Ride concluded in Three Rocks with 40–50 riders and a large audience keeping alive the tradition and history of early California with a jaripeo, or rodeo. The seeds have been planted, as can be noted with the number of new, young riders ready to take up the banner of Murrieta and continue the fight for justice.
For information on this or upcoming events and the Central Valley Leadership Round Table, contact Eliseo Gamino, eliseogamino43@gmail.com. For information regarding developing stories in the West Valley, contact alianzadefresno@gmail.com or blog alianzadefresno.org.
*****
Stan Santos is an activist in the labor and immigrant community. Contact him at alianzadefresno@gmail.com.