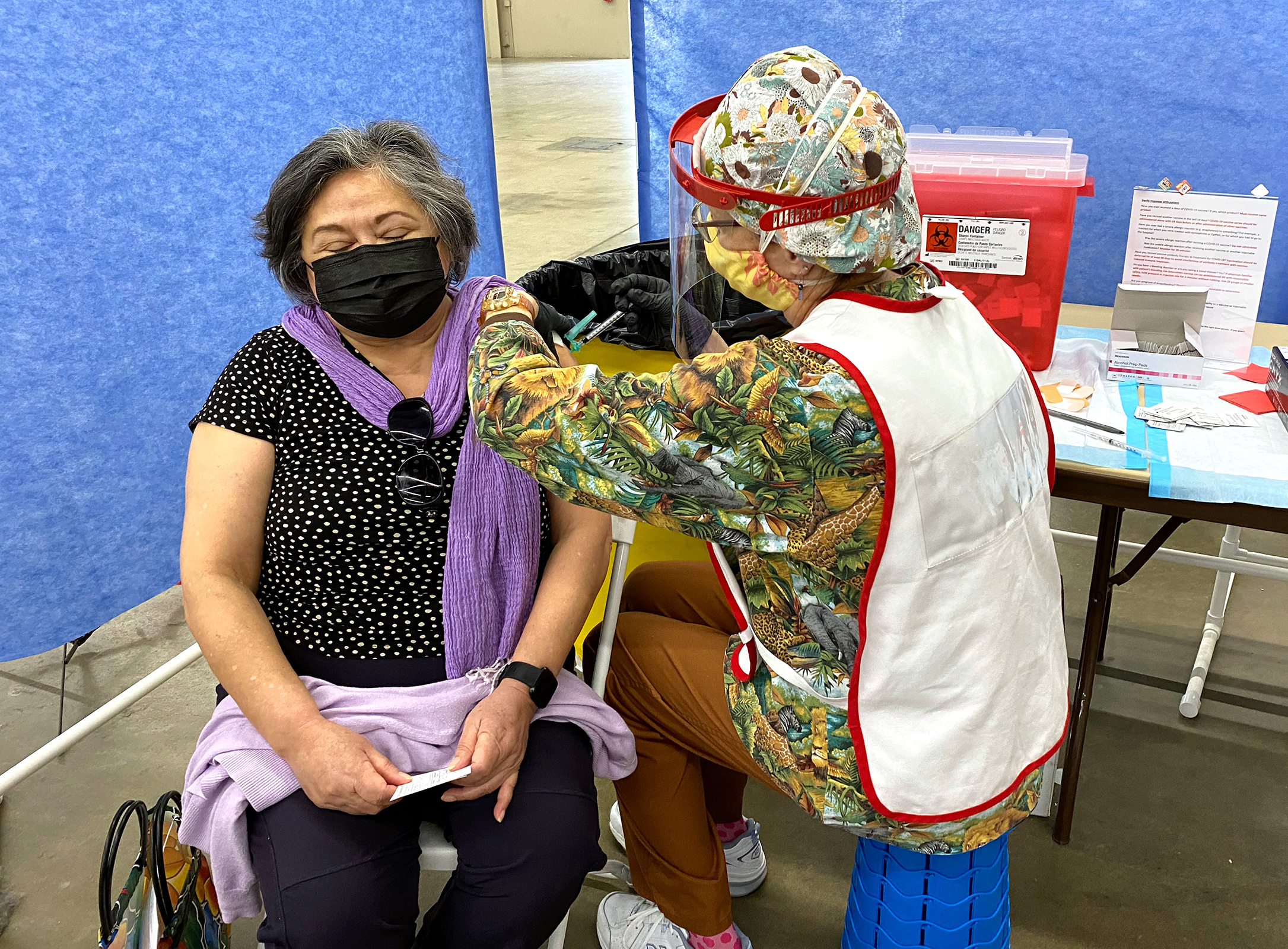 Study after study shows that as more people are vaccinated for Covid-19, the virus is less likely to spread, mutate and potentially become even more dangerous. According to the California Health Department, during the last week of February, unvaccinated people were five times more likely to get Covid-19 than those who had received a booster shot.
Yet in the San Joaquin Valley, where Latinos are the majority in most counties, the vaccination rate remains low, often because of myths about the vaccines.
"'I got Covid, so I don't need to get vaccinated' is one of the many excuses I heard," said Marlen Miranda, who leads the COVID-19 Equity Project of Cultiva La Salud, a Fresno-based nonprofit.
"A couple came to our mobile vaccination center in Reedley. The lady got the vaccine but not her husband. I chatted with him and asked why, and he replied, 'I feel strong.'"
This attitude of machismo is common among men in patriarchal societies.
She mentioned other excuses she's heard: "The vaccine will give you Covid," and "The vaccine doesn't protect you." Some mothers told her they were concerned that vaccinating their children might make them infertile or affect their growth. The No. 1 excuse, she said, is "The vaccine was produced way too fast."
Cultiva La Salud has set up vaccination centers in Fresno's neighborhoods and small rural towns, promoting the centers in stores and offering incentives such as food and live music for those who get vaccinated.
"We also offer gift cards. During one visit to a rural town," Miranda recalled, "a person came and asked if we really were offering a gift card. I explained we'd just run out of the cards, so he refused to get the vaccine."
Another time, three minors came to a vaccination center saying they wanted to get vaccinated but their parents refused to give them permission. That same day, a girl told Miranda the priest in her church "talked bad about the vaccine."
The reality is that word of mouth is a strong influence in Latino culture.
Miranda is concerned that fewer people are going to the mobile centers now. Interest in getting vaccinated seems to be waning, a trend that is true nationwide though the reasons are unclear.
In California, it's easy to get a vaccination appointment (visit myturn.ca.gov) using a smartphone or computer, she said, but Latino elders don't have access to those devices or the skills to use them, making vaccination efforts more difficult in Central Valley communities.
Minerva Mendoza, program associate of the Pan Valley Institute, described the excuses she's heard for not getting vaccinated. One is, "How is it possible there's no vaccine for diabetes or cancer, and they came up with a vaccine for Covid in a short period of time?" Others are that vaccinations only benefit the big pharma businesses and that the second dose meant the vaccine wasn't working.
Mendoza, a Fresno State graduate who was born in Oaxaca, Mexico, said, "I also heard, 'Our immune system should take care of Covid.'"
The majority of Latinos are Catholics, and religion, too, is influencing people, Mendoza said. In November 2020, Bishop Joseph Brennan of the Diocese of Fresno expressed "concerns" about stem cells from aborted fetuses being used in vaccine development, and he urged Catholics not to "jump on the Covid-19 vaccine bandwagon."
Mendoza got Covid in January. "It wasn't fun. I had chest pains and serious difficulties breathing…Fortunately, I was fully vaccinated by then; otherwise, who knows?"
She is concerned about the drop in vaccination numbers and worries about farmworkers, who are "essential workers" but remain a hard sector of the community to vaccinate because of cultural or educational limitations, or fears based on rumors.
"During the pandemic, we stopped working for only two weeks," said Porfirio Hernandez, a team leader who manages a 20-person crew mainly harvesting grapes year-round in the fields of Madera County.
"In my team, most people are vaccinated. Those not vaccinated like to repeat the story of the person who got vaccinated and later she could stick a spoon to her arm. That scares them."
It's essential for farmworkers to stay healthy. Their access to healthcare is limited, and their income is low. Also, there's no medicine man (or woman) in California—important for immigrant workers of indigenous origin who mostly come from Oaxaca.
"I drink teas to prevent certain illnesses, and I also use vitamins," said Pedro Cruz, 62, an Oaxaca-born farmworker from Arvin, Kern County, who relies on traditional herbalism.
Hit by Covid-19 in 2021, Cruz and his family were quarantined, but he was hospitalized for two months and had pain for months afterward. Still, Cruz is reluctant to get vaccinated, though he can't explain why he won't do it to protect himself and his family.
Science has shown that vaccines prevent or minimize sickness and reduce hospitalizations and deaths.
"People believe and repeat things that don't make sense, and this is hurting us," said Hernandez.